Capstone Turbine (NASDAQ:CPST), ticking higher once again after a post-earnings drop, continues to expand its distribution network. Eastern Europe had been targeted as a new area for growth, according to statements made by Capstone's Executive Vice President of Sales and Marketing Jim Crouse, and as a result Capstone's first sale in Belarus materialized.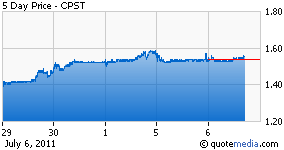 The sale, aided and assisted by European distributor BPC Engineering, was for a C600 microturbine unit, which is destined to support a combined heat and power (CHP) application at a motive power depot in Baranovichi, the largest and advanced multi-purpose maintenance facility of the Baranovichi Railway.
The move into Eastern Europe supports the significant sales growth already experienced by Capstone this year, and given the goals of governments like Belarus's to drastically increase the efficiency of their energy structures over the next decade, there should be additional need for Capstone's microturbine units.
Of note in Wednesday's release announcing this deal, Alexander Skorokhodov, BPC Engineering CEO, stated, "By replacing the high cost of power consumption from the Belarus utility grid with low cost of power generation using Capstone microturbines, our customer anticipates an expected payback period of 3-4 years."
It's the 3-4 year "expected payback" period that is most relevant about Mr. Skorokhodov's comments. While one order is hardly enough to pin a future on, Wednesday's announcement demonstrates the potential for Capstone Turbine to play a large role in supplementing the transformation of the Eastern Europe energy habits into a more modern efficient enterprise.
One item to keep an eye on is the short interest in the CPST stock, which grew on a month-over-month basis for the better part of the last year.
It's my opinion that the post-earnings drop was more due to the large short interest than it was disappointing sales and margin numbers - as record sales and backlog were once again reported - and it'll be worth noting whether the short interest has decreased at all into the June drop.
Capstone is still a company looking for profitability, but there's no doubt that its energy efficient microturbine units are increasing in popularity at a time when governments around the world are 'going green' and shifting away from nuclear.
Keep CPST on the radar, I like it as a 'buy the dips' play, and watch the short interest.
Disclosure: I am long CPST.