Equity traders managed to close their eyes somewhat to events in Europe that had earlier boosted demand for government bonds. By mid-afternoon in New York both bonds and stocks were in rally mode, while investors seemed equally happy to treat the occasion as appropriate to pick up corporate paper at the same time. Trading in Bank of America's 10-year issue was most frantic, leading activity on our market scanner with volume across the top three names accounting for a healthy $132mm.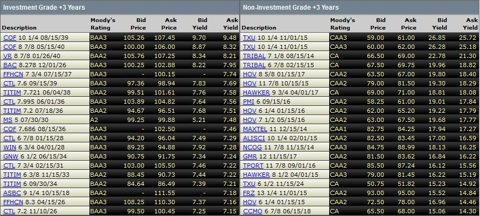 Investment Grade
General Electric (NYSE:GE) – Second-most actively traded corporate bonds of the day in the investment grade universe belonged to industrial conglomerate4 General Electric, whose May 2016 paper traded back and forth on volume of a little over $37mm. Despite an earlier advance in the price of its Aa2-rated five-year, dealers were exchanging its paper 40 cents per $1,000 investment lower by mid-afternoon.
Kraft Foods Inc. (KFT) – The price of the food and snack-manufacturer's far-dated paper was firmer as global yields came crashing down on Wednesday. Investors bought over $35mm of the Baa2-rated paper carrying a 6.5% coupon lowering the yield-to-maturity on the session to 5.69%. With its shares pushing at another fresh 2-week high, demand for its far-dated bonds appears high. Over the past five weeks investors have favored Kraft paper relative to treasuries of comparable maturity forcing the premium lower by nine basis points to 1.32%.
Bank of America (NYSE:BAC) – The yield on Bank of America's 10-year issue edged lower once again on Wednesday as active trading kept the issue on investors' most-favored list. Its price edged forward by a couple of pennies to leave the recently-issued bond yielding 5.03%. A volume reading of almost $40mm put Bank of America's A2-rated paper at the top of our market scanner in terms of most actively traded corporate paper.
Home Depot Inc. (NYSE:HD) – The premium investors demand to hold 10-year paper issued by this home-improvement giant has narrowed by just four basis points since the start of June to stand at 113 basis points. In Wednesday's session investors traded almost $40mm of its Baa1-rated issue advancing the value of a $1,000 investment by 28 cents. Home Depot's April 2021 maturity was one of the advancing names on today's market scanner as its share price continued to rebound.
Muni-Bond Corner
This holiday-shortened week offers only limited supply of $1.3 billion and compares to $8.2 billion the week before. The year-to-date weekly average stands at $3 billion. Total 30-day visible supply is $5.64 billion. Deals already on the agenda for this week include $365mm from San Diego Community College bond program (AA+) and $236mm from Dallas Water (AAA). St. Joes Health will also offer $105mm (A1/AA-).
In Tuesday's trading yields were unchanged in quiet post-holiday session, having risen across the muni-curve by 13 basis points last week. Reinvestment money in the vicinity of $40 billion in coupon and interest payments along with a tight supply schedule should keep municipal bonds firm over the next two weeks. The yield on 10-year AAA munis closed at 2.76% (89% of U.S. treasuries) while the 30-year AAA yields around 4.36% (100% of Treasuries).
Budgets: Massachusetts passed a $30.6 billion budget on July 1
st
that includes a provision limiting collective bargaining by municipal workers on health care. Minnesota enters its 6
th
day of a government shutdown after budget impasse on its $5 billion deficit. The major differences remain the tussle over spending cuts or income tax increases. Government workers were furloughed. State debt service will continue to be paid under an ongoing appropriation.