One of the most-publicized turnaround stories in recent years has been Rite Aid (NYSE:RAD). As the country's third-largest drugstore chain behind CVS Health (NYSE:CVS) and Walgreen (WAG), Rite Aid has faced significant competition and the fallout from a poor expansion strategy years earlier that left the business experiencing stagnating sales and significant losses year-over-year. In response to these issues, management went about turning the operation around, which involved closing underperforming stores and placing a greater emphasis on raising comparable store sales.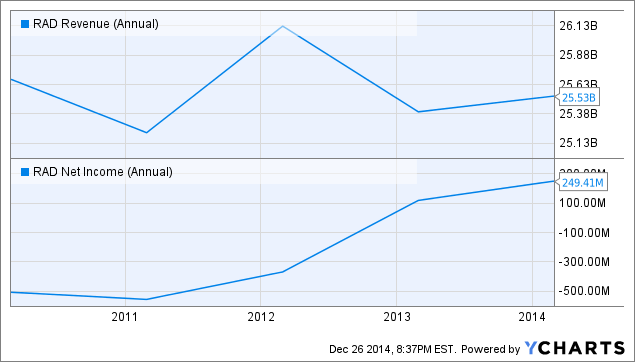 RAD Revenue (Annual) data by YCharts
As a result of these efforts, the chain's revenue fell from $25.7 billion in 2009 to $25.5 billion by the end of its 2013 fiscal year, but its net loss of $506.7 million morphed into a gain of $249.4 million. In spite of this, however, the retailer's shares are trading at a 36% discount to their 52-week high after Mr. Market realized the business isn't improving at the pace it would like to see. In response to these concerns, investors have a right to be concerned, but with two strong selling points, is it possible that the upside for Rite Aid is right around the corner?
Generic drugs are the wave of the future
Historically speaking, name-brand drugs have been the staple of the ill, but that picture is beginning to change. According to IMS Health Holdings (IMS), generic drugs should be the wave of the future. After seeing what many refer to as the "patent cliff" where a vast majority of patented drugs became accessible for generic manufacturers to produce without risk of legal backlash, consumers started having more options available to them. Due to increased levels of competition from generic producers and the fact that generic drugs are cheaper to produce, companies like Rite Aid are able to profit more off of lower sales.
Based on the data provided, generic drugs made up just $260.55 billion, or 27%, of the world's total drugs sold in 2012, with only $99.52 billion being sold within developed economies like the U.S. By 2017, however, it's estimated that generic drug sales will grow to between $421.20 billion and $432 billion across the globe, with between $136.50 billion and $142.80 billion being attributable to developed economies alone. Because of a growth in the industry, it's likely that Rite Aid should see its revenue increase to some extent (though it could be slowed by a lower price for generic drugs) and it's almost certain that profits should rise if you hold all else equal.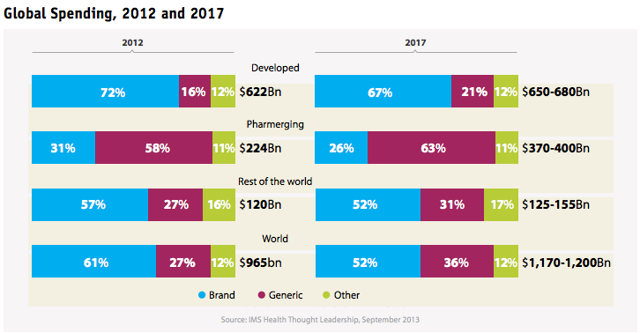 Unfortunately, Rite Aid will not benefit from the growth from generic introductions outside of developed economies (unless it expands internationally), which is where the fastest growth in this class of drugs will take place. However, its situation isn't materially different from CVS', which has fewer than 2% of its stores located within the U.S., so it's likely that other businesses like Walgreen, which has Alliance Boots, will be slightly better-positioned to take advantage of this trend but even it won't catch most of this opportunity. Either way, though, Rite Aid's prospects should be attractive as generic drugs help push profits higher.
In fact, the positive impact of this shift toward generic is already helping the company's bottom line. As you can see in the table above, Rite Aid's cost of goods sold in relation to sales has declined by 2.1% over the past five years. This tops the 1.4% improvement recorded by Walgreen and trounces the 1.9% hit taken by CVS. According to management, one of the main factors that has helped this metric has been the lower cost of generic drugs, which, as management stressed in the company's most recent annual report, has resulted in higher margins even in the face of a lower ticket price.
Takeaway
Moving forward, Rite Aid and its investors have a lot to look forward to from the adoption of generic drugs. Unfortunately, the business will not be able to benefit where most of the action will take place unless it can find the capital to expand into emerging economies, but it will still benefit nonetheless. It is important for investors to keep in mind that the company's rivals will also see an upswing in profits from the shift toward generic (at least they should if things go right), but with Rite Aid's turnaround already proving successful, there's plenty of opportunity for the business to continue benefiting.
Disclosure: The author has no positions in any stocks mentioned, and no plans to initiate any positions within the next 72 hours.
The author wrote this article themselves, and it expresses their own opinions. The author is not receiving compensation for it (other than from Seeking Alpha). The author has no business relationship with any company whose stock is mentioned in this article.