Verizon (NYSE:VZ) shareholders have seen their shares range bound over the past year or so after a strong rally sent the telecom giant from the low $30s to the $50 area in the preceding two years. This performance has come as VZ continues to sport one of the highest yields in the S&P 500 and in particular, the Dow 30 (NYSEARCA:DIA). VZ faithfully pays out its dividend each quarter and manages to raise it each year to boot, making it a great income stock. But how does the yield look in relation to historical payouts from the company? What does the stock's valuation look like and how safe is the dividend? In this article I'll value VZ from a dividend perspective and see if the sideways action is a blessing for long investors or a warning.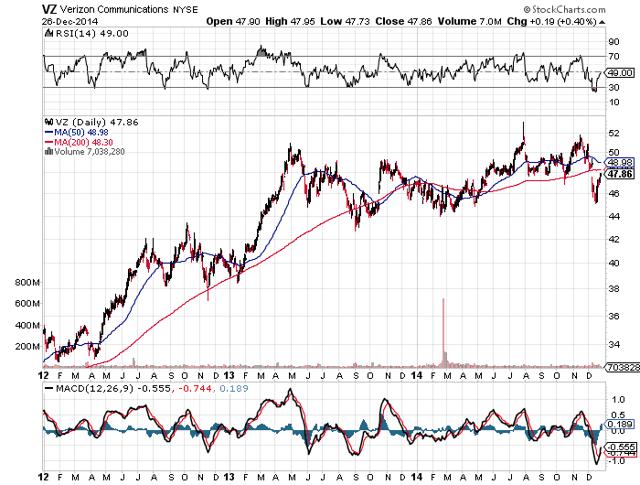 Verizon's earnings are so lumpy and riddled with non-cash charges from various sources that EPS is virtually useless in valuing the company. There are other companies like this that are enormous, well followed enterprises like arch rival AT&T (NYSE:T) where depreciation is a way of life and thus, EPS is pointless. But there is hope; FCF doesn't lie and we can use that to understand relative valuation with VZ.
FCF isn't perfect because it can be greatly affected by the timing of certain investments but it gives us a decent picture of how much money VZ is making and its ability to pay its dividend. This chart shows data on VZ's free cash flow for the past eleven years with data from Morningstar.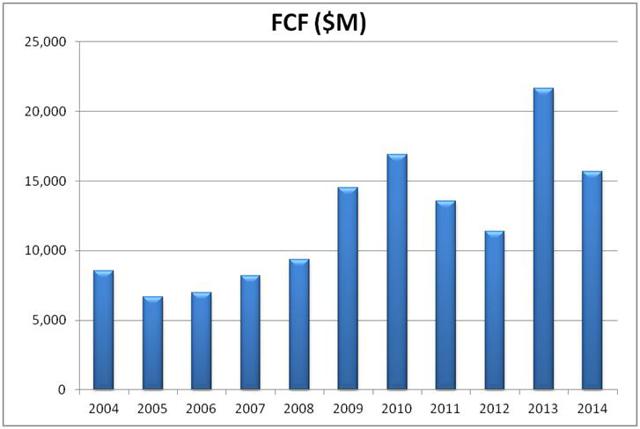 We can see Verizon's cash flow varies wildly depending on what bills come due in a particular year. What's interesting is that Verizon's capital spending is actually very steady around $18 billion annually but what's left of operating cash flows after that can fluctuate violently. That can make it difficult for management and investors alike to know what the company's FCF situation will look like from year to year and to plan for it.
Verizon has 4.15 billion shares outstanding right now so at its current dividend payout of $2.20, it is on the hook for $9.13 billion in dividends each year. if we take a look at the company's FCF chart, that accounts for more than half of the company's FCF virtually every year and more like two-thirds or more in most years. In an environment where it gets more and more expensive to run a telecom every year, I'm not sure that's what bulls want to see. This is also irrespective of any buyback efforts the company wants to embark on and any additional investments that may need to be made.
In terms of the valuation, I mentioned that VZ had rallied from the $30 area to the $50 area a couple of years ago and that means the yield is lower than it has been in the past. The company's five year average yield is 5.2% but the current yield is much lower at 4.8%. That may not sound like much but in order for the shares to get back to their five year average yield, they'd need to fall to $42, about $5 lower than where they trade right now. For context, that kind of fall would wipe out two years' worth of dividends.
Verizon's sideways price action has seen its shares left in the dust by the rest of the Dow over the past couple of years.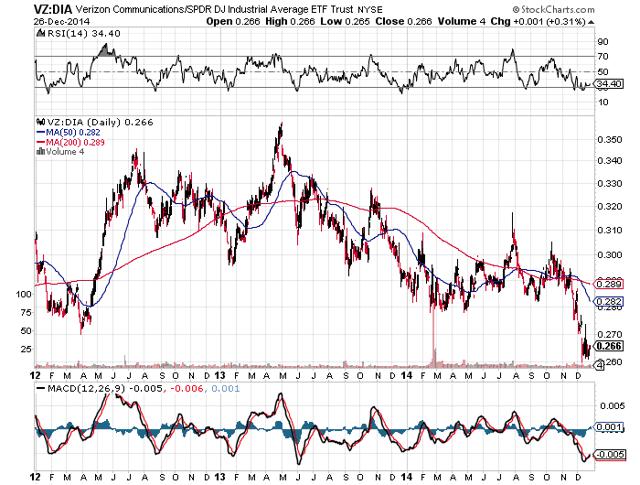 We see marked, sustained underperformance against the company's peer group and in recent months the gap has widened. Given the bleak outlook for telecoms I'm not sure we're going to see this turnaround anytime soon; VZ really just has its dividend because I think capital gains will be elusive for a while longer.
If you are looking for income, VZ could be a great choice. The company's yield is still very high by market standards even if it's on the lower end of VZ's historical range. However, I would caution investors that when interest rates begin to move up VZ's payout will look less attractive on a relative basis. This could lead the yield to move back up towards its historical range and thus, the stock will be worth less than it is today. I think VZ is probably worth around $42 because the Fed has already said it will begin the process of raising rates in 2015 and that will make fixed income investments like VZ less attractive. If you are an income investor that doesn't care about capital losses then VZ is a great choice but if you would prefer to enter at a lower price and higher yield, I think you'll get that chance in 2015 closer to $40 than $50.
Disclosure: The author has no positions in any stocks mentioned, and no plans to initiate any positions within the next 72 hours.
The author wrote this article themselves, and it expresses their own opinions. The author is not receiving compensation for it (other than from Seeking Alpha). The author has no business relationship with any company whose stock is mentioned in this article.