Johnson Controls (NYSE:JCI) was a disappointment in 2014 as neither its sales nor its earnings demonstrated any meaningful growth over the previous year's results and the firm's share price drastically underperformed competitors. The company is a global leader in automotive seat manufacturing, but also has significant exposure to industrial heating, ventilation and air conditioning (HVAC) sector. Johnson Controls' most recent corporate presentation outlines its various business segments: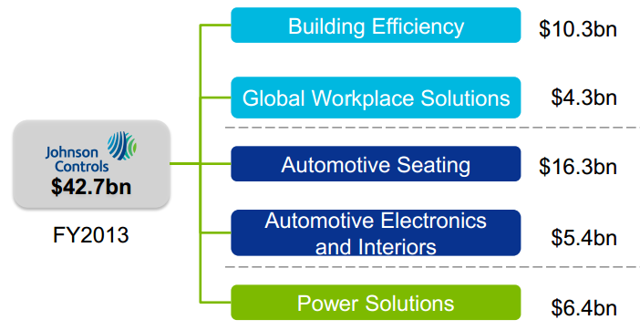 The good news for investors is that the stock now trades at under 12 times forward earnings, despite a projected double digit long term earnings growth rate. There is also speculation that Canadian auto parts manufacturer Magna (NYSE:MGA) might look to acquire Johnson Controls' seating business in the coming year. This article examines Johnson Controls in detail to determine whether it could outperform next year after a lackluster 2014.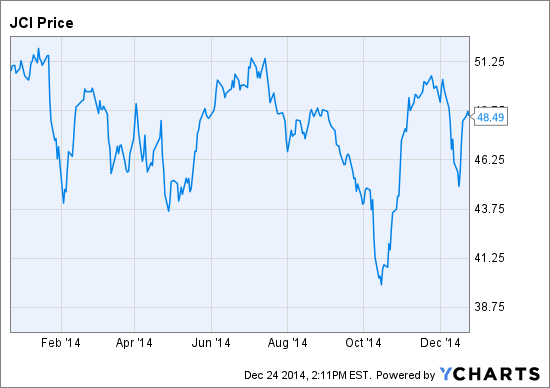 Please click here to read my article which outlines the DRAG analysis framework in more detail.
To summarize, the four variables used in a DRAG (dividend and risk adjusted growth) analysis are as follows (each company is ranked from 0 to 3 in each category):
1) How cyclical is the industry in which Johnson Controls operates?
2) How strong is Johnson Controls' competitive position within this industry?
3) How risky is Johnson Controls' balance sheet?
4) What is Johnson Controls' dividend yield and dividend growth history?
The premise is that a company that operates in a non-cyclical industry, with a strong competitive position and a clean balance sheet that pays an attractive dividend should trade at a higher earnings multiple than a company without these attributes, even if the lower quality company has higher projected future earnings growth. After adjusting for these variables, it becomes easier to compare companies in different sectors with different levels of future growth potential.
Johnson Controls DRAG Analysis:
Johnson Controls Industry Analysis

Industry Beta

1.46

Stock Beta

1.65

10 Year EPS Std Dev

162.4

Industry Score

0.5/3
Although nearly half of its business is not connected to the automotive sector, Johnson Controls is classified by most analysts as an automotive parts company and its elevated beta reflects this classification. Auto parts stocks are highly volatile; an academic research website from NYU suggests that the average stock in this sector has a beta of 1.46. Over the last five years, Johnson Controls' share price has exhibited even higher levels of volatility compared to the broader market: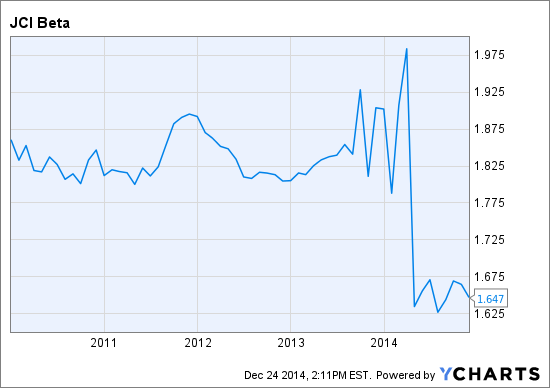 In addition, the firm's historical results suggest its operations are particularly economically sensitive. Its year over year earnings per share have declined five times in the last decade and the firm lost $0.57 per share in its fiscal 2009. Its elevated beta and cyclical nature warrant a significantly below average score in this portion of the DRAG framework.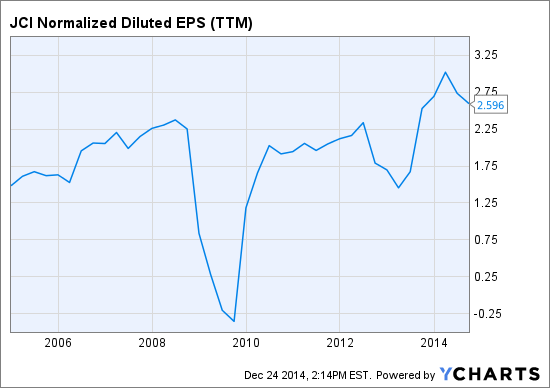 Johnson Controls Competitive Position Analysis

Gross Margin

15.5%

Operating Margin

5.4%

Return on Assets

3.8%

Return on Invested Capital

7.9%

Competitive Position Score

0.5/3
Although Johnson Controls does not generate impressive margins, both its gross and operating margin are modestly higher than comparable auto part manufacturers such as Magna and Lear (NYSE:LEA). Furthermore, its margins have improved slightly in recent years. Nevertheless, the company's efficiency ratios are rather poor and lower than one might expect, given the firm's dominant position in both the automotive seating and industrial HVAC industries. Johnson Controls has not managed an annual return on assets of greater than 6% at any point during the last decade and its return on invested capital has not surpassed 10% since 2011. Based on this data, the company does not possess a meaningful competitive advantage and therefore deserves a below average score for its competitive position.
Johnson Controls Balance Sheet Analysis

Debt to Equity Ratio

0.54

Current Ratio

1.11

Interest Coverage

9.0

Balance Sheet Score

1.5/3
Although Johnson Controls' is not a highly leveraged company, its combination of significant goodwill and a low cash balance make its financial position only adequate. The firm has a total of $6.7 billion in total debt outstanding, which does not appear excessive given its $32 billion market capitalization. However, this leads to interest coverage of less than 10 times and the company's cash position of $400 million is part of the reason why its current ratio is barely above 1. In addition, goodwill accounts for more than $7 billion (more than 60%) of Johnson Controls' $11.3 billion book value of equity. While shareholders should not be particularly concerned about the firm's financial outlook, its balance sheet is also not a significantly positive attribute for investors.
Johnson Controls Dividend Analysis

Current Yield

2.1%

Payout Ratio

41.5%

1 Year Dividend Growth

18.2%

3 Year Dividend Growth

44.4%

Dividend Score

1/3
Johnson Controls has an impressive dividend growth history stretching back more than a decade. Although the firm did not increase its payout for three years during the financial crisis, its recent dividend growth has accelerated. In November, Johnson Controls increased its quarterly dividend from $0.22 per share to $0.26, raising its current yield to above 2% in the process. In its recently completed fiscal 2014, the company spent more than $1 billion on share repurchases compared to a little over $500 million on dividend payments. While its yield might be on the low side for some income investors, those focused on dividend growth should consider Johnson Controls as a possible addition to their portfolios.
Johnson Controls DRAG Analysis

Total DRAG Score

3.5

/4 = Average DRAG Score

0.875

x Projected LT EPS Growth Rate

12.15%

x Projected 2016 EPS

= Johnson Controls Target Price

$44.12
The analyst community believes that Johnson Controls' future earnings outlook with remain consistent with the previous five years, during which time its earnings per share grew at an annualized rate of nearly 12%: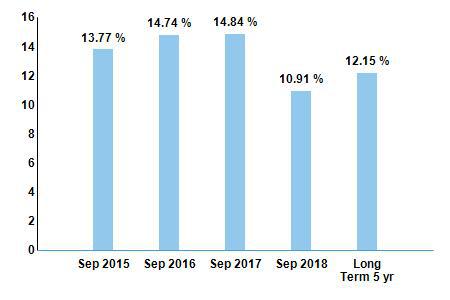 However, despite possessing a PEG (price to growth) ratio of less than 1 thanks to a forward price to earnings ratio of below 12, the DRAG framework believes that shares of Johnson Controls are overvalued by approximately 10%. This is due to the firm's elevated earnings volatility, low efficiency ratios and merely average dividend yield. In comparison, Magna trades at a similar valuation, yet has a higher anticipated earnings growth rate, generates a return on invested capital of almost 20% and has a nearly debt free balance sheet. While Johnson Controls is certainly an inexpensive stock relative to analysts' growth forecasts, its fundamental attributes do not suggest its fortunes will turn around in 2015. Those interested in adding an auto parts manufacturer to their portfolio should consider buying shares of Magna instead.
Disclosure: The author has no positions in any stocks mentioned, and no plans to initiate any positions within the next 72 hours.
The author wrote this article themselves, and it expresses their own opinions. The author is not receiving compensation for it (other than from Seeking Alpha). The author has no business relationship with any company whose stock is mentioned in this article.