I've been looking for quite some time now for the opportunity to add shares of 3M Company (NYSE:MMM) to my portfolio at a reasonable discount to fair value. Unfortunately, I haven't been the only one, the company has been one of the market's top performers this year: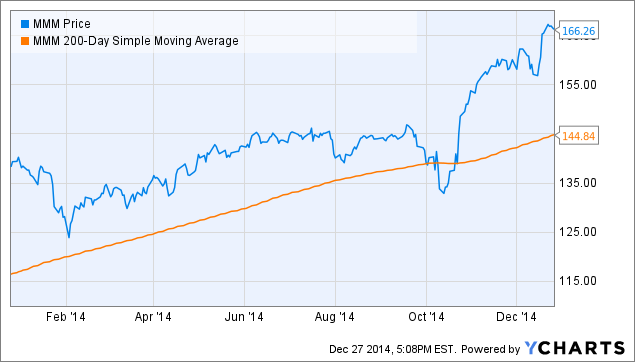 From February of this year to now, shares have appreciated a tremendous 33%, with the vast majority of the gains having come in the last quarter or so. At first glance, it would appear that the "easy money" has been already been made. Does the stock still trade with a margin of safety or are shares fully valued?
Investment Thesis and Company Overview:
3M is a globally based, highly diversified technology company whose strength lies in its economies of scale, commitment to research and development, and battleship-strength portfolio of brands and patents. Its five operating segments are able to leverage technologies developed in-house across multiple disparate fields and applications, allowing any single product to find its way to multiple types of end customers - for example, applying dental mixing machinery to automotive body work. This efficient sharing of in-house resources is coupled with a peerless global distribution system that allows the company to compete favorably against smaller, local operators without access to its patent portfolio, distribution channels, or in-house innovation and expertise.
3M's diverse operations allow it to constantly tinker with its business model, and the company continues to refresh its product lines and realign its operating segments, eliminating or merging less profitable elements, and internally diversifying others. Product refreshes and constant reorientation of the company towards the most profitable enterprises has driven operating margins that have grown by about 50 basis points per year, on average, over the past decade. The company's so-called "15 Percent Time," in which it actively encourages its engineers to devote 15% of their time to individual interests, is a tremendously bountiful and self-renewing source of new patents and product ideas, which over the decades have included instantly recognizable brands like Scotch tape, Post-it Notes, and Scotchgard.
3M's breadth of operations makes it difficult to concisely describe. The company currently operates in 5 reporting segments (excluding Corporate), each with a different market focus. The Industrial segment, by far the company's largest (accounting for 34% of consolidated sales and operating income in 2013) produces technologies for markets ranging from automotive products to food and beverages. Safety and Graphics focuses on security and productivity technologies ranging from personal protection products (like respirators and face masks) to biometric systems. The company's most profitable segment (in terms of operating margin) is its Health Care segment, which serves clinics, hospitals, and other healthcare affiliated businesses by developing medical supplies, drug delivery systems, and even computer software and consulting services. The Consumer Segment's products are probably the company's most recognizable, with the company's Glue Stick, Scotch-Brite cleaning products, and Filtrete air filters being familiar to anybody who went to school or owns a home. Electronics and Energy produces a range of products involved in electronic displays, renewable energy production, and communications, amongst other fields.
Though the company's constant shuffling of its business segments makes analysis a bit more difficult, some trends are readily apparent. The company's Industrial products continue to make up an increasing proportion of total revenues and operating income; in contrast, the contribution of Safety and Graphics to total revenues and operating income has rapidly fallen off.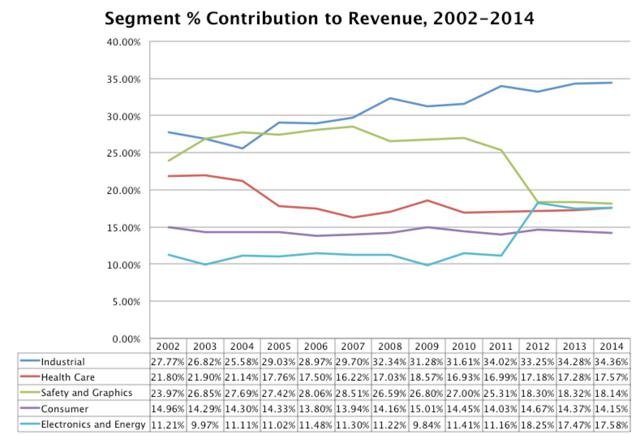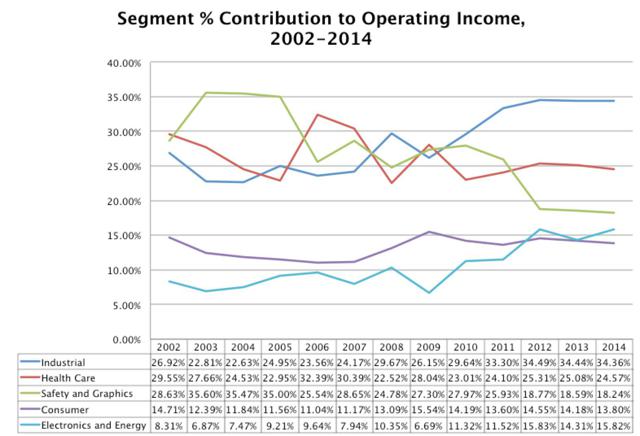 Source: Company 10-K's.
Operating margins have largely grown for all operating segments over the past decade, with the exception of Safety and Graphics, which has demonstrated flat to slightly negative margin expansion.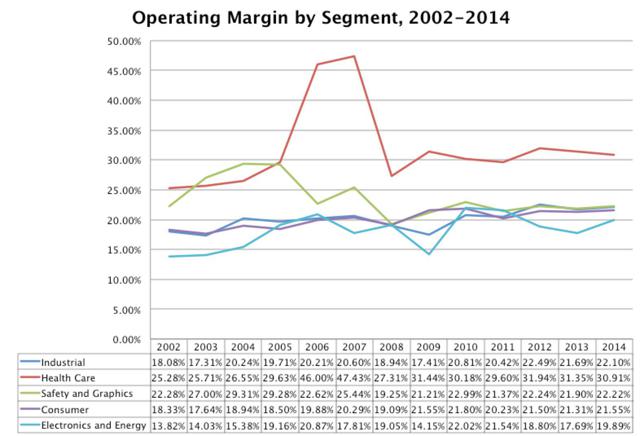 Despite some minor variation between segments, 3M's business diversification allows it to weather practically any macroeconomic environment, as its revenue growth and steady operating margins attest.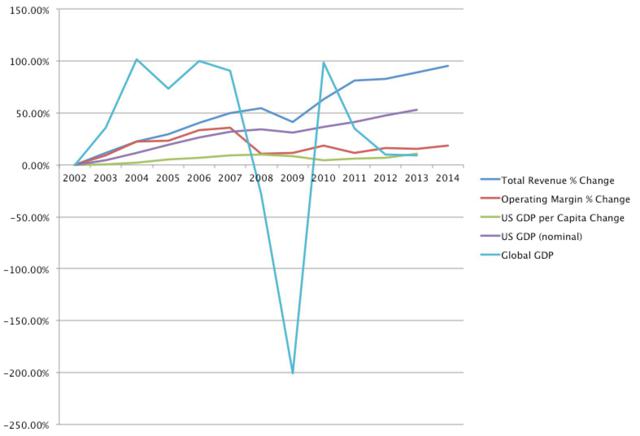 Source: Company 10-K's, the World Bank
Over the past decade or so, 3M's revenue growth of about 5-6% per annum has handily outpaced both US GDP and worldwide GDP growth, barely missing a beat during the global financial crisis. Even should growth begin to slow due to the law of large numbers, the company's demonstrably capable business model should allow it to reliably outperform for several more years.
Economic Moat: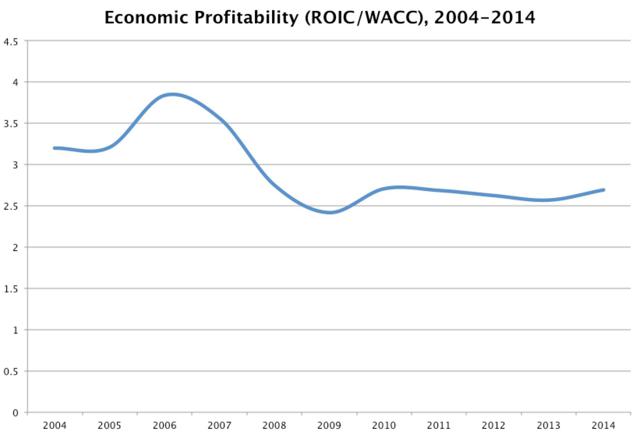 With a ROIC that routinely outpaces the company's cost of capital by some 2-3 times, it's pretty obvious from a quantitative basis that 3M has a wide economic moat. Morningstar considers the company to have a wide economic moat based upon cost efficiencies (sharing of technologies across the company's segments reduces redundant efforts and amortizes R&D costs across multiple product lines), and I'm inclined to agree. I would also argue that 3M's numerous recognizable brands and patent portfolio afford lend it additional "moatiness" through considerable intangible assets.
Outlook and Recent Operating Performance:
This isn't to say that 3M is a perfect company, by any stretch of the imagination. As the company has grown, it has turned to larger and larger acquisitions to help continue fuel its growth, and between these larger acquisitions and increasing unwieldiness, capital efficiency has taken a hit. Working capital turns show an unmistakably negative trend, cash conversion cycles have similarly turned in the wrong direction of late, and while the company's return on capital is still enviable, it is materially (though not substantially) lower than it was a decade ago.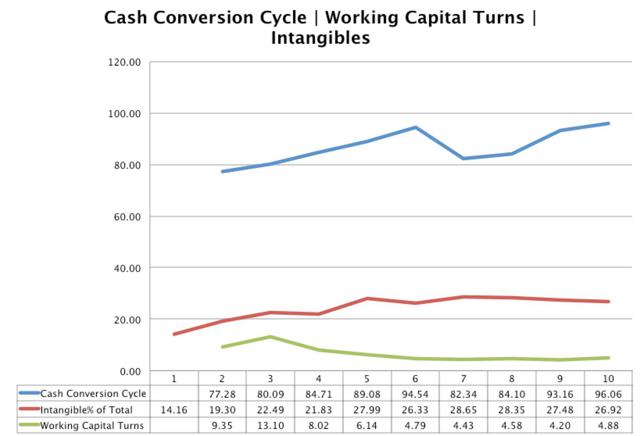 Source: Financial Data from Morningstar
That said, the company has turned in remarkable performance over the past year, which helps to explain the renewed investor enthusiasm.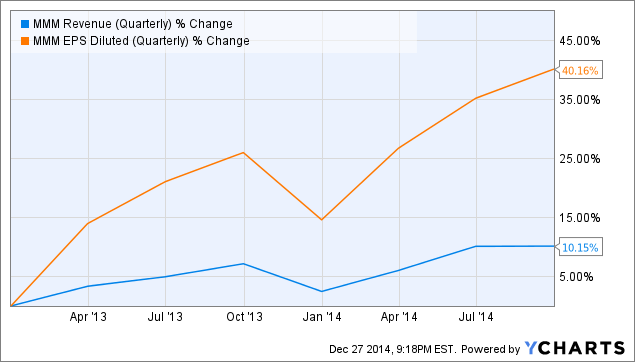 MMM Revenue (Quarterly) data by YCharts
| | Last Quarter | 1 Year Ago | Change Year to Year | Change Year to Date |
| --- | --- | --- | --- | --- |
| Consolidated Revenues | $8,137,000,000 | $7,916,000,000 | 2.8% | 3.4% |
| Gross Margin | 48.3% | 47.6% | +72 BPS | +52 BPS |
| Operating Margin | 23.4% | 22.0% | +139 BPS | +76 BPS |
| Net Margin | 16.0% | 15.5% | +48 BPS | +41 BPS |
| Earnings per Share | $1.98 | $1.78 | 11.4% | 11.3% |
For the most recent quarter, though consolidated revenues only increased by about 3% year-to-year (and a mere 3.4% YTD), margin expansion continued apace, and the company remains on pace to achieve consolidated operating margin expansion in line with its historical pace. Earnings per share continue to be juiced not only by margin expansion but also by aggressive share buybacks, which have averaged about 1% per annum over the past 10 years:
| | Q3 Revenue Growth | Q3 Operating Margin Change |
| --- | --- | --- |
| Industrial | 2.97% | 101 BPS |
| Safety and Graphics | 1.33% | 158 BPS |
| Electronics and Energy | 3.52% | 183 BPS |
| Health Care | 4.67% | -100 BPS |
| Consumer | 2.08% | 169 BPS |
On a segment-by-segment basis, all segments reported growing revenues for the quarter, and all segments except for healthcare showed triple-digit BPS operating margin expansion. The Industrial segment's outperformance was driven by aerospace and commercial transportation, especially in the US and Asia. Consistent with the recent fall in energy prices, the Electronics segment reported significant growth in display materials that was partially offset by a decline in energy-related businesses, but still managed to post 180 BPS operating margin expansion.
| | Last Quarter | 1 Year Ago | Change Year to Year |
| --- | --- | --- | --- |
| Book Value Per Share | $24.58 | $25.72 | -4.4% |
| Net Current Asset Value per Share | -$5.96 | -$3.65 | -63.3% |
| Tangible Book Value per Share | $10.86 | $12.02 | -9.60% |
| Current Ratio | 1.65 | 1.79 | -7.8% |
Turning to the balance sheet, the company's balance sheet remains only moderately levered, though NCAV, BVPS, and tangible book all have suffered over the past year.
Looking ahead, management guided to organic revenue growth of about 3-6% for 2015, and EPS to fall in the range of $8.00-$8.30.
Valuation:
I estimate a fair value for 3M shares at about $148 per share. I average the results of a discounted cash flow model ($167) and historical valuation model ($130) to achieve my result. For my discounted cash flow model, I assume 5-year revenue growth to slow moderately back to a historically achievable 5-6% per year before slowing further back to grow in-line with global GDP - a reasonable expectation, I think, given the breadth of the company's product offerings. I think the company can continue to use its extensive research and development efforts to drive new product launches and continue its modest margin expansion, growing operating margins by about 70 points in 5 years and by just over 80 basis points over the 10-year forecast period. I assume a tax rate of about 29-30% over the 10-year period, and capital expenditures to average about 5-6% of revenues. The model yields an EPS estimate for 2015 of about $8.12 per share on $33.15 billion in consolidated revenues, driven in part by continued share buy-backs and mild margin expansion. For my historical operating model, I apply historical PE (17.25x), PB (4.8x), and PS (2.6x) ratios to forward estimates for earnings, book value, and revenues. I employ a weighted average cost of capital of 7.9% to discount cash flows.
My fair value estimate implies a TTM PE of 20.3x and a forward PE ratio of 18.2 times my 2015 EPS estimate, as well as a fair EV/EBITDA ratio of 12x. This compares to a current EV/EBITDA ratio of about 13.4x and TTM PE of 22.8x. The result suggests that the shares are mildly to moderately overvalued, with a fair bit of optimism clearly "baked" into the stock at current prices.
Quantitative Analysis and Conclusion:
| | | | |
| --- | --- | --- | --- |
| Free Cash Flow Yield | 4.37% | Historical PE | 17.24 |
| Calculated FCF Growth | 3.90% | Historical PB | 4.79 |
| FCF Total Return | 8.27% | Historical PS | 2.59 |
| Expected Earnings Growth | 7.18% | 5-Year Forward PEG | 2.44 |
| Dividend Yield | 2.06% | FPE | 19.69 |
| Anticipated EPS Total Return | 9.24% | Fair EV/EBITDA | 11.98 |
| Median ROIC/WACC | 3.11 | Current EV/EBITDA | 13.41 |
| Morningstar Moat | Wide | Cost of Equity | Cost of Capital | 11.31% | 7.86% |
Like Johnson and Johnson, another wide-moat firm I'd been itching to add to my portfolio, 3M seems to rarely trade at a discount, and it would seem to be better just to get a fair price for the shares. That doesn't seem to be the case at the moment. Though I think the firm is totally capable of reliable high single-digit total returns over the next decade, I'm not sure that I'm willing to pay a 20-21x multiple on next year's earnings, and I think some multiple compression is highly possible. I would only require a small margin of safety to start a position in the company, but with shares trading materially higher than my fair value estimate, it looks like I'm going to have to keep waiting.
Disclosure: The author has no positions in any stocks mentioned, and no plans to initiate any positions within the next 72 hours.
The author wrote this article themselves, and it expresses their own opinions. The author is not receiving compensation for it (other than from Seeking Alpha). The author has no business relationship with any company whose stock is mentioned in this article.
Additional disclosure: General Disclaimer: This article provides opinions and information, but does not contain recommendations or personal investment advice to any specific person for any particular purpose. The author is not a professional financial adviser. Do your own research or obtain suitable personal advice. You are responsible for your own investment decisions.