Originally published on December 23, 2014
Recommendation: SELL
Price target: $8.03 (based on DCF valuation)
Current price (2014-12-22): $12.43
Company Description
BlackBerry Limited (Toronto Stock Exchange:BB) (BBRY) is a Canadian company providing wireless communications solutions. Its main offerings include the BlackBerry handheld smartphones, data communication and compression and security infrastructure services. John Chen was appointed as the CEO of BlackBerry in November 2013.

Investment Summary
BlackBerry's continuous and failing presence in the retail market is taking a toll on its topline number while the more promising BES is still in the early stage. However, the company has successfully cut costs and maintained a healthy balance of cash. Short term struggle will not threaten firm existence due to strong liquidity measures and limited leverage. Long term profitability will depend on BB's success in monetizing its software and enterprise solutions.
Loss of Legacy Subscribers and Uncertain Enterprise Attraction
1. Revenue struggle: Q3 result disappoints. Revenue continues to decline due to poor device sales and loss of service revenue (i.e. service access fees/SAF) from legacy consumer subscribers.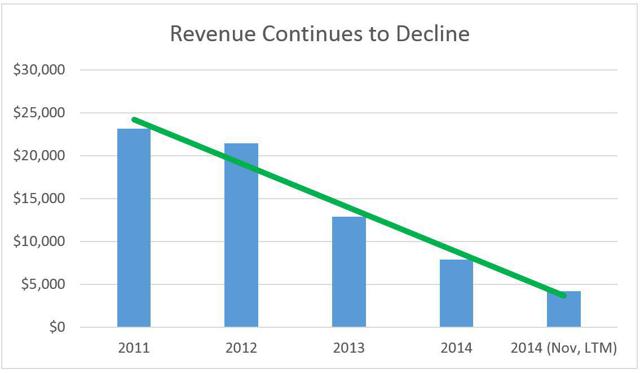 2. Hardware margin under pressure: Although handheld devices enjoyed improved margin due to focus on supply chain efficiencies and distribution management, strong pressure still remains in selling the device. The competitive smartphone market with multiple players (iOS, Android) and BB's recent trade-in promotion program will continue to put significant margin pressure on BB devices.
3. Lack of networking effect: BB is very late to the smartphone game. While the new additions to the family (Passport, Classic) are impressive devices, their lack of developer support means limited adoption by retail users. The limited retail users will, in turn, discourage developers from developing apps for the BB OS. Until a critical mass point can be reached, BB will be unable to benefit from networking effects like the iOS and Android.
4. Emerging market players: With significant revenue from emerging markets, BB's limited success in these regions will likely be hampered by new players from Chinese phone makers (such as Xiaomi, Lenovo) and low-end Android devices.
5. BBM on hold: In the November 13, 2014 BB Investor Session, the firm suggested capitalizing on BBM to improve revenue growth. The firm forecasts $100m BBM revenue by 2016. However, much like other messaging services (such as WhatsApp), exactly how the chat software can be monetized is not clear.
6. New players in BB's turf: BYOD trend and recent partnership by Apple (NASDAQ:AAPL) and IBM (NYSE:IBM) threaten BB's traditional enterprise market.
Valuation
Key assumptions of the valuation are as follow:
1. Hardware business will continue to decline with shrinking subscribers. In the short-term, the big dent caused by the loss of legacy subscribers will not be filled with software and enterprise solutions.
2. In the long term, BB will achieve growth by leveraging on BES and MDM offerings, effectively transforming itself from a hardware and software company that caters to both enterprise and retail market to a software specialist that caters only to the enterprise clients.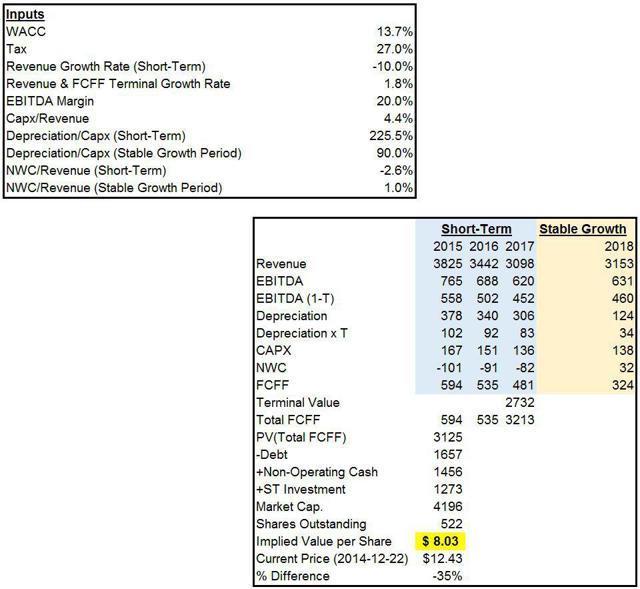 Disclosure: None.
Disclosure: The author has no positions in any stocks mentioned, and no plans to initiate any positions within the next 72 hours.
The author wrote this article themselves, and it expresses their own opinions. The author is not receiving compensation for it. The author has no business relationship with any company whose stock is mentioned in this article.