It is said that the sports businesses don't get affected through economic volatility. After all, everyone enjoys a sport no matter how poor or rich they are. One such business belongs to Speedway Motorsports (NYSE:TRK), whose share value has gone up by 49% over the past three years. The company operates as a promoter, marketer, and sponsor of motorsport activities in the United States. It owns several racing facilities such as Atlanta Motor Speedway, Bristol Motor Speedway and Charlotte Motor Speedway in the country.
In this article, I will evaluate Speedway's financial strength by reviewing its performance in the latest quarter. Later, I will discuss factors to support my quantified upside of the company.
Third Quarter
During the period, Speedway achieved revenue growth of 160 bps as the top-line figure came to $140 million. However, admissions for the quarter decreased by 6.1% due to lower overall attendance in NASCAR-sanctioned events. Still, the impact got mitigated by the results of the NASCAR truck race hosted by New Hampshire, and Red Bull Air Race World Championship Event hosted by Texas Speedways.
Event related revenues increased by 3.9% due to the Red Bull and New Hampshire NASCAR Truck Series Racing events, but the increase also reflected higher luxury suite revenues and sponsorship revenues associated with NASCAR racing events, and higher track rental revenues at the company speedways. NASCAR broadcast revenue also grew by 4.3% because of higher contractual miles.
In sum, Speedway's top line was healthy from every dimension. The results indicated that the company was experiencing growth through all its segments. Coupled with lower operating expenses that came due to a decline in advertising, Speedway was able to deliver an earnings figure of 36 cents per share, which was 20% higher than 2013 and beat the analysts expectation of 24 cents by a wide margin. Looking forward, there are several reasons to believe why the earnings trend will continue. Let's take a look at them.
Market Growth
Despite the recent troubled economic times, sport has continued to thrive, with major events appearing to become more popular than ever. At present, forecasts reveal that the market will continue to grow at a CAGR of 2.6% till 2018. The growth and popularity of major events will be supported by ongoing improvements in broadcasting and technology, which will allow higher-quality coverage than ever before. At the same time, TV companies are expected to increase the use of social media to engage with fans and deliver a greater intensity of experience. Meanwhile, sponsors are also forecast to increase their contribution to sports events and teams.
The market trends explain why Speedway's corporate spending is now stabilizing, with consumers showing increasing interest in promotional activities and facilities. They also explain why most of NASCAR Sprint Cup and Nationwide Series event sponsorships for 2015, and many for racing seasons beyond 2015, have already sold.
Even though in markets where recovery is slower than expected, NASCAR's focus on enhancing on-track racing competition and fan appeal is continuing to benefit Speedway's racing products. During the latest quarter, NASCAR announced an amended event schedule for 2015. The Labor Day Sprint Cup Series Event at Atlanta Motor Speedway will be held on March 1st now, following the Daytona 500; and the March 16th Sprint Cup Series Event at Bristol Motor Speedway will take place on April 19th. The backlog of events will ensure that Speedway's top line remains healthy in the near future.
Also, the details have finally emerged regarding the contracted TV rights on the new 10-year broadcast agreement between NASCAR, NBC and FOX. Beginning in 2015, the agreement is expected to bring TV revenues of approximately $217 million to Speedway, and it is expected that the figure will grow between 3% and 5% over the 10-year term.
Bottom Line
Growing market, strong backlog of events, and new TV rights have led the analysts to believe that Speedway will deliver earnings of $1.01 per share in 2015, which will provide year-over-year growth of 5.2% to the investors. The growth in earnings should sustain the stock-price trend ahead.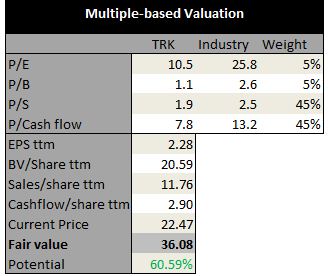 Speedway pays a dividend of 15 cents, which earns an attractive yield of 2.7%. The company also remains undervalued through several metrics that investors tend to rely on: Speedway's trailing P/E of 10.5x is below the 25.8x industry average, while the forward P/E of 22.5x is also below the industry average. The company's price to sales multiple of 1.9x is 24% lower than the industry average and the price to cash flow multiple of 7.8x is well below the 13.2x industry average. Adding them up reveals that Speedway is undervalued by 60% (see table above). Therefore, the company holds a buy rating.
Disclosure: The author has no positions in any stocks mentioned, and no plans to initiate any positions within the next 72 hours.
The author wrote this article themselves, and it expresses their own opinions. The author is not receiving compensation for it (other than from Seeking Alpha). The author has no business relationship with any company whose stock is mentioned in this article.