A friend of mine once told me before I started writing that I would know when I'm making an impact in journalism once I started receiving hate mail. I didn't understand what he meant at first, but I soon realized the context in which he was speaking. If I used his advice as a gauge, based on the volume of hate mail that I continue to receive this week alone, my impact on readers was pretty… – let's just say "remarkable".
Some notes were very creative and extremely "thoughtful" or even thought-provoking. It is also astonishing to discover the interest that some readers take in what my childhood must have been like. But I digress. To those to whom I have yet to respond, please know that you are not being ignored and a response is on its way soon.
What prompted these exchanges was a recent article that I wrote suggesting that my stock predictions performed better than Jim Cramer's. My mistake was that I underestimated the power of Cramer fans. But the odd part of this situation is that I don't think there is a bigger Cramer fan than me. It all started with the following spreadsheet. (the chart below is as of Tuesday's opening prices)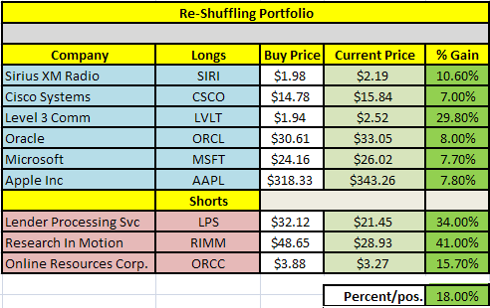 I was called a buffoon and drew the ire of several readers for having added the total percentage gains to show 161%. I really didn't see a crime in doing that, but the point was well taken and I have adjusted it. On the article, one reader posted the following comment:
So basically you are looking at stocks from the bottom or the top of a recent move and calculating that if we would have bought at the perfect time, these would have been the results. This is daydreaming. As for Cramer, the problem is that you need an endless supply of capital, and time to do every trade he mentions so its all a fallacy BUT it is fun to watch.
Buy a market ETF and beat Cramer every time.
In response I said:
Not necessarily. I value the metrics of each of these companies as well as the sentiment that surrounds the stock. I combine momentum along with macro-environmental influences in conduct the trade. You will see that I have written an article within each of the links that has been provided to share my views on that particular stock along with my argument for the recommendation.
The disappointing part is that nobody made any inquiries about my picks, and they showed more interest in pointing out my perceived arrogance. That was a bit of a disappointment and detailed the arguments for my recommendations below.
Sirius XM Radio (SIRI) - Price Target $2.75
I first issued a buy recommendation on Sirius when the stock traded at $1.98. Since then it has reached a high of $2.25 and now settles at $2.19; a (modest) 25% away from the $2.75 target.
Sirius expects to generate approximately $3 billion in revenue and $715 million in adjusted EBITDA for fiscal year 2011, while projecting free cash flow to now approach $350 million. From an operations standpoint, the company is also projecting to add another 1.4 million net subscribers by the end of the year and to experience full-year conversion and self-paid churn rates, similar to that of 2010. This part of the operation continues to be a concern of mine, as the company has shown little initiative towards improving these two important metrics.
As usual, these continue to be pretty "conservative" figures in my opinion. Sirius is notoriously cautious when it comes to guidance but even from a bearish perspective, these figures (if reached) will keep them on the same course of growth as last year, if not slightly higher. This is why I expect guidance to be raised during the conference call and for the stock to respond with a price target of $2.75.
Oracle (ORCL) - Price Target $40
On June 23 Oracle (as expected) reported record numbers in revenue, to the tune of $10.8 billion for the quarter; which was an increase of 12% from the previous year. I would be hard pressed to find a "non-growth" company who consistently produces such stellar top line results. Not only did the company report operating income of $5.2 billion, which was an increase of 19% from last year, but this was while the company grew its operating margin by 48%. So I ask the question again, what is wrong with Oracle? BMO Capital Markets' Karl Keirstead answered this question the best when he said, "We do not want to over-react to trends in a business representing 10% of Oracle's revenue mix; the other 90% of Oracle is performing well."
While investors continue to ask "What is wrong with Oracle," let me say that they have become the victim of their own success to the extent where investor expectations are way too high. This is another way of saying; there is nothing wrong with Oracle.
Level 3 Communications (LVLT) - Price Target $3.00
I first recommended Level 3 when it reached a price of $1.94 on June 20th. I previously said that it was expensive and mentioned that a true consolidation would affirm its long term trend. Since then, the stock has sufficiently consolidated from its recent high of "irrational exuberance" to a sustained trading range. The stock has since then reached a new 52 week high of $2.57, with no clear signs of slowing down. While I see that the company still has some challenges ahead; its debt has always been a concern of mine. But what continues to offer some optimism are the synergies that it will have with Global Crossing (GLBC) as joint entities.
Cisco Systems (CSCO) - Price Target $18.00
Since reaching a bottom of $14.78, Cisco has climbed over 7% to $15.84. Investors continue to scrutinize my patience with Cisco and call it misguided. "Cameron, cut your losses and move on" continues to be chanted in every direction. But I have made a promise to give the company six months to turn things around. As modest as a 7% gain may appear, it is not a loss. Maybe, just maybe, this is the start of "righting this ship" that we have all been clamoring for.
I think it would also be foolish to cut losses the very moment that the company has announced plans for a tablet. As critical of the company as I have been, I am more than willing to give Cisco the benefit of the doubt here. The stock remains cheap by many standards, and the company's equipment still powers more than half of the Internet. I continue to wonder that if Cisco can make this tablet project even "half effective", there could be some positive transformations around the corner.
Apple (AAPL) - Price Target $400
Apple continues to be the stock of stocks, king of kings and tech of techs! There are many who think that it will not be able to sustain the growth of its stock price after each earnings announcement, but I think that sentiment is all relative. Last year at this time, Apple was at $274. This year it has been as high as $364. It sustained its increase from Q2 of last year until this recent decline. Two weeks ago it was in the $350s.
I think the issue is that "expectations" for Apple are unlike any other stock trading today. Apple is on everyone's short list of where to put your money for the next five years. These declines really have no fundamental relevance, and the stock has shown the resilience that it has always had. It closed Friday 6/1 at $343.26 and investors are once again anticipating stellar earnings results as rumors continue to spread about developments of the Iphone5 as well as iPad3. If Apple is not at $400 by the end of the year, it would be a grave disappointment.
Microsoft (MSFT) - Price Target $30
Since I called for the removal of Steve Ballmer several weeks ago, Microsoft's stock has rallied a remarkable 8%. I think Ballmer has done an excellent job of maximizing Microsoft's profits and milking as much money as possible out of consumers and businesses for Microsoft products, primarily Windows and Office. But Ballmer has done little to propel the company forward technologically or strategically.
The sad part of all of this is that Ballmer, by all accounts, is a great guy and a wonderful ambassador for Microsoft. Unfortunately, at such a critical point in the company's history, that is no longer what Microsoft needs at the moment -- not as its two flagship products (Windows and Office) continue to be attacked by both Apple and Google. I think Microsoft is in dire need of someone who can methodically identify these threats and ways to mitigate their impact. But if the stock ends the year at my $30 target, I think I have to write a personal letter of apology to Mr. Ballmer; frankly this is a bet that I hope I end up paying.
Research In Motion (RIMM) - Price Target $20
Research In Motion over the last six months has been a complete and utter disaster. I had written previously why I felt RIMM was the prime short of the market and its recent earnings tragedy served to affirm that sentiment. The direction of the company should be a major concern to every RIMM shareholder -- even those with "glass half-full" outlooks. It is clear at this point that RIMM should only be touched with surgical gloves. The company reported a drop in earnings for the first fiscal quarter on Thursday afternoon and slashed its full-year earnings forecast, signaling continued weakness in its BlackBerry phones.
It wasn't all bad and there were some highlights during the call as well. Revenue in the first quarter grew 16% over the same quarter last year. International revenue in Q1 grew 67% year over year and also gross margin was approximately 44%, slightly higher than expected due to product mix. So I can see how those who are long RIMM may want to continue to see the company through rose-colored lenses, but in light of all of the challenges I have outlined above, if you are still long RIMM, I suggest that you get your eyes checked. This remains a short and a $20 stock by year's end, if not sooner.
Lender Processing Services (LPS) - Price Target $17
I first recommended LPS as a short on March 23rd when it traded at $32. At the time of the recommendation I said the following:
In the current environment, they have gained significantly from the misfortunes of homeowners. They are on a pretty hot streak right now, but I don't expect it to last. Although LPS' lock on the mortgage processing market has built a moat around its business, revenue will most likely get knocked back once the spike in homeowner defaults passes. One has to also consider that increasing customer consolidation could weaken its moat.
But since then, I have closed out my position at $24.52 but continued to recommend the stock as short. This has been one of the best performing shorts that I have had for quite some time. My instincts tell me that the stock can still drop below $20 in the wake of several cases involving mortgage fraud from various states, but it is always best to never be greedy. The chart below says it all.
The company, which handles more than half of U.S. mortgage foreclosures, faces various legal and regulatory issues, mainly over its alleged role in wrongful foreclosure practices. It recently entered into a consent order with the Federal Reserve, the Office of the Comptroller of the Currency, and the Office of Thrift Supervision, related to services provided to mortgage servicers by its DocX and Default Solutions operations. Last month, the Federal Deposit Insurance Corp. filed a complaint to recover losses of $154 million from an alleged breach of contract by an LPS unit with Washington Mutual Inc. These issues will not end any time soon, nor do I suspect that they will end well.
Online Resources Corp (ORCC) - Price Target $2.50
I first recommended ORCC as a short on March 28th, when the stock traded at $3.98. I said then that I didn't think the worst was over just yet-- and pointed to the strength of the competition from the likes of Fiserv (FISV), S1 Corporation (SONE), and Accenture (ACN) and how they will thwart its recovery efforts. I also indicated how the future was not going to be so bright for the company due to the improving performance of financial institutions and their growing IT budgets, ORCC will likely fall short of reaching even its lowered projections.
Fundamentally, the company trades at about 24.5 times its forward earnings, compared with a median of 15.2 for the broader sector. The Chantilly, Virginia-based company's shares received a boost over the last year, rising over 50 percent amid speculation that the company may be bought. On Friday June 1, the stock closed at $3.27 after reaching a new 52 week low of $2.95 several weeks ago. It is worth noting that $2.90 was my initial short cover target when I first issued the recommendation on 3/28. I have since revised that down to $2.50. If you are short ORCC, you should hold your position.

Disclosure: I am long SIRI, ORCL, CSCO, MSFT, AAPL.