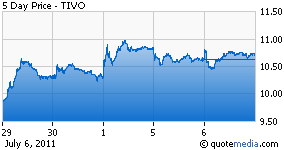 TIVO stock jumped 5% Friday after talk of a takeover hit the Street, with Google (NASDAQ:GOOG), Microsoft (NASDAQ:MSFT), and ROVI among the possible acquirers, according to Janney Montgomery Scott analyst, Tony Wible. The report listed a possible price of $20/share, a substantial premium to TIVO's close yesterday of $10.73.
It is true, as Seeking Alpha's Adam Muller pointed out on Tuesday, such an acquisition would be cheaper than the $2.4 billion price tag suggested in last week's report. According to CFO Anna Brunelle on Tivo's Q1 conference call in in late May, the company will have $650MM in cash, roughly half of its $1.3B market capitalization, after its initial $300MM payment from DISH.
Net of some $200MM in long-term liabilities (mostly convertible debt), TIVO has $3.71 per share in cash, reducing its enterprise value to about $850MM, or roughly $7/share. And as analysts have noted, now that its long-running litigation against DISH Network and EchoStar (NASDAQ:SATS) has finally been settled, to the tune of a $500MM settlement, the "time warp" patent (number 6,233,389, if you're interested, or just that bored) has been monetized, and TIVO looks well-positioned for additional settlements against Verizon (NYSE:VZ) and AT&T (NYSE:T). Maxim Group's Mark Harding, in the same Bloomberg article cited earlier, estimates potential payments in those cases in the range of an additional $300MM.
If we assume that settlement, TIVO's enterprise value of $850MM drops down to about $550 million. (We will ignore any present value discounting here; for the purposes of this article we don't need that level of precision. Let me also point out that I am purposely excluding the balance of the $500MM DISH settlement, as the company has announced that much of it will be booked as revenue and so we will treat it as such.) So, without question, TIVO's assets would lessen its true cost to a potential acquirer on an enterprise basis.
The problem is that the enterprise doesn't make any money. TIVO has made a profit in exactly one year since it went public in 1999: 2009, when the first round of damages paid by EchoStar put it over the top.
The top-line numbers are just as bad; revenues have dropped from $273MM in FY2008, to $220MM in FY2011. Even adding the $33MM in revenue which will be recorded for the next 3 quarters from the DISH settlement, TIVO will not, in fiscal year 2012, return to its sales numbers from 4 years earlier.
Its transition from selling boxes directly through retailers (primarily Best Buy (NYSE:BBY)), to partnerships with cable companies means lower service fees. TIVO made $7.63 per Tivo-owned unit in FY11, and about $0.90 from each licensed unit through a cable company, according to the company's 10-K.
Nor is there tremendous room for optimism about the company's growth. Subscriptions are down 38% from January 2009, according to the 10-K. Subscription acquisition costs are up 50%, to $182 each. Service revenues are down. Hardware revenues are up, but losses from hardware are up nearly 10% from 2009 (the boxes are sold as a loss-leader to generate service revenues, again per the 10-K). R&D expenses: up 25% in FY11, projected to stay flat in FY12, per company guidance.
TIVO is well aware of this fact. From the 1st quarter conference call and CEO Tom Rogers:
The progress at Virgin Media builds on the continuing momentum from RCN and Suddenlink, and will be further enhanced to several other operators who will launch the TiVO offering later this year. The combination of these activities was a critical factor in achieving the significant sequential reduction in MSO/Broadcasters subscriber losses.
The growth from new markets is not providing customer growth – it is merely helping to offset the tide of customers who are leaving Tivo for competing products.
So, the bull case that potential partnerships with Virgin Media (in the UK) and Hybrid TV (in Australia and New Zealand), plus new contracts with US-based companies misses the point; Tivo has simply not shown that it can hold onto current subscribers.
The idea that new agreements (or a re-start of its currently paused DIRECTV arrangement) will create customer growth is simply not assured. Bear in mind that Tivo, in fiscal year 11, reported only $15 million in service revenues from its cable partnerships. It will take many remarkably successful partnerships to get revenue to the point where Tivo is ever profitable without the aid of one-time legal settlements.
Back to our enterprise value valuation: from an investor's standpoint, at TIVO's Wednesday close of $10.73, we are buying shares in a company with an enterprise value of about $550 million. To gain that $550 million, we need either 1) profitable future cash flows and/or 2) future litigation settlements. Is there another half a billion in the legal pipeline? There are no upcoming lawsuits with material settlement potential beyond AT&T and Verizon (none are listed in the most recent 10-K, in any case), and we've already included those settlements in our calculations. (Tivo is furthermore facing suits from Motorola (NYSE:MSI) and Microsoft, among others, adding to our risk factor.)
As far as future profits go, the company is optimistic that it is "not too far from turning the corner on subscriber growth," which is often corporate-speak for "God willing we'll make some money at some point before we all get fired."
At $10.73, it's hard to make the bull case for Tivo. Then, where, is the bull case for acquisition from Google, Microsoft, or some yet-to-be-named suitor at $20/share? Buying Tivo at $20/share gives it an enterprise value net of cash and net of the DISH, AT&T and Verizon settlements of $1.5 billion. That's over 6 times current sales.
Is Tivo's patent portfolio worth $1.5 billion? A billion? Given that the list of major litigation targets is now decimated, it seems unlikely. Is Tivo's business worth $1.5 billion? A billion? At a billion, an acquirer would value an unprofitable business with declining revenue streams at four times sales. In short, I don't see a bull case for investing in Tivo at its current price of $10.73/share. Beyond that, I see absolutely no case for an acquisition at a premium.
I think with TIVO at an eight-month closing high, there is an attractive entry point for a short, with perhaps a hedge in case someone does acquire the company (hey, if Skype is worth $8.5 billion, maybe someone can talk themselves into Tivo for one-quarter the price.) The Jan 12.5 put is asked at $2.63, needing about a 9% decline, to 9.87 to break-even, with our losses maxed at the $263/contract premium. You could also short the stock while buying a Jan 15 call at .31 for protection against an acquisition, capping losses at about 55%.
To sum up, the TIVO valuation -- as noted by many SA commenters on other TIVO articles -- is based on successful litigation. But as we do the math, assuming some additional success in the courts, we have to ask: where are we going to find half a billion in enterprise value in a company with a track record of annual losses and declining revenues?
If we can't find that value in the company, who exactly is Tivo going to sue? (The major targets all have settled or have Tivo partnerships now.) And, if we can't find half a billion, how are Google, Microsoft, or Amazon (NASDAQ:AMZN) going to find three times that much value?
Disclosure: I won't be trading TIVO stock this week, but it is on my watchlist and I may initiate a position at some point next week or in the near future.