Currently, Facebook (NASDAQ:FB) and Twitter (NYSE:TWTR) are a hotspot for marketers as they have found ways to further optimize the respective platforms for higher conversion rates. This puts Facebook and Twitter in a relatively strong position to generate higher ARPUs.
Of the two, Facebook is a much better investment vehicle. Not only does Facebook have a much larger audience, it's also growing at a much greater rate, due to Instagram and WhatsApp. Needless to say, Facebook trades at a lower price-to-sales multiple and performs better on various financial benchmarks. Much of a stock's valuation is built upon the future growth prospects of a company, and right now, Facebook is likely to sustain both a higher sales growth and net income growth rate than Twitter.
Twitter is exposed to the same opportunity as Facebook and has a lower market cap in comparison. Much of the growth in revenue and earnings is driven by better scaling of Opex due to the drop-off in the amount of headcount necessary to run operations, paired with falling datacenter costs. However, levers to generate higher revenue also exist as Twitter can increase ad-load and license out some of its more proprietary data to other companies. Beyond those factors, trends in digital ad-buying are very supportive of Twitter's growth prospects, which is where I focus the bulk of my attention in the presentation.
Setting the stage
Today, marketers are betting the ranch on "retargeting and programmatic ad-buying."
Nowadays, you can buy ad inventory from a website's direct sales organization or self-serve platform. Sometimes, you're buying from aggregated inventory across multiple websites, which is referred to as ad networks. Some go another level higher, aggregating ad inventory across more than 90% of the web viewing audience, which is referred to as programmatic ad buying platforms.
Programmatic ad buying is the most disruptive trend in digital advertising because a combination of programmatic ad buying, paired with cookies, allows marketers to display the same ad unit across multiple channels. So instead of displaying an ad unit once to a consumer, and have them slip by, marketers are realizing that they can display the same ad-unit multiple times at the same exact person, across multiple websites. By doing this, the conversion rate goes up, because it's retargeting the same demographic without needing to go through specialized channels.
To add further context, marketers are no longer tied down to specific websites. If they can prove that a person is interested in buying financial products, whether they be stocks, bonds, mutual funds, exchange traded funds, they don't necessarily need to advertise on The Wall Street Journal. They can go to where that specific person is on the web. Maybe they're surfing around on Google (NASDAQ:GOOG) (NASDAQ:GOOGL), so they throw up an ad with the right keywords. Maybe they're on Yahoo Sports, so they purchase an ad displaying XYZ financial product. If you're on Twitter or Facebook they can display the same exact ad to you. Marketers are able to generate a higher ROI because some of these websites charge less and will still display an ad to the prospective customer who has demonstrated a high-level of interest.
If you're wondering how this is happening, it's because banner ad unit slots aren't really standardized anymore. You can get on two different computers and look at completely different banner ads, native ads and in-stream ads. Nowadays it's all about targeting, but of all the advertising channels, social ads offer the most opportunity for retargeting.
Defining the opportunity
When marketers display an ad across multiple platforms, inclusive of social, the same ad generates 2.84 times impressions and 2.18 times conversions. It's no wonder marketers are getting really excited about retargeting because it can be cost effective while generating more ad-engagement.

Source: AdRoll
This also explains why Twitter and Facebook are generating higher CPMs (cost per thousand impressions). Marketers are doing a significantly better job of pin-pointing where customers are. Plus, digital ad budgets are increasing, because these ads are generating higher sales, which fuels the need to advertise more. Social ads are great for retargeting, because a massive population of the web can be found on social platforms making it easier for ads to swing back around to remind their customer that they need to buy their brand of beer, insurance, food, software, car or bank over other competitors.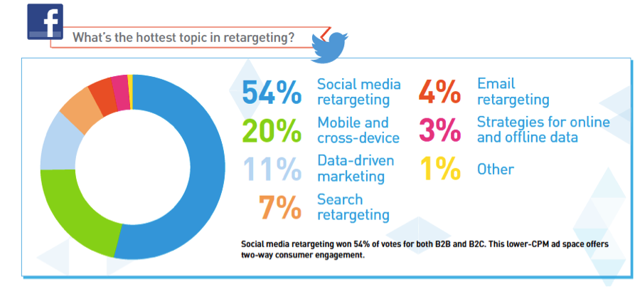 Source: AdRoll
Currently 54% of marketers mention that social ads are the hottest topic when it comes to retargeting. This puts companies like Facebook, Twitter and Snapchat in a relatively strong position for monetizing their audience when compared to media, search, and video.
I had a run-in with a retargeting experience after looking at MacBooks on Amazon (NASDAQ:AMZN). Ads of the MacBook Air started showing up on the various banner, native and in-stream ads on various websites. Not so surprisingly, I ended up looking up the MacBook via Google Search, which showed me a link to Best Buy (NYSE:BBY) that happened to have a special where the product was $150 off MSRP. So I got inside a car, and drove over to Best Buy to buy the MacBook Air. After shoving my iPhone in the face of the sale rep showing the price-off of the website I got a price-matched discount.
I share this experience because retargeting is pretty effective as it gives marketers the ability to advertise something and constantly remind you of something that you want to purchase. I and probably many others will continue to fall victim to this. I mean, my favorite brand of beer is Bud Light, but that's probably because an army of ads chased me from one website to the next.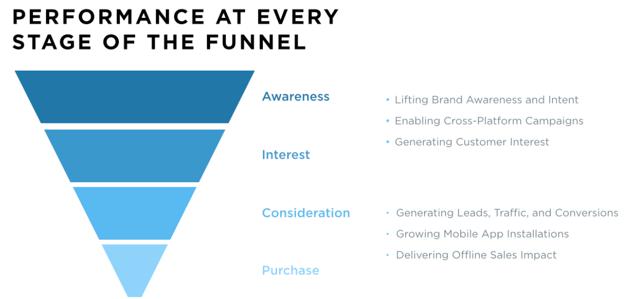 Source: Twitter
Typically, re-targeting focuses on the bottom of the sales funnel which is the "consideration" part. By getting users to come back and reconsider the same exact purchase, the conversion rates are significantly higher.

Source: AdRoll
Marketers are now refocusing their budgets on re-targeting. 71% of an ad-budget goes toward retargeting, which is up from 53% a year ago.
This benefits publishers, like Facebook, Google, Yahoo (YHOO) and Twitter. After all, if marketers can generate higher CTRs, publishers are able to monetize the same impressions better. This means more publishers can stay in business, and for large-scale publishers more revenue, which trickles down to higher net income. Also, Google mentions that with so many marketers recognizing the opportunity in programmatic ad buying (which is mostly driven by retargeting) advertisers are paying for more expensive ad inventory.
At least according to Neal Mohan (VP of Display and Video Advertising):
For example the amount of transactions conducted programmatically on our Ad Exchange at CPMs greater than $5 grew something like I think 55% year-on-year. Last year those of CPMs greater than $10 grew 60% year-on-year. So lots of very high quality inventory is actually now getting transacted programmatically. Another example is the program that we launched a few months ago called Partner Select.
So the price advertisers are willing to pay for programmatic ad units are moving even higher, at least according to Google. This should translate into higher ARPU (average revenue per user) figures for various social websites/apps like Facebook, Twitter, Snapchat and Instagram. Programmatic ad buying isn't just isolated to search, it's inclusive of ad buying across all major publishers. In this case, data from Facebook and Twitter confirms the trends highlighted by Google.

Source: Facebook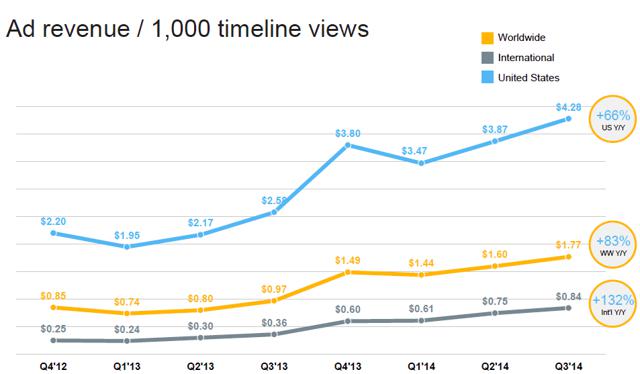 Source: Twitter
In the case of Facebook, ARPU has trended higher. Some of it is attributed to ad retargeting via programmatic exchanges. The company also has rolled out various tools for marketers to leverage, which gives them further insights into customers. This comes handy at the bottom of the sales funnel, where marketers are trying to understand how much of their sales is driven by social ads over other formats.
In the case of Twitter ad-revenue per thousand timeline views has trended higher, and has grown 83% year-over-year worldwide MRQ (most recent quarter). The growth in revenue is driven by the relatively small scale of Twitter in comparison to peers, paired with the rollout of its self-serve platform and integration into programmatic platforms. This has given the company further scale and scope with regard to its ad solutions, which has translated into rapid monetization trends.
Conclusion
Clearly, Facebook, Twitter and Google are great plays on the transformative shift to programmatic ad buying. However, of the three companies, Facebook has the most upside due to the growth in adjacent verticals that tie into the combined scale of its ad-buying platform and integration into programmatic ad buying platforms.
Going forward Facebook's revenue growth will be driven by better monetization, paired with user growth. With more people clicking on ads, and higher click-through rates, there are two major drivers behind Facebook's growth rate. In prior articles, I have mentioned that this will drive Facebook's growth rate in FY 2014, and for the most part, I was right. Going into FY 2015, I expect the same trends will play out. Admittedly, guidance was a little light, however, trends in retargeting, and heightened interest in digital ad-buying, may correspondingly drive Facebook's revenue growth beyond management outlook.
In other words, the hidden X factor for FY 2015 is whether marketers are able to drive further efficiency into their retargeting efforts. If they can, major publishers like Facebook, Twitter, Google and Yahoo will report much higher growth rates on the back of higher revenue per user and revenue per thousand impression metrics.
Twitter remains another notable mention. With the stock trading in the upper to mid 30s, the stock may be cheap relative to its growth rate. Admittedly, there are reasons for why the stock has lagged the performance of peers, which I will go into greater detail in future articles.
Disclosure: The author has no positions in any stocks mentioned, and no plans to initiate any positions within the next 72 hours.
The author wrote this article themselves, and it expresses their own opinions. The author is not receiving compensation for it (other than from Seeking Alpha). The author has no business relationship with any company whose stock is mentioned in this article.