I have written a lot of bullish articles on Sprint (NYSE:S) over the past few years, beginning in March of 2012 when the shares were trading at under $3.00/share. As it has been well over a year since I last wrote on the company (during which time there has been substantial volatility - with highs over $11/share and recent lows under $4/share), I thought I should very briefly update my thoughts on the name.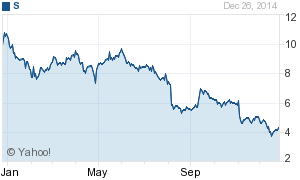 As a long-term value and (often) contrarian investor, one would think that Sprint's share price implosion (with the shares down 31% since my last article) would increase the attractiveness of owning shares for me and cause me to be more bullish. While I very often view share price developments in that manner, this is one of those situations where I believe that the news flow has actually been even worse than the substantial share price collapse.
I liked Sprint when it appeared that there was a clear catalyst for margin improvements from "Network Vision" (most notably from the shutdown of the Nextel network and the resultant removal of the duplicate network) and when revenue growth was either good or (later) when top-line challenges appeared to be more transitory (i.e. temporary subscriber losses from upgrade disruptions and a late start to the 4G upgrade).
So, what's gone wrong for Sprint?
When I last wrote on Sprint in October of 2013, the Nextel network had only recently shut down (at the end of June 2013) and I believed that there were reasons for optimism with respect to future margin developments. Subscriber trends were already poor, at that point, but there were reasons to believe that these difficulties were more temporary in nature.
Moving forward to today, the Nextel network has been shut down for over a year (closed at the end of June 2013) and the overall margin improvements for Sprint have been much worse than I expected. Furthermore, I believe that the company's subscriber growth challenges are now more related to long-term structural challenges (i.e., an increasingly competitive pricing environment) that may be less transitory in nature.
Looking back, a lot of Sprint's financial woes were blamed on the cost of running two networks and other network operating inefficiencies. By consolidating Sprint's networks and exploiting other network efficiencies through their "Network Vision" program (first announced in December of 2010), the company targeted an increase of EBITDA margins by 500-600bps, with other operating efficiencies expected to improve margins by another 500-600bps (both improvements expected by the end of 2014).
At the midpoints of their guidance for margin improvements, the total expected margin increase from these improvements would have been 900bps. With EBITDA margins averaging about 16% between 2010 and 2011, and using that as a starting point, the efficiency improvements would have implied EBITDA margins of over 25% by the end of 2014 (all other things remaining equal).
Moving forward from that time, I estimate that the EBITDA guidance for 2014 implies EBITDA margins of around 17% for the year, which is not much of an improvement from the 2010/2011 levels. Furthermore, initial EBITDA guidance for 2015 - as mentioned on the most recent earnings conference call ("neutral to modestly higher" EBITDA for 2015) - doesn't provide much optimism with respect to margins going into next year either.
With respect to ongoing subscriber losses, there is still a "network perception" issue, resulting from Sprint's network upgrades, and that should improve over time. Furthermore, the impact of new pricing programs does seem to be positive (i.e. stemming subscriber losses), as detailed on the recent conference call presentation.
What's of increased concern to me, however, is the potential negative impact of the more difficult competitive environment (effectively, a price war) on Sprint's margins. This is particularly true when considering that Sprint's margins and resultant EBITDA generation are already at levels insufficient to cover the company's capital expenditures and the high interest expenses resulting from the company's substantial debt burden.
Conclusion:
The competitive environment for Sprint has been worse than I expected and the margin developments, following the closure of the Nextel iDen network, have been disappointing. Given Sprint's already weak margins, I question their ability to turn their fortunes around by lowering prices and the increasingly competitive price war that now characterizes the U.S. cell phone market is of considerable concern.
I have great respect and confidence in SOFTBANK (OTCPK:SFTBY) and Masayoshi Son, but I feel that a great deal of Sprint's challenges are now due to factors that are out of their control. While I don't rule out the possibility for them to eventually turn things around for Sprint (the result of which could ultimately be a "multi-bagger" for shareholders), I just don't see risk/reward as particularly compelling at this time.
Positively, it is possible that the depressed share price could incentivize Softbank to take them private (and eliminate the minority complications and resultant need to conduct business in an arm's length) or some other M&A upside event (i.e. merger with DISH Network Corp. (NASDAQ:DISH) or a cable company looking to add wireless to their product offering). This upside potential, however, is not something that I would rely upon and is currently not sufficient to offset my concerns about operational and financial headwinds, going forward.
Disclosure: The author has no positions in any stocks mentioned, and no plans to initiate any positions within the next 72 hours.
The author wrote this article themselves, and it expresses their own opinions. The author is not receiving compensation for it (other than from Seeking Alpha). The author has no business relationship with any company whose stock is mentioned in this article.
Additional disclosure: Position may change at any time without notice.
Editor's Note: This article discusses one or more securities that do not trade on a major U.S. exchange. Please be aware of the risks associated with these stocks.