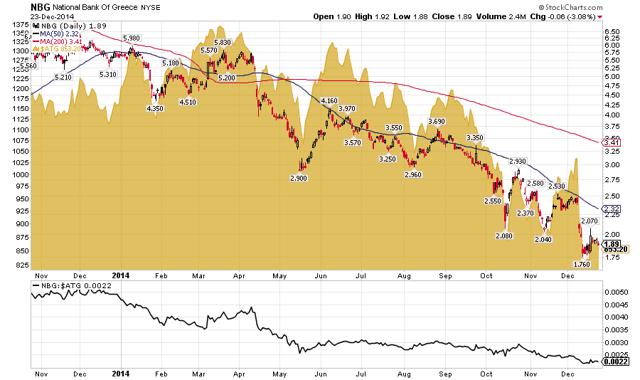 It has been a tough year for National Bank of Greece (NBG) shareholders. NBG's stock traded mostly sideways up until May and then fell when the Group announced a share offering to boost its capital position. In late May, NBG sold 1.14 billion shares in a private offering at €2.20 each, raising €2.5 billion. The offering, which represents a 32.1% stake, raised NBG's share count to 3.53 billion.
After falling to a low of €2.12 ($2.90) on May 15, NBG's share price rebounded sharply to €3.06 ($4.16) in early June. From there, it has declined steadily and at an accelerated pace in the fourth quarter. While the exact cause of the decline is uncertain, key events in the second half of 2014 provide some perspective:
The economic news in Greece has been positive. The country had a very strong tourist season, which helped boost third quarter GDP beyond expectations. Greece's economy grew 1.6% year-over-year in the third quarter (in real terms - i.e. chain-linked volumes - on a seasonally adjusted basis). This was the strongest growth rate among EU member nations and makes it highly likely that the country will show positive GDP growth for the full year for the first time since 2008. This year's better-than-anticipated showing makes it more likely that Greece can achieve its 3% GDP growth rate target in 2015.
NBG is certainly not the only stock in Greece to lose ground in the second half of 2014. Since June 30 (to Dec. 23), the Athens General Share Index has fallen 29.7%. During this same period, NBG is down 48.9%; while Greece's financial sector is down a whopping 76%. Greece's four main banks (NBG, Piraeus (OTCPK:BPIRY), Alpha (OTCPK:ALBKY) and Eurobank (OTCPK:EGFEY)) are down 40%-50%; while the remaining smaller banks and other financial institutions have plunged 70% or more. Financial stocks comprise a large portion of the Athens share index. Against this backdrop, it is clear that NBG's share price decline was probably due more to concerns about the Greek economy and financial markets and less to company specific factors.
In fact, the announcements made by NBG over this period have mostly been positive. These include: (1) the acceptance by the EU of NBG's restructuring plan; (2) passing the ECB's stress test (on a transitional basis, including capital expected to be raised from restructuring and asset sale programs); (3) progress made on major asset sales, including the planned sale of Astir Palace; and (4) profitable operations, excluding large one-time tax benefits (even though only slightly above breakeven).
In June, Deputy CEO Petros Christodoulou resigned and later accepted a position as CEO and CFO of Capital Products Partners L.P. (NASDAQ:CPLP), an MLP that owns 30 modern tankers, containers and dry bulk vessels. Concurrent with his departure, the Bank elevated three executives to the title of Deputy CEO. The new Deputy CEOs are Dimitrios Dimopoulos, the head of Corporate Banking and NBG's Ethniki Insurance subsidiary; Paul Mylonas, Chief Risk Officer; and Paula Hadjisotiriou, CFO. All three are members of NBG's Executive Committee and have become Executive Members of NBG's Board of Directors.
The declines in NBG's stock price and the Athens General Share Index seem to have been driven mostly by concerns about potential changes in the balance of political power in Greece and the effect that such changes might have on the progress that the country has made so far in reshaping the government and the economy. As noted in a previous article, Greece's leftist party, Syriza, which is ahead in the polls, is seeking to prevent Parliament from electing a new President in order to force a general election which it hopes will bring it to power. The financial markets fear that Syriza will push for another round of cuts to Greece's currently outstanding debt and undo many of the budget and structural reforms that have been put in place over the past five years.
Parliament has failed to get a sufficient number of votes in the first two ballots and will hold a final vote on Dec. 29. If the proposed candidate, Stavros Dimas, fails to obtain the required 180 votes (out of 300), then a general election will be held in January. In order to win support of MPs, Prime Minister Samaras has offered to hold a general election in late 2015, six months earlier than scheduled, after the country exits the bailout program and resolves any other outstanding issues with the troika. The negotiations over the election of the new President will undoubtedly continue right up until the final vote on Dec. 29.
A favorable resolution to the political crisis should spark a relief rally for Greek stocks and especially bank stocks. Yet, the market's enthusiasm will probably be tempered because, in spite of the progress made to date, Greece still has much more work to do. Consequently, the valuations of NBG and other Greek banks will likely remain below those that typically associated with "normalized" profit levels until more of these remaining issues are resolved.
Sequential Operating Results to the 2014 Third Quarter
Despite the slide in the Greek stock market and the political uncertainty, which many feel is now restraining the country's economic recovery, NBG has managed to show steady, but grudging improvement in its financial performance over the past four quarters.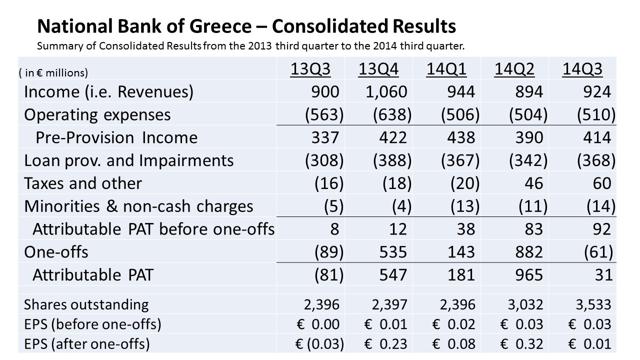 On a consolidated basis, pre-provision income increased 23% year-over-year to €414 million in the 2014 third quarter, but most of that gain was offset by an increase of 19% to €368 million in loan provisions and impairments. Taxes and other items had a €76 million positive swing, which helped raise attributable profits after-tax (PAT) from €8 million to €92 million. One-offs were lower, so the Bank's net attributable PAT after one-offs swung from a loss of €89 million to a gain of €31 million, year-on-year.
EPS before one-offs was €0.03, which was an improvement over €0.00 in the prior year but unchanged from the immediately preceding quarter. NBG's earnings per share before one-offs has improved gradually over the past year. On a rolling four quarter's basis, its EPS before one-offs is €0.09.
After one-offs, 2014 third quarter earnings were €0.01, better than last year's loss of €0.03. Over the past four quarters, NBG's EPS including one-offs was €0.64, due mostly to the conversion of a portion of its deferred tax assets (net of valuation allowance) into deferred tax credits.
Greek law was changed at an Extraordinary General Assembly meeting of Greece's Parliament on November 7 in order to provide a mechanism whereby banks and other financial institutions may be able to convert their deferred tax assets into deferred tax credits for losses incurred on Greek sovereign bonds under the Private Sector Involvement (PSI) sovereign debt write-off program in 2012. The utilization of these tax credit is not dependent upon future profitability; so banking regulators are willing to include them as capital.
NBG's loan provisions and impairments have been steady over the past five quarters. Management said that the new formations of loans past due for 90 days or more in the third quarter declined by 27% year-on-year, but were up by €46 million sequentially due to an increase in loan loss provisions in Turkey. (The tenor of its comments suggests that this increase in its Turkish +90dpd formations is temporary. Despite the increase, the overall financial performance of NBG's Turkish operations improved for the third consecutive quarter.)
From a capital perspective, NBG's tier 1 common equity (CET1) ratio, calculated on a transitional basis, was 15.8%, down from 16.2% in the second quarter but up from 10.5% at the end of 2013. The increase in the ratio since December 2013 reflects primarily the positive impact of the €2.5 billion share issuance in May. The ratio declined slightly in the third quarter due to mark-to-market losses on available-for-sale securities combined with increases in risk-weighted assets, primarily new loans.
Under the transitional basis, NBG includes capital that it intends to raise in the future, under a restructuring program approved by EU regulators on July 14. Without these transitional items, NBG failed to meet the minimum threshold in an adverse scenario of a 5.5% CET1 ratio by €0.9 billion, using year-end 2013 data. However, NBG has since covered this shortfall with profits earned and other capital actions completed in 2014. After factoring in the transitional items, NBG had a €2 billion surplus in the adverse scenario. Most of the transitional items should be completed in 2015.
NBG's ratio of loans-to-deposits was 81% in Greece and 93% for the Group overall at the end of the third quarter. Deposits were up 11% in Turkey and 2% in Greece in the third quarter. With its strong liquidity position and the prospects for further increases in deposits, NBG is positioned well to fund increases in loan demand.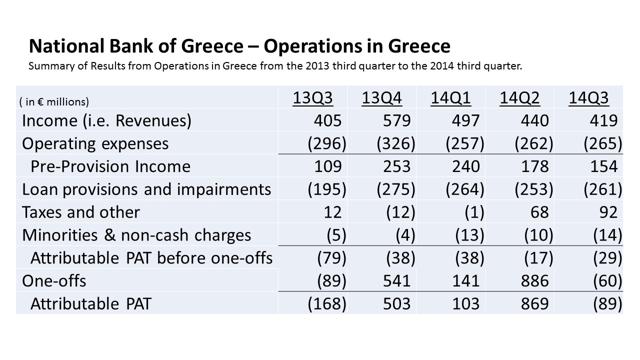 NBG's operations in Greece, which include commercial banking, investment banking, insurance and asset management, have exhibited modest after-tax losses before one-offs throughout 2014. Income (aka revenue) has declined steadily over the past three quarters, mostly due a reduction in loan balances and losses on securities. Operating expenses, though down meaningfully year-over-year, have plateaued. This has led to a steady decline in pre-provision income (PPI) over the past three quarters. Meanwhile, loan loss provisions and other impairments have remained elevated (and rose in the third quarter by €66 million or 34%, year-over year). A significant (and increasing) tax benefit in Q2 and Q3 helped keep the attributable loss after tax flat.
Despite the lack of substantive improvement, the business has made progress in 2014. Eurosystem funding has declined by €10 billion to €10.7 billion at the end of the third quarter. The decline has helped to lower the bank's funding costs and raise net interest margin by 23 basis points (BPS) to 283 bps. Combined with the lower level of operating expenses, NBG-Greece should experience a quicker return to profitability, after it works through its defaulted loan backlog and as lending demand begins to improve. With a loan-to-deposit ratio of just 81%, NBG-Greece is in a strong position to meet increases in loan demand.
Besides steady improvement in the economy, the turnaround of NBG-Greece may depend in part on NBG getting the proper legal authority to work through its problem loans. Greek bankruptcy law currently limits the ability of lenders to seize assets and force involuntary loan restructurings. Parliament was due to pass a new bankruptcy law last fall, but it appears that this effort has been tabled. It is not clear what impact the delay is having on NBG's potential loan recoveries. Many lenders, including NBG, have nevertheless been staffing up their workout departments to resolve as many issues as possible now and also in anticipation that they will be able to move forward more decisively once the new law is passed.
Management says that domestic formation of 90 day plus past due loans has been abating. These past due loans amounted to 30.2% of the domestic portfolio at the end of the third quarter, up from 27.1% last year. That still looks a high percentage increase, but some of the increase is due to a decline in the domestic loan portfolio. Management says that +90dpd domestic formations were down 36% year-on-year and 6% quarter-on-quarter. If that continues, +90dpd loans should peak as a percent of the total loan portfolio within the next couple of quarters. Outright declines in the +90dpd book should then follow before too long.
NBG's loan loss reserves cover 56% of the +90dpd book. Assuming that most of those loans are secured, that coverage level should be adequate to meet expected losses. As with other major banks in the U.S. and elsewhere, high reserve coverage levels can lead to future releases of loan loss reserves into earnings, as long as the economy continues to recover. Such releases boost profits in the short-run and can presage a sustainable rise in future profitability.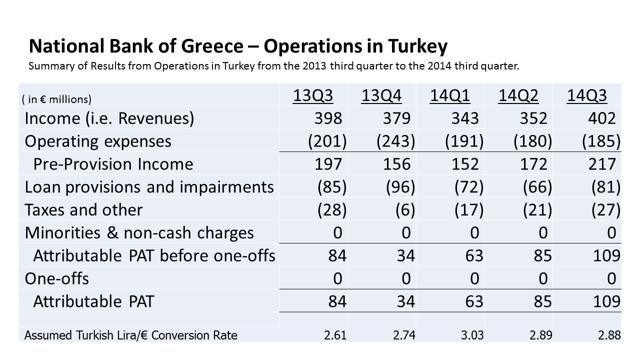 Finansbank is NBG's most profitable subsidiary. It has grown very fast in recent years as it has expanded its footprint throughout the well-populated areas of Turkey. Its profitability took a hit in 2013, however, as the Turkish economy overheated and interest rates rose. Finansbank has thus been working to streamline its operations and prune its loan book. After bottoming in the 2013 fourth quarter, Finansbank's profitability has shown steady improvement in 2014.
In the 2014 third quarter, while income was flat, the reduction in operating expenses allowed Finansbank to realize a 10% improvement in PPI to €217 million. Modest declines in the provision for loan losses and taxes helped boost attributable PAT by 30% to €109 million.
Pre-provision loan losses declined despite an increase in +90dpd formations. Finansbank has kept its overall +90dpd book low, in part by selling small portfolios of non-performing loans.
Under NBG's plan to boost capital, the bank has agreed to sell a 40% equity stake in Finansbank. Following its purchase of International Finance Corp.'s 5% stake in September, NBG now owns 99.81% of Finansbank's outstanding shares. The remaining 0.19% stake in Finansbank is publicly traded in Istanbul. Its Global Depositary Receipts are listed on the London Stock Exchange (FBKD.L), but do not seem to trade. Several of Finansbank's bond issues are also listed in London.
According to the restructuring plan approved by the European Commission Directorate for Competition, NBG is required to reduce its stake in Finansbank to 60%. It can do this in two ways: 1) by raising new capital for Finansbank in a public offering (which would dilute its ownership interest) and 2) by selling a portion of its stake directly to a third party or in the open market.
On October 22, NBG announced that the Board of Directors of Finansbank had resolved to submit a draft prospectus to the Capital Markets Board of Turkey relating to a share capital increase (SCI) of TL 715 million in Finansbank. According to Finansbank's disclosure documents, the TL 715 million increase will bring total share capital to TL 3.55 billion; so the new offering represents an equity stake of 20.14%.
On November 12, NBG further announced that it would proceed with a secondary offering of shares that it currently holds in Finansbank with a nominal value of TL 80 million, representing 2.25% of the projected total share capital, post SCI. It has also granted an overallotment option to underwriters; but said that the total stake offered through the SCI, secondary market offering and overallotment option will not exceed 26.9%. Thus, the overallotment option is equivalent to 4.32% of the projected outstanding capital or TL 154.69 million.
If the SCI, secondary offering and overallotment option are completed in full, Finansbank will still hold an equity stake of 73.1% in Finansbank, above the target of 60%. Presumably, then, NBG plans to issue more shares, either through a primary offering (public underwriting or private sale) or a secondary offering during the course of 2015.
The total share offering represents a mixed blessing for NBG. On the one hand, it will reduce its equity exposure to Finansbank, thereby decreasing risk for the Group and ultimately NBG's shareholders. However, the public offering price indicates total share capital of TL 3.55 billion for Finansbank, which is equivalent to €1.25 billion ($1.54 billion) at recent exchange rates (TL/€ 2.84; TL/$ 2.31). This equates to a multiple of 4.3 times trailing 12 month attributable PAT of €291 million. That seems low, so presumably Finansbank will be looking to issue the shares at a premium to the anticipated total share capital increase. I am not familiar with current valuations for Turkish banks, but an offering price of two times the SCI would still be below 9 times T12M attributable PAT, which does not seem expensive.
More importantly, the reduction in NBG's equity stake (to 73.1% and then to 60%) will result in the allocation of a 26.9% of Finansbank's future profits (after the initial SCI and ultimately 40%) to non-controlling (i.e. minority) interests. Since Finansbank is NBG's most profitable operation by far, the allocation of a major portion of its profits to minority shareholders will create a deeper profit hole for NBG's shareholders. Consequently, the sale of the Finansbank stake will put even more pressure on NBG to bring its operations in Greece to profitability.
Ultimately, this may still be a good trade for NBG shareholders. Despite the strong profitability of Finansbank and its quick recovery from last year's profit squeeze, Turkey remains a potentially risky place for investors. Although the country has made great progress in modernizing its economy, there have been excesses that have led to an overheated real estate market, a high current account deficit and sharp increases in interest rates. The government of President Recep Erdogan does appear to be firmly in control of the country, but Mr. Erdogan has been portrayed as a leader who has interfered with the judicial process in order to thwart an investigation into his own personal dealings. He has also been seen as a leader who treats those outside of party loyalists with disdain.
Turkey shares borders with countries like Syria, Iran and even Lebanon that are seen as geopolitical hotspots. It is not hard to imagine that Turkey could be drawn into Syria's civil war or face challenges eventually from a Kurdish population in the eastern part of the country which has long sought to establish its own homeland.
Turkey is also strategically located as a gateway to Eastern Europe, Russia and Western Asia. It is conceivable that the country could become a pawn in a game of geopolitical chess among the world's superpowers. For the moment, during this period of relative calm, its geographic importance undoubtedly conveys certain advantages: witness the attention paid recently by President Vladimir Putin to Russia's relationship with Turkey. Similarly, the European Union is seeking to improve its relationship with Turkey to address the challenges posed by the Syrian conflict and also to counter Russian advances. The EU is Turkey's largest trading partner.
Although it is possible that the country could navigate successfully through this potential geopolitical minefield, Mr. Erdogan's ill-advised behavior and occasional outbursts combined with the Turkish economy's precarious position pose significant risks for outside investors like NBG, for which they should at least be well compensated.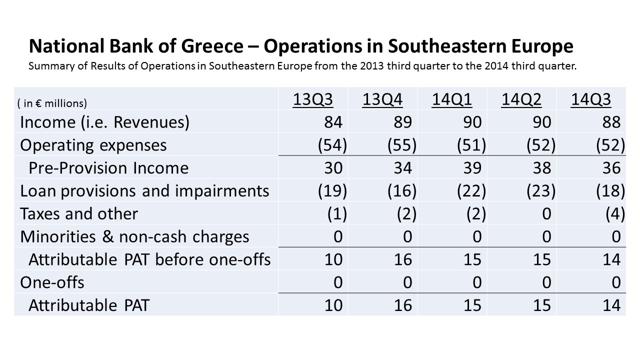 NBG owns banks with leading market positions in a number of countries throughout Southeastern Europe (SEE), including Bulgaria, Romania, Serbia, Albania, the Former Yugoslav Republic of Macedonia (FYROM), Cyprus, Malta, Egypt and South Africa. Southeastern Europe proper has long been an area of great economic promise that has so far failed to live up to its potential (in part because of the economic turmoil throughout Europe in recent years). Although many of these countries have recently suffered through recessions not totally unlike Greece's, NBG has managed to remain profitable there, by sticking to its banking discipline and watching operating costs.
NBG's International Banking Operations segment is the SEE region. The region's trailing 12 month attributable PAT of €60 million can therefore be compared to total International Banking Operations assets of €9.5 billion. That yields an after-tax return on assets ratio of 0.6%, which seems quite good considering that nearly 25% of the region's loan portfolio is more than 90 days past due.
Over the long haul, there should still be upside potential for NBG in SEE. With the recent investment by China's COSCO in the Port of Piraeus, Greece is becoming an important transportation and logistics hub and a gateway for multinational companies into Eastern Europe. Since 2008, the number of containers shipped into Piraeus has increased more than seven-fold to 3.16 million, according to the WSJ. China plans additional investments in Piraeus, such as increasing its annual container handling capacity from 4.7 million to 7.2 million containers. It is also planning to invest in a high speed rail connection from Piraeus into Eastern Europe. In 2015, Greece will put up for bid the port facilities at Thessaloniki, another gateway into Eastern Europe.
Given its strong presence both in Greece and in SEE, NBG should be well positioned to benefit from the increasing trade into and out of Eastern Europe. This should provide its SEE region with future growth opportunities.
Historical and Projected Financial Performance: 2012-2015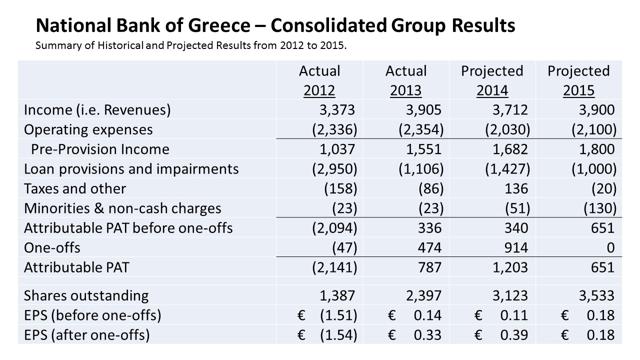 With the first three quarters of 2014 already on the books, I am projecting that NBG will report attributable profit after tax before one-offs of €0.11 ($0.13) per share and attributable PAT after one-offs of €0.39 ($0.50) for all of 2014. This is well below my previous projection of €0.20 per share (before one-offs) made in September 2013. Although revenues will come in lower than my original projection, so will operating expenses. So my projection for PPI should still essentially be on target. However, loan loss provisions will be significantly higher than my previous projection (€1.4 billion vs. my original estimate of €1.0 billion) indicating higher-than-expected +90dpd formations and slower than expected progress in resolving past due loans. In addition, the actual share count is significantly higher, as I did not anticipate the May 2014 SCI.
For 2015, I am projecting EPS before one-offs of €0.18 ($0.22) per share. This assumes a modest improvement in PPI, but also a significant reduction in the loan loss provision. It also assumes the reallocation of 27% of Finansbank's earnings to minority interests, assuming that Finansbank's proposed share offering is successful.
NBG's Book Value Per Share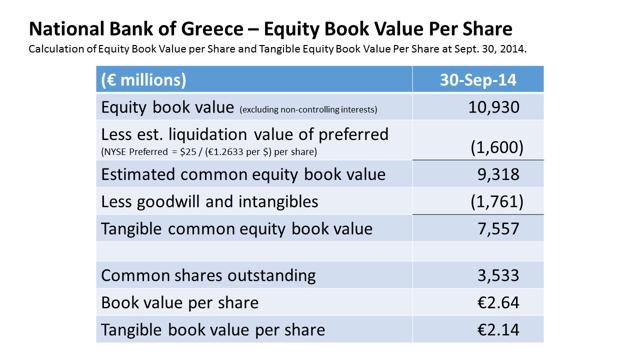 NBG's equity book value per share is calculated here after deducting the liquidation value of the two outstanding preferred stock issues which are lodged at the Group level. The biggest, the preferred stock currently held by the Greek government, has a current liquidation value of €1.35 billion.
In addition, there are 12.64 million shares of Series A Preferred which trade on the NYSE under the symbol (NBG-A). This preferred has a liquidation value of $25 per share (€19.79, assuming a €/S rate of €1.263. The total outstanding liquidation value of this preferred is therefore €250 million.
Under those assumptions, with 3.53 billion shares outstanding, NBG's common equity book value per share is €2.64 and its tangible equity book value per share is €2.14. At the current share price of €1.89, the stock is therefore trading at 0.7 times book value and 0.9 times equity book value.
That may not seem especially cheap, but book value per share may not be a good measure of value for a bank that has booked significant loan loss reserves. In NBG's case, its loan loss reserve represents 56% coverage of the current €16 billion in +90dpd loans (which, in turn, is equal to 23.4% of the Group total). This amounts to a loan loss reserve of nearly €9 billion or 13% of total assets.
NBG will undoubtedly incur actual loan losses that will reduce its €9 billion reserve position, but a meaningful portion of those losses may be covered over time with future earnings. Other defaulted loans will undoubtedly be covered by the value of collateral. As a result, as long as Greece's economy remains in recovery mode, NBG's capital position may eventually get a meaningful boost from the release of reserves sometime in the next few years.
If the "normal" level of loan loss provisions is say, 5% of outstanding loans (or €3.4 billion of the current loan book), then the boost to capital from future reserve releases for NBG could be several billion dollars or more. Thus, NBG's future equity book value could increase significantly as a result of loan loss reserve releases. This is not reflected in the current book value per share calculation.
Valuation
After the steep drop in NBG's share price this year, the stock looks cheap. At the current price of €1.89 (12/23), it is trading at 14 times projected 2014 earnings (before one-offs) of €0.11 ($0.13) and 9 times projected 2015 earnings of €0.18 ($0.22). Since NBG's earnings have the potential to continue to improve at a fairly rapid rate beyond 2015, the stock could have better-than-average upside potential for the next few years.
A reasonable, normalized earnings target for NBG is €0.31 ($0.40) per share, which is calculated at an assumed 1% after-tax return on assets of roughly €110 billion, divided by the current outstanding share count of 3.53 billion. At that level, the target share price is €4.65 (or $6.00), assuming a normalized €/$ level of €1.30 and a valuation multiple of 15 times earnings. That earnings growth target looks aggressive, given NBG's current level of earnings, but it is also conservative, because it does not factor in the potential for asset growth or above average earnings levels. For example, NBG earned a rate of return on assets of 1.9% in its peak earnings year of 2007.
This price target is also based upon a number of key assumptions, which include: Greece remaining within the monetary union, steady continuing economic recovery in both Greece and Europe and no destabilizing geopolitical events. It requires no further dilution from capital raises, an assumption which should be reasonable, as long as NBG is able to meet the asset sale and other goals that it has set out in its restructuring plan.
It will, of course, take some time for NBG to get to a sustainable earnings run-rate of €0.31 and the bank may suffer more setbacks along the way. Yet, its share price could very well move toward the target price before then, in anticipation of improved performance, as long as the current obstacles - such as the Presidential election, the passage by Parliament of a modern bankruptcy regime, continued progress on economic reforms and the successful negotiation of a bailout exit with the troika - are met and overcome.
Please note: A previous version of this article had a lower estimate for the estimated overallotment on Finansbank's secondary equity offering.
Disclosure: The author is long NBG.
The author wrote this article themselves, and it expresses their own opinions. The author is not receiving compensation for it (other than from Seeking Alpha). The author has no business relationship with any company whose stock is mentioned in this article.
Editor's Note: This article covers one or more stocks trading at less than $1 per share and/or with less than a $100 million market cap. Please be aware of the risks associated with these stocks.