Company overview
Ferro's (NYSE:FOE) core business activity can be summarized as creating glass based performance materials and specialty coatings, which means producing components for larger products like tiles and office window glass. Ferro products are sold into building and construction, automotive, appliances, electronics, household furnishings, and industrial products markets. Over the past 2 years, management has implemented significant number of restructurings to streamline the business, its balance sheet and improve profitability. As a result, currently Ferro is greatly positioned to take advantage from pipeline of development opportunities and achieve solid earnings growth.
Opportunity
Ferro recently completed its transformation from chemical conglomerate to high margin performance materials producer, which has not been noticed by the market.
With the sale of Polymer Additives business last week Ferro completed majority of its divestiture plan, which may act as a catalyst to close the discount to peers.
A fragmented industry and the firm's strong balance sheet position Ferro as a good acquisition platform for asset consolidation. A large backlog of known smaller competitors was identified by the management.
Currently the company is growing earnings at a 15-20% CAGR and trades at a 20% discount to comparables.
Ferro's segments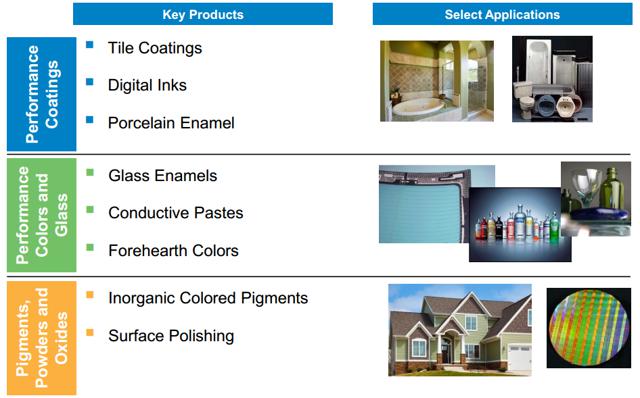 source: Ferro presentation
Performance coatings - The two primary products are porcelain enamel and tile coatings, with tile coatings constituting most of the segment's revenue. Porcelain enamel is used to coat steel appliances like ovens, washers, dryers etc. It's an oligopoly in which Ferro has a 50% market share with the next largest player owning 35%. Tile coatings is a more competitive business because of being fragmented with over 100 small, private companies with competitive pricing and low margin. Pigmented ink is the main opportunity within the segment. It uses vivid colours to make tile look like wood, stone etc. Selling price for pigmented ink is significantly higher than for tile coatings with gross margins of close to 40% and FOE can benefit from its nearly 50% market share.
The Performance Colours and Glass segment is the market leader in functional products to the global automotive, construction and consumer end markets. Key products include glass-based enamel for auto glass manufacturers to block UV lights, and coating for office windows to deflect sunlight. This business segment has heavy exposure to the auto industry.
The Pigment, Powders and Oxides segment is a leader in the production of complex inorganic colour pigments. The Oxides business is a market leader in the production of polishing powders and slurries for a variety of substrates and end applications. Ceria-based slurries are used in the semiconductor fabrication process to polish silicon surfaces, metal oxides to similarly polish hard disc drives, lenses and LCD screens, and metal powders and pastes are used in the manufacture of plasma and touch screen displays. This segment performance is mainly dependent on consumer electronics demand.
Business transformation
Ferro follows a highly beneficial acquisition and divesture strategy as part of its transformation into a Functional Coating and Colour Solutions company centered around Specialty Materials. Since new management arrived in Q4 2012, a number of divestures of lower-margin businesses and cost-efficiency initiatives contributed to large improvement in operating margins. Management outlined a 3 phase transformation process and has successfully delivered on the first two phases, where the recent sale of North American Polymer Additives business can mark completion of Phase 2. Regarding Phase 1, Ferro has successfully executed a business turnaround since 2012, which is evident from EBITDA margin expanding from 5.7% to the 12% in 2014. Phase 3 in turn is already at the stage of active execution with the recent acquisition of Vetriceramici SpA.
Three Phases of Ferro's 2012 plan:
Phase 1 - Business performance improvement / turnaround
Asset / facility rationalization
Operating efficiencies
Commercial effectiveness
SG&A reduction - infrastructure leverage
Phase 2 - Creating a more focused company and coherent portfolio
Exit Pharma, Solar and Metal Powders
Exit Plastics and Polymer Additives
Phase 3 - Re-energizing Growth
Deliver base organic growth
Product / market / technology extensions
Targeted geographic expansion
Bolt-on acquisitions
Ferro has executed a number of both dispositions and acquisitions to transform itself from conglomerate into specialty material producer:
On 19th December 2014, Ferro sold its North American Polymer Additives business for $154mil - the segment sold a highly competitive and commoditized product with main exposure to construction market.
On 4th June 2014, it sold its Specialty Plastics business to Schulman for $91mil cash price.
On 21st September 2014, it acquired Vetriceramici SpA, Italian-based manufacturer of ceramic coatings for $106mil.
In 2013, it exited non-core and underperforming businesses, including solar pastes and pharmaceuticals.
Exit from Polymer Additives. On 19th December 2014, Ferro announced the sale of its North American Polymer Additives division for $154mm, which came up to be significantly higher than most estimates and carrying value. It is possible that around $30mil of the liabilities on the balance sheet were also sold, which means further improvement to the balance sheet.
The entire net assets held for sale were valued by FOE at $105mil so that following the recent sale transaction the remaining asset for sale is valued at $27mil. This asset is a production facility in Belgium, which I believe will be sold in the near time and raise further cash. There is additional benefit from divestitures at attractive multiples since those assist in closing the discount to peers by making undervaluation more pronounced when assets are converted to cash.
Current organizational structure: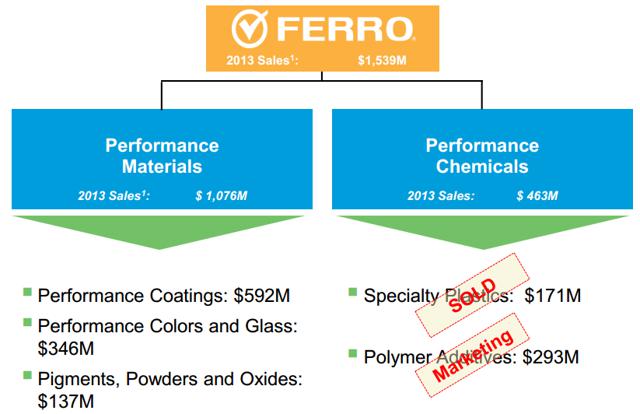 Source: company presentation
Growth
Acquisitions
In September FOE acquired an Italian coatings business for $108mm at valuation of 7.2x LTM EBITDA and 4.9x pro-forma EBITDA. According to management there are a further 30-40 privately or family-owned businesses in the $60-100mil size range available as acquisition targets. Management believes that each $100mil would be accretive to EPS by $0.12-0.14, or about $11mil to NOPAT. To support acquisition-led growth, management has a sensible capital allocation strategy, requiring 15% ROIC for the acquisition targets, including synergies within two years of ownership.
Recently FOE received $148mil of proceeds from the sale of the majority of the Polymer Additives business. Following this transaction, the firm's 2015E net debt/EBITDA ratio declined to 1.3x and recently the company refinanced its debt to lock in Libor + 3%. As a result FOE has significant capacity to execute further acquisitions and act as a consolidator in the sector, which is supported by available borrowing capacity of $205.3 million.
Organic Growth
Ferro's management announced that approximately $25 million annually will be dedicated to growth investments to expand into emerging geographic markets and build on the Company's core technical competencies. The company has accelerated the introduction of new products, forecasting up to $700mil of potential revenue over the next five years from projects which are currently in the development stage. Underlying product demand is expected to increase at regional GDP rates - primary demand supplemented by new product development pipeline, adding 1% to GDP growth.
Good management team
The company has significantly improved its operating margins and return on capital profile over the last years. ROIC was below 4% when the Peter Thomas' team took over in November 2012 and he set an internal ROIC goal of 10% as the point where Ferro would begin generating positive value for shareholders. Since then, ROIC has grown steadily to over 10.5% at end of Q3 2014. There is a longer-term target of delivering a consistent and predictable ROIC of 15%, which I believe will be achieved given the continued smooth implementation of the company's transformation. Management's skill is further reflected by 42% EBITDA growth over the past two years.
The CEO is highly motivated to deliver growth in FOE shares since he holds around 2mil in the money options, which he still has not exercised.
Valuation
Peer Valuations: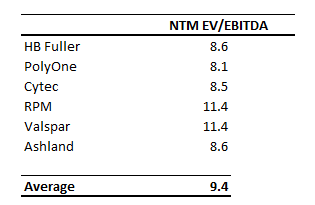 Source: Thompson Reuters
I expect the EBITDA margin to expand further as company becomes more streamlined following its exits from lower margin businesses in 2014 and apply 15% EBITDA margins in line with management's projections. Also I expect revenue increase as revenues lost due to divestitures are replaced by further new acquisitions and Vetriceramici SpA. I expect further $100mil of new acquisitions done over the course of 2015 and adding $20mil to EBITDA based on the 5x multiple. As a result, I project 2015E debt at $379mil. For 2016, I project further improvement in EBITDA as acquisition synergies get realized and company leverages its fixed operating expense due to higher revenues.
Based on 9.4x peer average EV/EBITDA, we arrive with 2 year price target of $19.70, which yields 48% upside for the patient investors. Given the solid growth prospects for Ferro, I believe it should at least trade in line with comparables. In reality, Ferro may be a lot more aggressive with its acquisition strategy and grow its earnings at much higher rate, which would result with higher corresponding valuations. Based on the lows for 5 year range of EV/EBITDA for comparable stocks at 5.8x, I view the downside for FOE as fairly limited at around 25% in negative case scenario.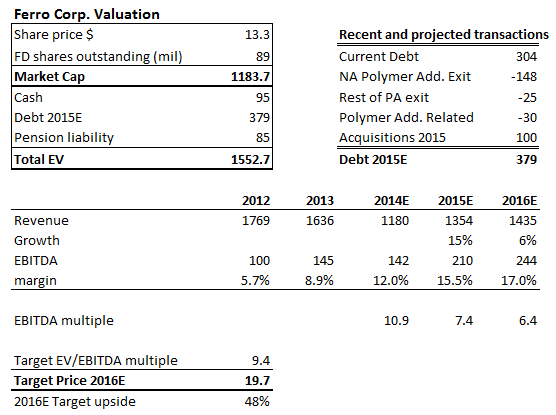 Source: Author's estimates
Catalysts
Recent sale of NA Polymer additives business and upcoming sale of its remaining European part.
Growth in quarter-over-quarter earnings and margins as business transformation is better reflected in bottom line results.
Further acquisitions of the smaller private, family owned businesses at attractive multiples.
Rebound in US and EU housing and construction market, which accounts for around 50% of sales.
Conclusion
Ferro is a streamlined company at a cheap valuation trading only at 7.4x 2015E EBITDA with a strong balance sheet, which makes it well positioned to act as a consolidator in the highly fragmented coatings, glass and color solutions segments. This is supported by the ability to leverage its existing well-established product portfolio with strong positions in diverse markets and global reach. I believe at the moment the market is not fully appreciating the value of Ferro and its balance sheet following its transformation as well as the potential for acquisition-led growth. Furthermore, Ferro may become an attractive acquisition target itself for larger peers with the potential to fetch a high multiple on the back of its specific market niche and solid margins.
Disclosure: The author has no positions in any stocks mentioned, and no plans to initiate any positions within the next 72 hours.
The author wrote this article themselves, and it expresses their own opinions. The author is not receiving compensation for it (other than from Seeking Alpha). The author has no business relationship with any company whose stock is mentioned in this article.