It is quite shocking to see how far BreitBurn Energy Partners (BBEP) has fallen. BreitBurn, like all other E&P MLPs, has fallen on hard times due to much lower oil prices. Indeed, units of BreitBurn have declined 65% YTD, with almost all that decline coming since October.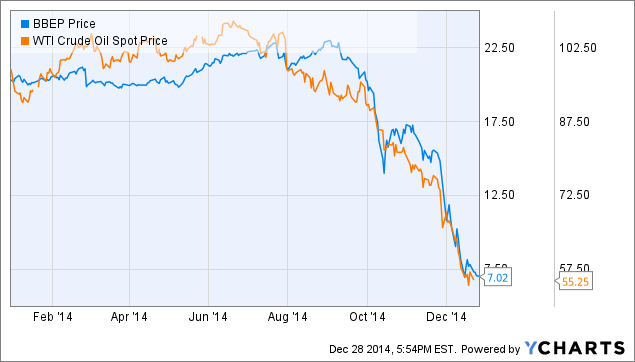 A look at BreitBurn's hedges post QRE Merger
About a month or so ago BreitBurn completed its acquisition of QR Energy (NYSE:QRE), a fellow E&P MLP. This was an all-equity transaction where QRE unitholders received units of BreitBurn at slightly under a 1 to 1 ratio.
As I noted in an earlier article, QR Energy's hedge book was robust, a very valuable asset given where energy prices currently stand, which is now controlled by BreitBurn.
At a December 9, 2014 analyst event, BreitBurn provided the following chart which displays its estimated hedges post-QRE energy merger: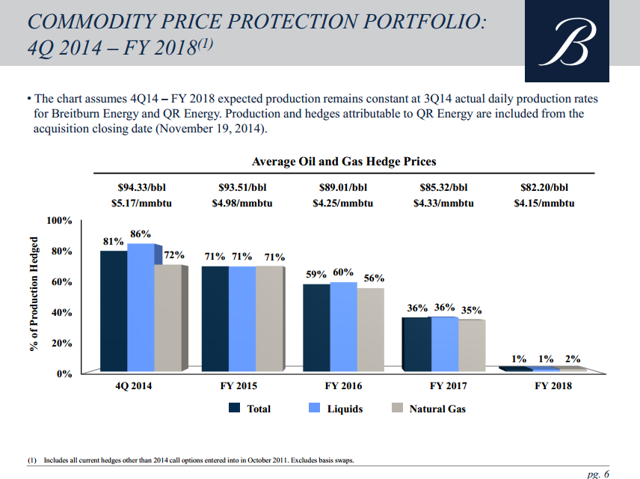 As shown, BreitBurn has around 71% of its anticipated 2015 oil and natural gas production hedged at well above market prices. This number drops to 60% for oil and 56% for natural gas in 2016. By 2017, BreitBurn's hedges only cover 36% of anticipated production. By 2018, BreitBurn has essentially no hedges in place.
In addition, for reference, below are a few charts which breakdown BreitBurn's oil and natural gas separately. These were provided on November 25, 2014. Keep in mind that BreitBurn does not have any NGLs volumes hedged.
Oil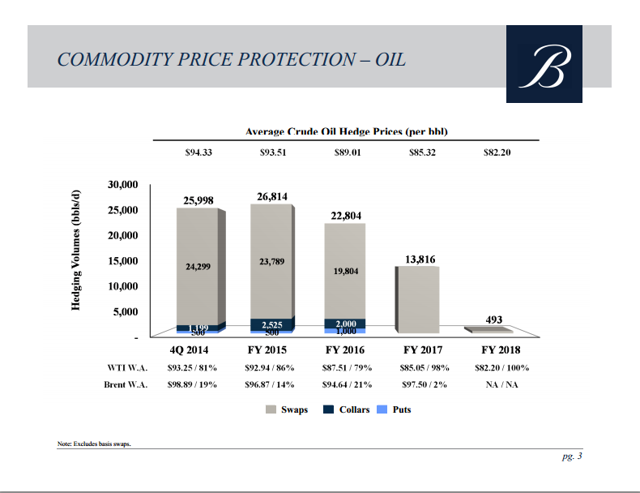 Natural gas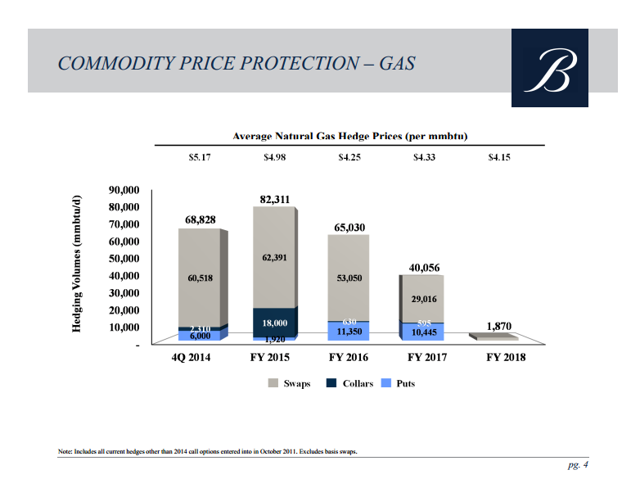 Can the distribution survive $60 oil?
As I have done with Vanguard Natural Resources (NYSE:VNR), Linn Energy (LINE), and Memorial Production Partners (NASDAQ:MEMP), I will trying to see if BreitBurn's distribution can survive lowering oil prices.
Clearly, given its massive 30% yield, the market thinks the company is going to cut the distribution, and by a large amount. There is simply no way a yield that big can last for long. However, my analysis is not quite as bearish.
For my analysis, I will be assuming unhedged prices of $60 per BBL for oil and $3.50 per MCF for natural gas, and a production mix of around 58% oil, 8% NGLs, and 34% natural gas.
First, let us look at revenues. With an estimated 11,000 BBLs per day of oil selling unhedged at around $60 per BBL, BreitBurn is going to take a big hit here to the tune of $130M to $150M. For natural gas and NGLs, the impact of lower energy prices may as large as $10M to $15M. In total, I estimate BreitBurn's revenues to take a hit of around $140M to $165M.
As for DCF, this number is harder to calculate given the uncertain 2015 maintenance capex number and difficulty determining BreitBurn's adjusted EBITDA post QRE merger. Assuming these grow proportional to the added QRE assets, BreitBurn's DCF per unit could fall to as low as $1.20 per unit. With a distribution of around $2.08 per unit, this implies a cut of at least 40% is coming.
However, keep in mind that BreitBurn can make some adjustments to make DCF higher. For example, it can lower maintenance capex to that where it ensures flat production. Currently, the company has a small growth component. Furthermore, QRE's assets likely lowered the overall expense profile of the portfolio, which will likely boost margins per BOE.
Debt is a concern
Finally, let us discuss BreitBurn's debt situation. Earlier this year, the company tried and failed to offer a $400M senior note. These funds would have been used to lower borrowings under the credit facility.
According to a recent 8-K, BreitBurn's credit agreement has a borrowing base of $2.5B, of which around $2.16B was outstanding. As a result, BreitBurn has very limited liquidity available, about $340M from the facility and around $3M in cash.
With much lower cash flows coming in 2015, BreitBurn is also likely to put its loan covenants under pressure. The company is already highly in debt, near breaching certain key ratios. In other words, BreitBurn is very unlikely to be able to fund its distribution with more debt, making a cut all the more likely.
Conclusion
I believe the market is seriously mispricing BreitBurn. Even if the distribution were lowered by 40%, it would still yield over 17%. This is by far one of the more attractive risk/reward income opportunities out there.
Disclaimer: The opinions in this article are for informational purposes only and should not be construed as a recommendation to buy or sell the stocks mentioned. Please do your own due diligence before making any investment decision.
Disclosure: The author is long BBEP, VNR, MEMP.
The author wrote this article themselves, and it expresses their own opinions. The author is not receiving compensation for it (other than from Seeking Alpha). The author has no business relationship with any company whose stock is mentioned in this article.