Last Tuesday, shares of Keurig Green Mountain (NASDAQ:GMCR) declined a little after the company announced a recall of more than 7 million brewers. This is an interesting development for the company, which is currently in the midst of a holiday launch for the Keurig 2.0. Normally, a recall is not good for a company, but we can't determine the true financial impact just yet. Today, I'll look at the latest news and detail why this news may not be as bad as it appears.
Details of the recall:
The company received about 200 complaints of hot liquid escaping its Mini Plus Brewing system, so a voluntary recall was initiated. The recall impacts more than 7 million brewers in the US and Canada, with a large share of those being in the US. The incident rate is approximately 0.003%, although it will be interesting to see if more complaints arise now that the recall has been announced.
Apparently, the brewers can overheat which could lead to the machine spraying hot liquids on users. Burns can be serious injuries, so it is important for the company to take this proactive step. Owners of the affected machines can still use them, but it is recommended that users not brew more than two cups in rapid succession, and you should maintain an arm's distance from the machine during the brewing process. A free repair kit can be obtained from the company, with details being listed in the press release I linked to above.
Keurig 2.0 and the holiday season:
Every holiday season is important for a retailer like Keurig Green Mountain, especially as the winter comes and coffee is more in demand. However, the launch of the Keurig 2.0 platform this holiday season makes this time for the company more important. This new platform launch has been widely advertised with multiple television commercials.
While some may see the "perfectly timed recall" statement as a joke, one must consider how it may be true. The recall was announced on the morning of December 23rd, just two days before Christmas. What would have happened if this recall had been announced a month earlier on November 23rd? It is quite possible that some consumers would have held back on purchases of new machines. Anytime a company has a large recall, and I'd consider 7 million brewers in that category, consumers can lose faith. Even a few thousand lost sales can hurt, because not only do you lose the sales of the brewers upfront, but sales of K-cups down the road.
Update on estimates and financials:
When the company reported its most recent quarter, revenue guidance was a bit light again. While the company consistently beats earnings estimates, thanks to the usual sandbagging of guidance, revenues have been tricky at times. That's why I think a recall a month earlier could have hurt the company a bit more. A cooler response to the Keurig 2.0 launch could have had a larger impact on the company. If the new platform isn't received well by consumers, prices could be cut and that could hurt margins. The company is already facing a huge headwind from soaring coffee prices, so any additional margin pressures would be a bit significant.
As one can probably guess, we've seen a huge decline in analyst revenue estimates since the company's report discussed above. The average estimate is now for $1.46 billion in fiscal Q1 revenues, down from $1.62 billion when the company reported earnings. On the bottom line, non-GAAP EPS estimates have declined by seven cents to $0.89 for the quarter. Again, it is likely that the company guided low, and we could see a big beat when earnings are reported.
We've seen a slightly mixed picture when it comes to the fiscal year numbers. On the revenue side, we've also seen the average estimate decline from $5.43 billion to $5.28 billion thanks to the light guidance. However, do to okay guidance and the large Q4 beat, the average non-GAAP EPS estimate has risen from $4.07 to $4.21. That mostly is because the fiscal 2014 full year number, the "base" we are going off of, came in at $3.93 versus estimates for $3.78. So when you have a higher base to work off of, analysts needed to revise their numbers higher, even if their growth percentage didn't change that much.
It will be interesting to see what the financial impact of the recall turns out to be. Some of these recalled brewers were produced a couple of years ago, so certain consumers may not be using them anymore. Also, those that may be buying the newer models may not worry if their older model was recalled. If the company only has to fix a few hundred thousand units instead of a couple of million, the cost may be less. Keurig Green Mountain may also have insurance that could cover part of the cost, but I have not heard anything on that front quite yet. Any cost will obviously hurt the company, but to what degree is to be determined. If anyone was physically hurt by the product, lawsuits could always be possible.
An update on short interest:
One item that many investors want to know about is short interest. Keurig Green Mountain shares were highly shorted in recent years, and there were a couple of big short squeezes, especially after the Coca-Cola (NYSE:KO) deal was announced. Short interest has dropped substantially in 2014, as you can see in the chart below.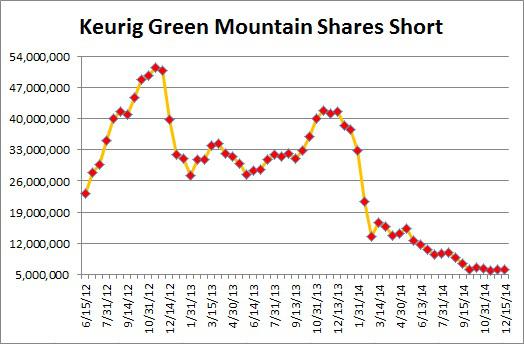 We recently received the mid-December short interest update. While it may be difficult to see in the chart above, we have seen about 250 thousand additional shares shorted in the last month. That is a rise of slightly more than 4.2%. Short interest is well off its highs, so it will be interesting to see the next few updates to see if the recall news has any impact.
Finding technical support?
2014 was a great year for shares of Keurig Green Mountain. The Coca-Cola deal sent shorts scrambling and the share price soaring. While results haven't always been tremendous, investors have always thought that Coca-Cola might eventually purchase the entire Keurig Green Mountain company. Recently, shares pulled back after the poor guidance at the earnings report. Shares are currently at an interesting technical point, as you can see in the chart below which details the 50, 100, and 200-day moving averages.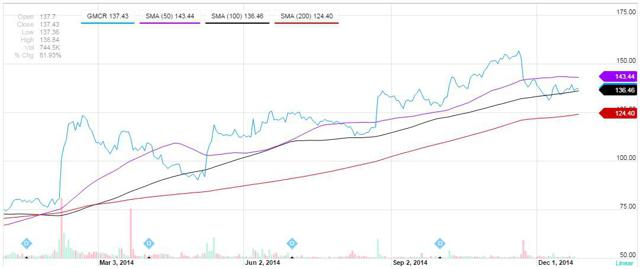 (Source: Yahoo! Finance)
Shares fell through the 50-day after the earnings report, and have not been able to get back to that level since. Support was found at the 100-day moving average, and that's where shares have mostly been since. Investors have obviously shrugged off the recall news, as shares have only lost a couple of dollars since the announcement. Had Keurig Green Mountain shares not been able to hold the 100-day moving average, I would not have been surprised if they had fallen another roughly 10% to the 200-day moving average. If markets continue to hit new highs as 2014 comes to a close, it would not surprise me if shares head back towards the 50-day.
Final thoughts:
Keurig Green Mountain announced a recall of more than 7 million brewers, and it seems to have been perfectly timed in my opinion. Coming just two days before Christmas, most consumers probably had already purchased their holiday gifts, meaning that sentiment probably did not have much time to shift against the company. With the company now focusing on the Keurig 2.0 launch, this older brewer recall may not be that important. We don't know what the financial impact from this announcement will be, but investors don't think it will be much as the stock has barely moved. With shares mostly shrugging off the recall news, it would not surprise me to see another test of the highs if markets continue higher.
Disclosure: The author has no positions in any stocks mentioned, and no plans to initiate any positions within the next 72 hours.
The author wrote this article themselves, and it expresses their own opinions. The author is not receiving compensation for it (other than from Seeking Alpha). The author has no business relationship with any company whose stock is mentioned in this article.
Additional disclosure: Investors are always reminded that before making any investment, you should do your own proper due diligence on any name directly or indirectly mentioned in this article. Investors should also consider seeking advice from a broker or financial adviser before making any investment decisions. Any material in this article should be considered general information, and not relied on as a formal investment recommendation.