Last week was a fairly typical Christmas holiday-split week, marked by weak volume before and after the day off, and a slight gain on par with the beginning of an average Santa Claus rally (not to mention the tepid bullishness in front of the Christmas break). Though the trend was up more or less, take last week's price action with a grain of salt, as last week was anything but a normal one.
Let's first examine - and chart - last week's big economic news.
Economic Data
The holiday-abbreviated trading week was still chock-full of economic information, much of which we do need to mention and chart for you (just for some added perspective). And for what it's worth, though the strong GDP figure for Q3 overshadowed most everything else, there were a couple of red flags to keep in mind.
One of those red flags was on the home sales front. The pace of existing home sales slumped from 5.25 million to 4.93 million in November, while the pace of new home sales fell from 445,000 to 438,000. At this point it's difficult to deny we're seeing stagnation here.
New and Existing Home Sales Chart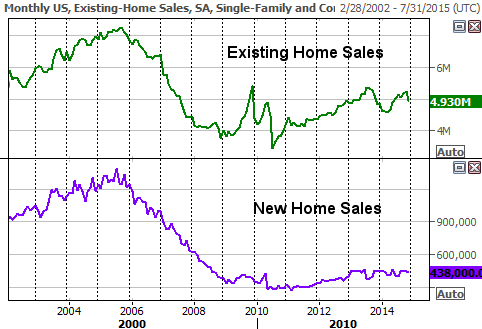 Source: Thomson Reuters Eikon
Durable goods orders slipped, rather than grew as expected. Overall orders fell 0.7% in November, and fell 0.4% when taking transportation orders out of the equation. We can't quite say the durable orders uptrend is weakening [the month-to-month volatility is normal, and even predictable]. But, it's certainly not accelerating.
Durable Orders Chart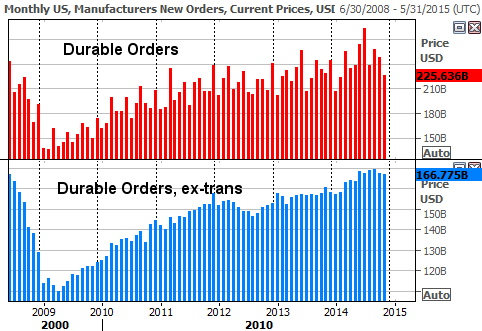 Source: Thomson Reuters Eikon
And of course, Q3's final reading on GDP growth was even better than first anticipated. The economy grew at an annualized pace of 5.0%. That was the highest reading since the first quarter of 2006, and it was on the way down then. This time, it's clearly on the way up. This bodes well for the long-term market trend.
GDP Growth, Annualized Chart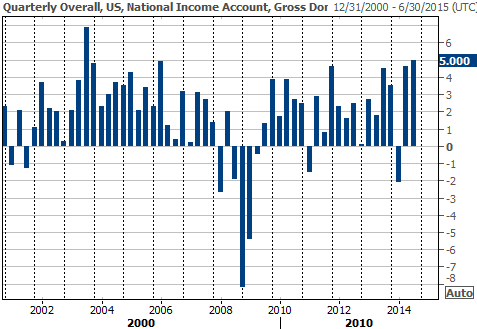 Source: Thomson Reuters Eikon
Economic Calendar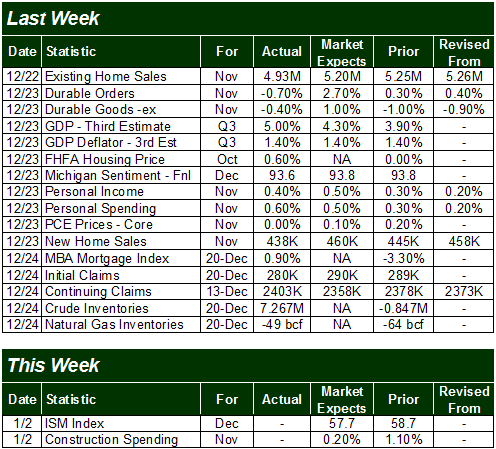 Source: Briefing.com
As you can see, this week's data is minimal, though both pieces of information are relatively important (ISM & Construction Spending).
Stock Market Index Analysis
First and foremost, know that the overall underlying trend for the broad market (NYSEARCA:DIA) (NYSEARCA:IWM) is still a bullish one, so we have to assume stocks will remain in bullish mode until we have clear evidence otherwise. That being said, it's not a stretch to say the bullish momentum waned last week, which is how pullbacks begin. What we have to acknowledge about that waning momentum is, however, it may have simply been a holiday lull.
What's bullish? For the S&P 500 (SPX) (NYSEARCA:SPY), the break above the former ceiling around 2075 and the move to record-highs is bullish. Ditto for the %R indicator (smoothed in the BigTrends method), which moved above the 80 level two weeks ago and has been content to stay every since -- a sign of bullish trend strength. Though technically it's a sign that the S&P 500 is overbought, one only has to look back to late October to realize this market is capable of getting overbought and staying overbought for days on end, and continue rallying the whole time. And, for good measure, we also have a bullish MACD cross.
The CBOE Volatility Index (VIX) (NYSEARCA:VXX) ended the week at 14.50 -- watch the 12/12.5 and 16 levels from here, the next break of those may be important for this measure of option implied volatility.
S&P 500 & VIX - Daily Chart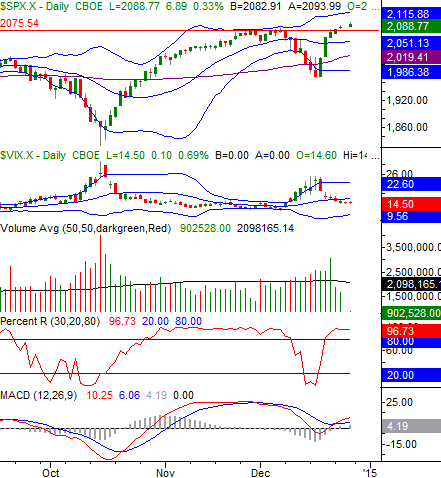 Chart created with TradeStation
As for bearish clues, the size of the daily gains got progressively smaller last week, though as we noted above, much of that lull could be attributed to the holiday trading lull; see the steep decline in daily volume as proof. Still, until the S&P 500 falls back under the former ceiling at 2075, we can't say a pullback is inevitable. In fact, while the S&P 500 looked like it was running out of gas as last week wore on, the NASDAQ Composite (COMP) (NASDAQ:QQQ) seemed like it was picking up steam.
Yes, unlike the S&P 500, the NASDAQ was picking up steam as the week progressed, punching through resistance at 4789.5 on Friday to make the highest close (at 4806.86) it's made in years.
NASDAQ Composite & VXN - Daily Chart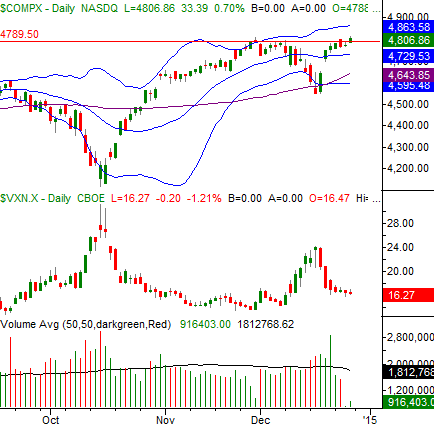 Chart created with TradeStation
This is an important nuance. While all indices tend to fall and rise together, the NASDAQ and the Russell 2000 generally lead the way.... higher and lower. T o see the NASDAQ Composite take a firm bullish step higher on Friday suggests the undertow is actually heating up rather than cooling off.
It's just an observation and not an iron-clad guarantee, of course, but given that this is the time of year when a so-called Santa Claus rally materializes, last week's modest bullishness makes sense.
As for where this slight rally might take us, the S&P 500 doesn't have any roadblocks in its way until it reaches its upper 20-day Bollinger band at 2116. The NASDAQ Composite's upper band line is at 4864. Either could/should b the spot where things get tougher for the bulls.
There's some context for a slow-down around that level on the weekly chart of the S&P 500 too. Though the details aren't crystal clear from this distant view, the S&P 500 will bump into a long-term resistance line (red) around that level sometime within the next couple of weeks should the rally continue at its current pace. After that, some tough decisions will have to be made.
S&P 500 & VIX - Weekly Chart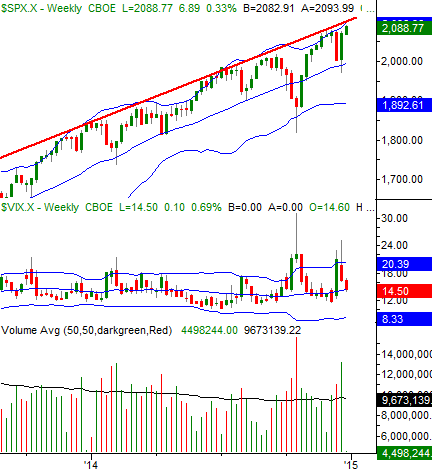 Chart created with TradeStation
And of course, though the odds say bullishness is in store, all bets are off if the S&P 500 breaks under 2075 and/or the NASDAQ Composite falls below 4789.5.
Sector Valuation Overview
While it may have little impact on stocks in the near-term, there's no denying that valuations and earnings growth are big important drivers of long-term trends. To that end - and to help with planning any portfolio adjustments in the coming year, below is an overview of how each sector stacks up against the rest based on a variety of measures. It should be mentioned that there's more to a stock's or sector's upside than just a low valuation.
Sector Valuation, Earnings Growth, & Performance Chart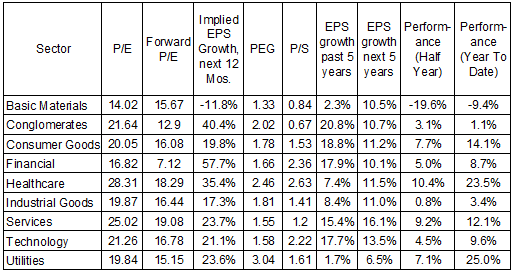 Source: Yahoo! Finance, Reuters, Finviz, & Thomson Reuters Eikon
As always, use caution when relaying on sales and earnings projections, as optimism tends to be the norm.
Disclosure: The author has no positions in any stocks mentioned, and no plans to initiate any positions within the next 72 hours.
The author wrote this article themselves, and it expresses their own opinions. The author is not receiving compensation for it. The author has no business relationship with any company whose stock is mentioned in this article.