For the US stock market, 2014 was a great year, with many new highs coming as the year comes to a close. As many investors know, however, not all names have participated in the rally. Whether it was due to bad management, poor sales, or other factors, a number of names have seen their stocks drop in 2014. Today, I'll look at five stocks that have the potential to bounce back in 2015.
IBM (NYSE:IBM):
Big Blue has been one of the worst names in the Dow during 2014, especially in the second half of the year. With the company continuing to bleed revenues and earnings estimates continuing lower, shares have fallen. Of the five names I'll cover today, IBM is the only one that pays a quarterly dividend, and at its 52-week low, the annual yield approached 3.00%.
So what can help IBM in 2015? Well, many are looking to see what the enterprise partnership with Apple (NASDAQ:AAPL) can do. If Apple does in fact launch a large screen iPad, corporate clients may find the tablet very useful. These two companies have combined to launch some new applications, and partnering with Apple usually is a good idea. Perhaps an important acquisition or two could also help IBM regain its footing and soften the revenue decline. If so, IBM could go from one of the worst Dow names in 2014 to one of the best next year.
Twitter (NYSE:TWTR):
Despite a couple of revenue and earnings beats plus raised guidance, shares of the social media giant have been crushed this year. Impressive headline financial results were overshadowed by concerns over user base growth and large executive transition. There have been rumors recently about the departure of CEO Dick Costolo, with some believing he will be gone within a year. Bringing in a new leader could be enough to get this stock going again.
Twitter certainly needs to get things going in 2015, as the divide between it and Facebook (NASDAQ:FB) continues to expand. While Twitter is forecast to more than double revenues this year and swing to a non-GAAP profit, investors just aren't buying. One interesting item to consider is if a fall back to the low $30s could make Twitter an acquisition candidate again. When the market cap was around $40 billion, Twitter seemed too large to swallow. But if shares drop and we get under $20 billion again, I wouldn't be surprised if someone like Google (NASDAQ:GOOG) (NASDAQ:GOOGL) discussed the possibility.
3D Systems (NYSE:DDD):
The 3D printing name has struggled in the back half of the year as revenue and earnings shortfalls have left investors undecided over the future of this name. As you can see in the table below, analyst estimates have dropped in the last couple of months. With some quarterly warnings and the company lowering guidance, the stock has certainly been hit.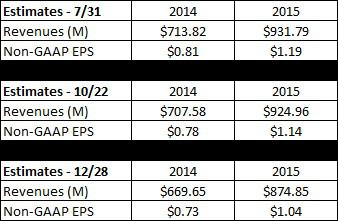 If this company can finally start producing some solid results, shares may be able to find a bottom. Analysts are currently looking for more than 30% revenue growth in 2015, and even more in non-GAAP EPS growth. Additionally, this is a very heavily shorted stock, so if the company were to have a good year, massive short covering could help push the name substantially higher.
SodaStream (NASDAQ:SODA):
The company that allows you to make your own soda at home had a really disappointing year. From tremendous growth potential to a potential double digit decline in revenues, SodaStream shares are very close to their 52-week low. Weak sales in the US have been the main culprit, leading many to wonder again if this product is a fad. Since late June, 2015 revenue estimates have come down from roughly $695 million to just $523 million. The carnage has certainly continued, and as shares go lower, many wonder if a larger beverage name will come in and purchase SodaStream.
All hope has not been lost yet. As I discussed in the link above, the company is working to reorganize, and transform itself around sparkling water and other drink products. A move towards more healthy drinks could provide a tremendous opportunity for a company that only has around half a billion in annual revenues. If SodaStream can get its growth story back on track in 2015 or the name is acquired, investors could be looking at a big winner.
Direxion Daily 20+ Year Treasury Bear 1X ETF (NYSEARCA:TYBS):
This is a very thinly traded ETF that attempts to be short longer dated treasuries. Many investors and experts believe that the Federal Reserve will finally raise rates in 2015, so this ETF seems like a logical choice to be in. The 30-year bond is yielding less than 3.00% currently, close to its yearly lows as you can see below.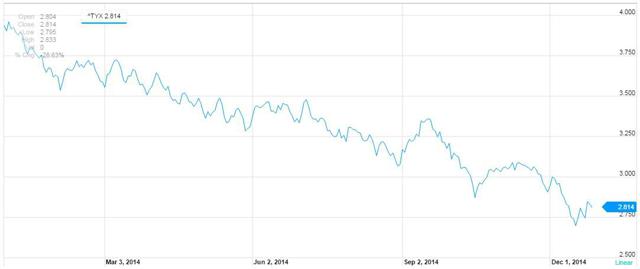 (Source: Yahoo! Finance)
Even if the 30-year only rises by 25 or 50 basis points next year, investors should see a decent gain in this ETF. This is not one of the leveraged ETFs, so investors don't lose out to wild price swings. For those that believe rates could still go lower in the first half of 2015, you might want to wait on this one before buying, but this ETF is a name to consider for those expecting the long end of the curve to rise.
Final thoughts:
While 2014 was a great year for US markets overall, the five names discussed today have not done well. In the table below, you can see how they have all disappointed so far, as of Friday's close. For IBM, the performance is dividend adjusted.

For IBM, SodaStream, and 3D Systems, it is all about results, and that means delivering on the top and bottom line. Twitter has been able to do well on those two levels, but not when it comes to growing the user base. The ETF I discussed today has struggled because long dated treasury yields have continued lower. These five stocks will look to 2015 for a rebound, and we'll start to find out soon if these names can recover or if they will struggle further.
Disclosure: The author has no positions in any stocks mentioned, and no plans to initiate any positions within the next 72 hours.
The author wrote this article themselves, and it expresses their own opinions. The author is not receiving compensation for it (other than from Seeking Alpha). The author has no business relationship with any company whose stock is mentioned in this article.
Additional disclosure: Investors are always reminded that before making any investment, you should do your own proper due diligence on any name directly or indirectly mentioned in this article. Investors should also consider seeking advice from a broker or financial adviser before making any investment decisions. Any material in this article should be considered general information, and not relied on as a formal investment recommendation.