A month ago I proposed Zendesk (NYSE:ZEN) as a promising short sale candidate, citing two major reasons for the pick: potential insider selling after its IPO lockup expiry and the company's historical (and future) unprofitability. Since that time insider selling has accelerated, and the number of option exercises add a new dilution worry to the overall story. I discuss these concerns below.
Insider Selling Accelerates
Here is a snapshot of the insider selling since my previous article (source). When perusing the data, remember that reported insider selling is only a subset of all employee and consultant stock sales, as many members of this larger group are not required to report. Thus overall employee selling is expected to be larger than what's shown here.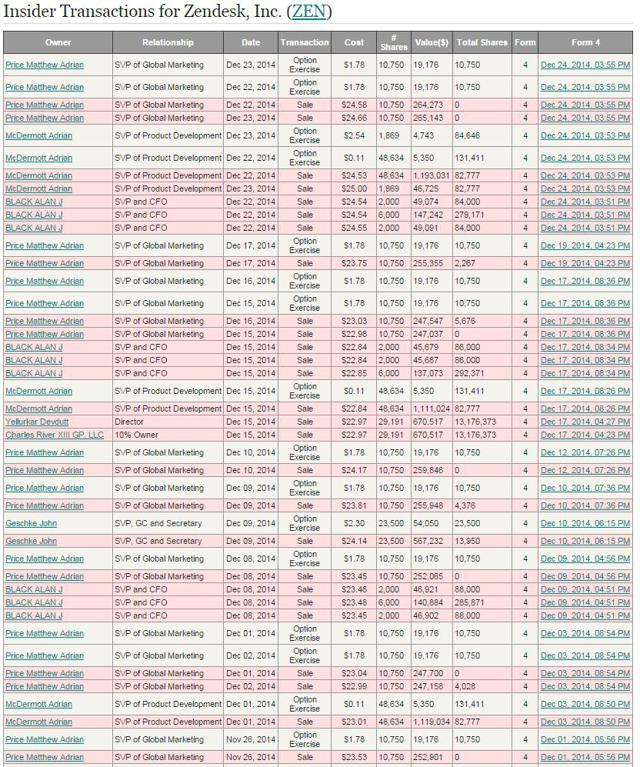 The fact of large sales reported on December 24th reminds me a bit of companies who put out negative news in midnight 8-K filings on Friday nights!
Of course another interpretation is simply that there's so much stock to sell that there's no time to lose.
Potential Dilution
In my original article I didn't highlight the potential dilution overhanging the stock, but after seeing how much of the reported insider selling is due to option exercises, I'd like to look at that now.
In its latest 10-Q, ZEN says there were 72,834,725 shares outstanding as of October 31, 2014. The reported options exercises since that time equal 574,093 shares (data from site linked to above). That's a 0.8% increase and about 5% on an annualized basis. But of course this is from reporting employees only. To get an idea of how much total dilution we can expect, we need to look at the number of options and restricted stock outstanding, as well as the rate of issuance of these shares.

So there are 14M options with an average exercise price of $6.24 and another 3M RSU's outstanding, making the total potential dilution 17M shares or about 23% of the shares outstanding as of the end of October. If we use reporting insiders as a proxy for the impetus of all holders to exercise their dilutive options, we can expect to see a substantial increase in the number of shares outstanding over the next few quarters.
Let me add an observation here regarding stock based compensation (SBC) and dilution. In one important respect they count the same thing, so it would be double counting to adduce each as a separate negative factor when appraising a stock's future prospects. But since in my original article I didn't discuss SBC in any detail, looking at dilution here is not double counting anything that's previously been discussed.
More importantly, SBC on the income statement gives a snapshot for a given timeframe, while looking at the number of outstanding options and RSU's is a way to integrate SBC and financing issuances over time, including periods before the stock was public. Moreover, the rate of such grants, in this case 8.6M shares over 9 months, is indicative of management's willingness to dilute existing shareholders.
Finally, looking at potential dilution gives us a sense of how much worse valuation metrics would be if all the dilutive securities were issued. In this case we should multiply valuation metrics presented at sites like yahoo! (see example below) by 1.23 to get the fully diluted values of such benchmarks as price to sales, price to earnings and price to book.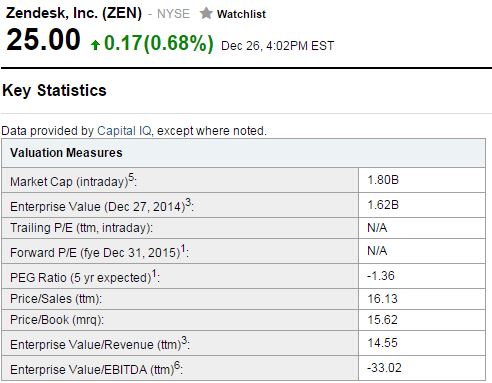 Conclusion
Data that's become available since my original short thesis has only confirmed my negative appraisal - and as a result I remain short the stock.
Disclosure: The author is short ZEN.
The author wrote this article themselves, and it expresses their own opinions. The author is not receiving compensation for it (other than from Seeking Alpha). The author has no business relationship with any company whose stock is mentioned in this article.
Additional disclosure: I actively trade around core positions.