Air Products and Chemicals (NYSE:APD) is one of the largest specialty companies in the world and one of the few companies in its sector that can brag about its impressive history as a dividend aristocrat. The firm's principal business involves selling specialty gases and chemicals for industrial uses. Air Products and Chemicals also possesses a 50-year history working with NASA; in fact, the company has supplied the liquid hydrogen used for every Space Shuttle launch. The company's share price has increased more than 35% in 2014 and recently reached a new record high. This article uses the DRAG framework to determine whether investors can expect further gains from Air Products and Chemicals or whether its shares have become overvalued after their outperformance in 2014.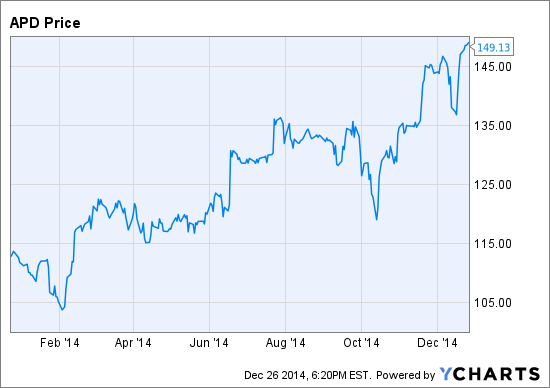 Please click here to read my article which outlines the DRAG analysis framework in more detail.
To summarize, the four variables used in a DRAG (dividend and risk adjusted growth) analysis are as follows (each company is ranked from 0 to 3 in each category):
1) How cyclical is the industry in which Air Products and Chemicals operates?
2) How strong is Air Products and Chemicals' competitive position within this industry?
3) How risky is Air Products and Chemicals' balance sheet?
4) What is Air Products and Chemicals' dividend yield and dividend growth history?
The premise is that a company that operates in a non-cyclical industry, with a strong competitive position and a clean balance sheet that pays an attractive dividend should trade at a higher earnings multiple than a company without these attributes, even if the lower quality company has higher projected future earnings growth. After adjusting for these variables, it becomes easier to compare companies in different sectors with different levels of future growth potential.
Air Products and Chemicals DRAG Analysis:
Air Products and Chemicals Industry Analysis

Industry Beta

1.01

Stock Beta

1.22

10-Year EPS Std Dev

28.9%

Industry Score

1/3
Like many firms in the chemical industry, Air Products seemingly possesses more cyclicality than the average business. The Materials Select Sector SPDR ETF has a beta of 1.32, according to Google Finance. And although an academic website suggests that specialty chemical stocks average a beta in line with the broader market, Air Products' shares have exhibited above average volatility going back more than five years: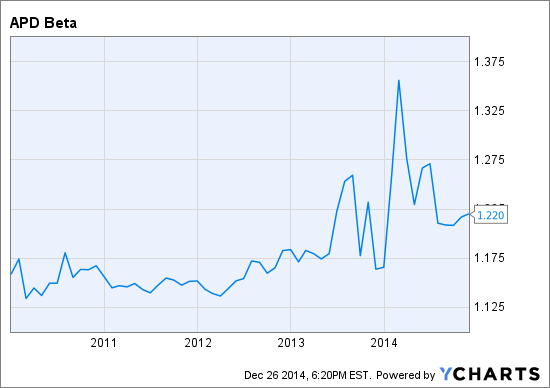 While the company's earnings variability does not appear elevated, its annual earnings per share have declined five times during the past decade. Air Products and Chemicals remained consistently profitable during this time, but its above average beta and earnings volatility suggest that the firm operates in a cyclical industry and consequently deserves a below average score in this portion of the DRAG analysis.
Air Products and Chemicals Competitive Position Analysis

Gross Margin

26.9%

Operating Margin

12.7%

Return on Assets

5.6%

Return on Invested Capital

8.1%

Competitive Position Score

1/3
Despite maintaining its position as the global leader in manufacturing numerous industrial gases, Air Products and Chemicals does not generate a particularly impressive return on its assets. The firm's gross margin has remained between 26-28% during the last decade and its operating margin has also stayed fairly steady. However, after achieving a return on invested capital of more than 13% in fiscal 2011, the company's efficiency ratios have declined slightly in recent years. In fact, its current return on invested capital is lower than that of most major international chemical corporations, such as Dow (DOW), DuPont (DD) and Praxair (NYSE:PX). Due to the lack of any obvious competitive advantage demonstrated via the above figures, Air Products and Chemicals also receives a below average score for its competitive position.
Air Products and Chemicals Balance Sheet Analysis

Debt to Equity Ratio

0.66

Current Ratio

1.11

Interest Coverage

11.8

Balance Sheet Score

1.5/3
The firm's balance sheet appears entirely unremarkable, suggesting a reasonable financial position. Its total debt outstanding of approximately $6 billion does not represent an aggressive amount of leverage for a company with a market capitalization of greater than $30 billion, but its cash position of less than $400 million is merely modest. This leads to a current ratio that remains just slightly above 1, but looking back over the last decade, maintaining a low current ratio is not an uncommon practice for Air Products and Chemicals. The firm covers its annual interest expenses nearly 12 times over, signifying that shareholders should not be particularly concerned about its future solvency.
Air Products and Chemicals Dividend Analysis

Current Yield

2.1%

Payout Ratio

65.8%

1 Year Dividend Growth

8.5%

3 Year Dividend Growth

32.8%

Dividend Score

1.5/3
After adjusting for stock splits, Air Products and Chemicals has increased its dividend every year going back more than three decades. However, as you can see from the below chart, its recent share price appreciation has led to a reduction in the stock's yield, despite this dividend growth: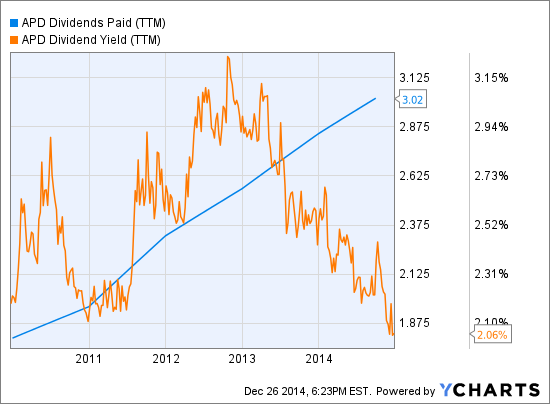 Furthermore, the firm's payout ratio has now increased to more than 60% for the first time and its free cash flow has been consistently lower than its net earnings, suggesting that future dividend growth may slow significantly. However, based on its impressive track record, Air Products and Chemicals will likely announce a dividend increase in March of 2015. While its current yield of 2.1% is only modest, the company deserves credit for a long history of impressive dividend growth.
Air Products and Chemicals DRAG Analysis

Total DRAG Score

5

/4 = Average DRAG Score

1.25

x Projected LT EPS Growth Rate

x Projected 2016 EPS

= Air Products and hemicals Target Price

$99.51
Based on this analysis, shares of Air Products and Chemicals appear significantly overvalued. However, this conclusion is based less on the company's fundamental attributes and more on its current valuation. Trading at 21 times projected 2016 earnings is a steep valuation for any stock, especially one from a cyclical industry. Furthermore, analysts anticipate that Air Products and Chemicals will increase its earnings by less than 11% per year moving forward, according to Yahoo! Finance. With this type of growth outlook, the DRAG framework suggests the stock should be valued at approximately $100, or 13.5 times forward earnings. While this value represents a $50 discount to where the stock is currently trading, based on its valuation history, it does not appear to be an unreasonable prediction: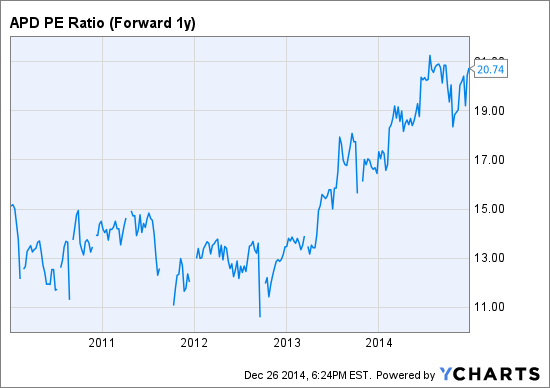 Although Air Products and Chemicals is one of the few dividend aristocrats in the materials sector, neither its fundamentals nor its earnings growth outlook suggest the stock should be trading at its current valuation. For this reason, it appears to be an intriguing short candidate and investors considering buying shares should wait for a significant pullback in its share price before considering adding it to their portfolios.
Disclosure: The author has no positions in any stocks mentioned, and no plans to initiate any positions within the next 72 hours.
The author wrote this article themselves, and it expresses their own opinions. The author is not receiving compensation for it (other than from Seeking Alpha). The author has no business relationship with any company whose stock is mentioned in this article.