The 3rd quarter GDP read should have come as no surprise to any of us. There have been signs of underlying strength in the economy for some time and that strength is going to carry over into 2015. One sign of that strength is in the GDP numbers themselves. Aside form the weakness we saw in the first quarter of this year GDP has been running above expectations all year. The real sign of strength however is seen in the revisions, GDP has been revised higher than first estimated each quarter including the 1st. The 3rd quarter alone has been revised upward from 3.5% to 3.9% and now 5.0%.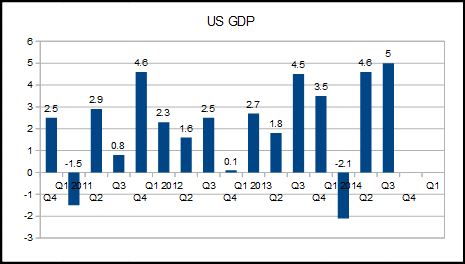 So far this year the US is already running at 2.5%, above estimates for the year and above last year. Estimates for 2015 are in the range of 3%-3.5% with current trends indicating it may be even higher.
Business Outlook Is Good
According to numerous surveys, indications and gauges of business the outlook for 2015 is very good. One I like to follow is Moody's Weekly Survey of Business Confidence. It is a survey of US and foreign businesses conducted by well known economist Mark Zandi. The survey has been positive all year and at all times highs going into 2015. According to the report given each week sales, business investment and hiring intentions are strong and that "credit availability has ... improved notably".
This isn't the only one. Earlier this month both the National Association of Business Economists and the National Federation Of Independent Business released reports on outlook for 2015. The NABE report, which surveys 48 business economists, expects to see growth accelerate in 2015. The median estimate according to them is 3.1%, with growth holding steady near 3% into the end of next year. Their estimate for Q4 2014 is only 2.2% but goes up to 2.9% in Q4 2015. The survey goes on to say that the growth will be driven by continued "labor market firming". The NFIB Optimism Index moved higher, if marginally, reflecting an increase in overall confidence in small business conditions.
Labor Market Gaining Strength
By all indications the labor market is strong and gaining strength. Jobless claims are at long term low levels and holding steady, lay offs are trending below last years levels and at long term lows, job creation is steady and gaining strength and unemployment levels are steadily declining. Within every economic report you read you will find evidence of labor markets that are at least expansionary, if not gaining momentum.
The net result of this can be seen in the Kansas City Federal Reserves Index of Labor Market Conditions. The LMCI, which is a composite of over 20 major labor indexes and gauges, declined slightly, by -0.05%, in November, it has been steadily on the rise for the past 5 years and fast approaching normalized levels. At the same time the momentum index remained unchanged at a 20 year high. The largest positive contribution in November was the quit rate, regarded as a very positive sign of labor market strength. If people are comfortable enough to quit on their own, it must mean that there are better jobs easily at hand.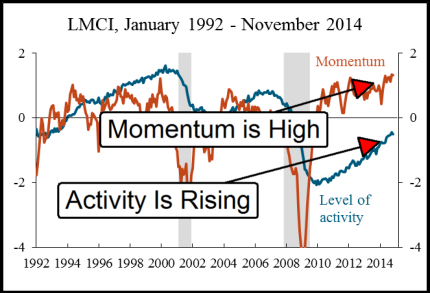 Demographics Is Behind The Bull Market
Scoff if you like but demographics is playing a very important role in the bull market. There is a shift in demographic cohorts from the Baby Boomers to the Millennials that is driving economic expansion that has years left to run. The shift has been an underlying cause, aided/hindered by political agendas from administration to administration, of US economic conditions for several decades, every since the 50's. Following is the short version of my theories on how demographics is affecting the economy, with links to some articles that go into more detail.
The Baby Boom (an estimated 26% of population) swelled the working age population and the economy with it. Then came along Generation X, a baby bust generation (only 16% of population), the working age population dwindled and the economy shrank with it. Now we move right along to the present day and talk about the Millennials, who are again a minimum of 26% of the present population. As they come of age the economy will and is having no choice but to grow with them. - You can read more about these ideas in my articles We Are In A Secular Bull Market and The Real Reason Why Unemployment Is Falling.
Bet On The Consumer
Jobs is leading the recovery, but really it is the consumer because consumers with jobs have more money to spend. More spending equals economic growth and we are a consumption driven economy. Income is on the rise along with jobs. The most recent figures on personal income show that it increased by 0.4% in November 2014, the highest level all year and the 5th month of gains. Consumption spending increased by 0.6% during the same time. This is also a positive sign for labor conditions, as it implies wage inflation is present.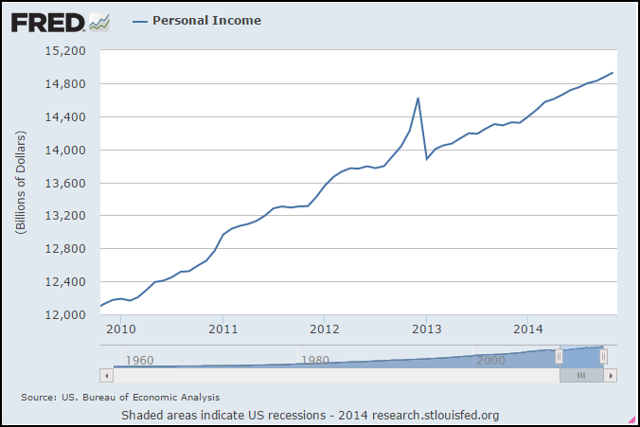 The gains in labor and personal income can also be seen in the retail sales figures. November retail sales came in above expectations at 0.7% and are running more than 5% above last year. Momentum, in the form of upward revision to previous data, can also be seen here. October data was revised up to 0.5% from 0.3%.
So, Why Should You Expect An Economic Boom In 2015
I think by now you can see why I think there will be an economic boom in 2015 and why you should be betting on the consumer. If not let me recap for you. The economy is strong and gaining momentum with underlying strength. The recovery is led by the labor market which has been steadily improving and is also carrying high levels of momentum. The strength in the labor market is leading to higher confidence levels among workers as well as businesses which in turn is leading to higher wages. The strength in labor, as well as increases in wages, is also aiding the consumer who is spending at least 5% more than he/she did last year. Capping it off is expectations for next year, which have the US growing at a rate stronger, if not significantly stronger, than this year.
On top of that gas is super cheap leaving even more spendable cash on the table. The cost of gas is down by nearly 50% on average, with some regions experiencing even greater declines. With current global production levels the way they are I do not expect that to change any time soon.
All that cash will get recycled back into the economy. It will lead to more sales, more orders, more production, more jobs, more wages, higher wages and more consumption in a circular pattern. So far that pattern has resulted in slow to moderate economic growth with no one sector or segment of economy really leading. As each region, industry and sector improves the economy will slowly grow and as they gain momentum so will the economy. 2015 is going to be a year in which the economic engine begins to hit on all cylinders and could produce a real, no bubble, economic boom the likes of which we have not seen in some time.
Disclosure: The author has no positions in any stocks mentioned, and no plans to initiate any positions within the next 72 hours.
The author wrote this article themselves, and it expresses their own opinions. The author is not receiving compensation for it (other than from Seeking Alpha). The author has no business relationship with any company whose stock is mentioned in this article.