With a track record of consistent dividend growth and a current yield of more than 4.5%, Verizon (NYSE:VZ) is a popular choice for income investors. However, the stock has underperformed over the last 18 months, trading in a narrow range during this time while the S&P 500 continues to march higher. Earlier this year, Verizon finalized a transaction with Vodafone (NASDAQ:VOD) to acquire the remaining 45% of Verizon Wireless it did not already own. The result of this acquisition is a highly levered balance sheet but a significant increase in free cash flow moving forward. This article examines Verizon's fundamental attributes and then utilizes the DRAG framework to determine whether this company should be a core holding in all income portfolios.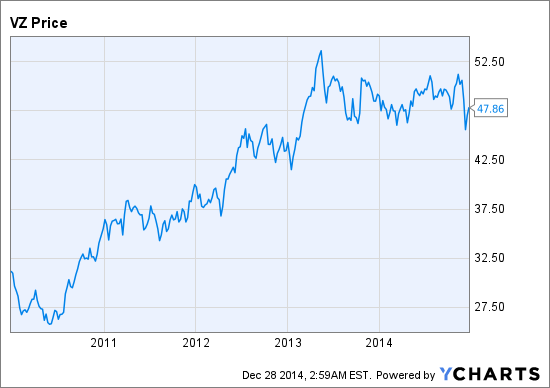 Please click here to read my article which outlines the DRAG analysis framework in more detail.
To summarize, the four variables used in a DRAG (dividend and risk adjusted growth) analysis are as follows (each company is ranked from 0 to 3 in each category):
1) How cyclical is the industry in which Verizon operates?
2) How strong is Verizon's competitive position within this industry?
3) How risky is Verizon's balance sheet?
4) What is Verizon's dividend yield and dividend growth history?
The premise is that a company that operates in a non-cyclical industry, with a strong competitive position and a clean balance sheet that pays an attractive dividend should trade at a higher earnings multiple than a company without these attributes, even if the lower quality company has higher projected future earnings growth. After adjusting for these variables, it becomes easier to compare companies in different sectors with different levels of future growth potential.
Verizon DRAG Analysis:
Verizon Industry Analysis

Industry Beta

0.47

Stock Beta

0.04

10 Year EPS Std Dev

404.1%

Industry Score

2.5/3
The telecom industry has long been considered one of the most defensive sectors of the stock market and both the iShares U.S. Telecom ETF (BATS:IYZ) and the iShares Global Telecom ETF (NYSEARCA:IXP) possess betas that indicate they are approximately half as volatile as the broader market. According to Yahoo! Finance, Verizon shares have a beta of just 0.04 during the past year, indicating they are almost entirely uncorrelated to the S&P 500. Its earnings have been highly variable during the past decade, but much of this has been caused by one time items (such as pension adjustments) instead of fluctuations within the underlying business. For example, Verizon's free cash flow per share has an annual standard deviation of less than 40% over this period. As one of the lowest beta stocks within the S&P 500 and as the largest player in a non-cyclical industry, Verizon achieves a nearly perfect score in this portion of the DRAG analysis.
Verizon Competitive Position Analysis

Gross Margin

62.0%

Operating Margin

27.1%

Return on Assets

6.7%

Return on Invested Capital

11.2%

Competitive Position Score

1/3
As one of the giants within the U.S. telecom industry, Verizon's immense size helps it achieve impressive economies of scale. While AT&T (NYSE:T) is a fierce competitor, Verizon currently generates better gross and operating margins than its main rival. In addition, the firm has improved its efficiency ratios significantly in recent quarters. Earlier this year, its return on invested capital exceeded 10% for the first time in several years: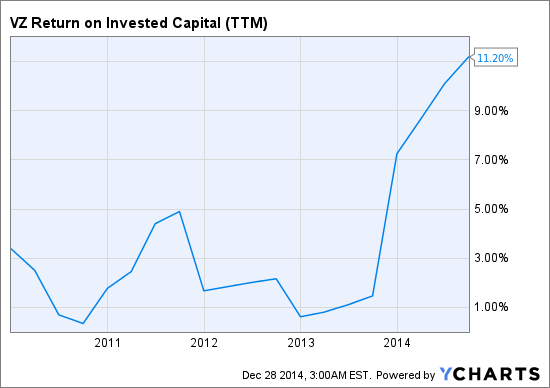 While these recent improvements are certainly a positive sign for investors, its history of generating a single digit return on invested capital translates into a below average competitive position score. However, continued improvements in Verizon's margins and efficiency ratios would be evidence of a strengthening competitive position and lead to an improved score in this section in the future.
Verizon Balance Sheet Analysis

Debt to Equity Ratio

6.59

Current Ratio

0.92

Interest Coverage

7.4

Balance Sheet Score

0.5/3
This simple graph illustrates much of what you need to know about Verizon's current financial position: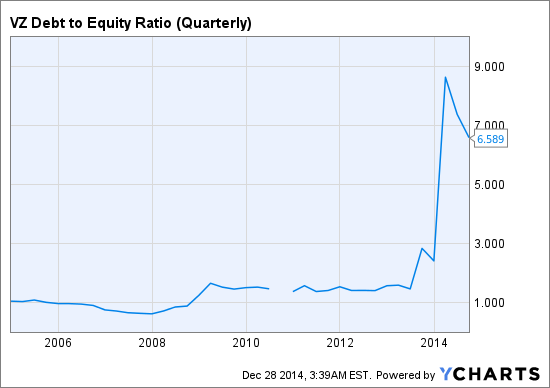 The company borrowed a record $49 billion last fall to help finance its acquisition of Verizon Wireless. This caused its debt to equity ration to skyrocket; the firm now has nearly $110 billion in total debt outstanding compared to a $198 billion market cap. Furthermore, its cash position of approximately $8 billion is only modest relative to the size of the company. Also, the company accounts for a staggering $105 billion in goodwill and other intangible assets, causing a large negative tangible asset value. Verizon's impressive free cash flow generation should allow it to manage this significant debt load, but potential investors need to consider its highly leveraged financial position when deciding whether they are comfortable buying shares of this corporation.
Verizon Dividend Analysis

Current Yield

4.6%

Payout Ratio

46.3%

1 Year Dividend Growth

3.8%

3 Year Dividend Growth

10.0%

Dividend Score

3/3
With a significantly above average current yield and a decade of consistent dividend growth, Verizon should appeal to nearly every investor seeking yield in their portfolio. Its dividend increases have not been substantial in recent years, but have more than kept up with inflation. While the firm will focus on reducing its debt load during the coming years, its reasonable payout ratio and strong free cash flow generation suggest that more dividend growth is likely. The stock's yield has declined in recent years, but still looks impressive when compared with the anemic interest rates of U.S. government bonds: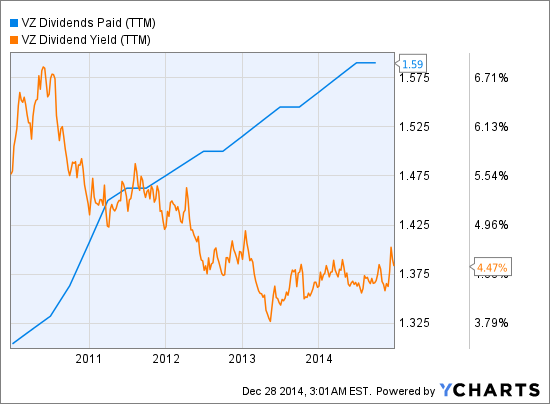 Thanks to its attractive current yield, strong free cash flow and history of dividend growth, Verizon deserves a perfect score in the dividend portion of this analysis.
Verizon DRAG Analysis

Total DRAG Score

7

/4 = Average DRAG Score

1.75

x Projected LT EPS Growth Rate

9.38%

x Projected 2015 EPS

= Verizon Target Price

$61.39
Although analysts do not expect Verizon's earnings per share growth to accelerate over the coming years, their projection of nearly 10% long term annualized growth is attractive for a telecom stock: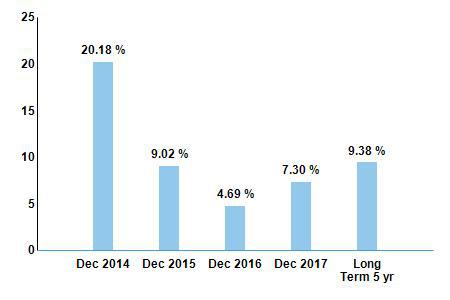 (source: Nasdaq.com)
When this earnings growth rate is combined with Verizon's non-cyclical nature and notable dividend profile, the result is a stock that the DRAG framework views favorably. It suggests that Verizon's share price could gain nearly 30% in 2015, which, when combined with a nearly 5% dividend yield, makes for a compelling investment opportunity. And while this price target implies a forward earnings multiple of approximately 16, such a valuation does not seem unreasonable given Verizon's historical range: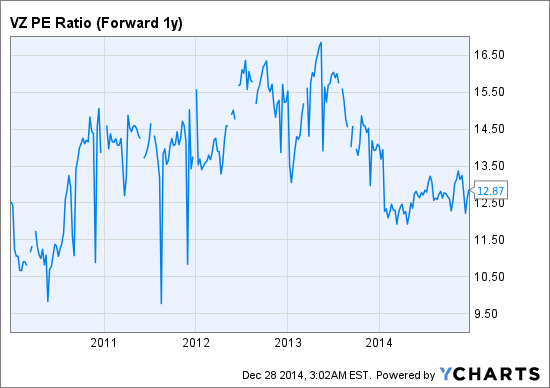 In spite of Verizon's defensive characteristics and low beta, there are risks present with this company. Its highly leveraged balance sheet should be monitored and the stock (like most other high yield investments) will likely be negatively affected when the U.S. Federal Reserve finally begins raising interest rates. However, Verizon still has considerable upside potential and is a stock worth adding to portfolios heading into the New Year.
Disclosure: The author has no positions in any stocks mentioned, and no plans to initiate any positions within the next 72 hours.
The author wrote this article themselves, and it expresses their own opinions. The author is not receiving compensation for it (other than from Seeking Alpha). The author has no business relationship with any company whose stock is mentioned in this article.