Ho-ly-bejesus, what a year.
2014 ranks up there with some of the hardest years ever for long/short equity traders (markets that go straight down are easy). There were land mines everywhere, a massive high beta meltdown for 2 months, the whole energy complex gets taken to the woodshed, the economy is on fire but traders are scared to crap of a rise in rates, there's activism all over the place, and through all of it the market is up double digits. Woooooooowww-e.
Before we get into the insane action amongst my 10 picks for 2014, let's review my calls for major trends. You can find the whole post here.
1. The year of the Bitcoin startup and blockchain adoption:
Yup. Coinbase is now worth about $400M. The number of Bitcoin addresses used was up 400% this year. Several huge VCs rolled out funds specifically designed to invest in Bitcoin startups, and then made it rain (cash, not Bitcoins, because startups still don't accept funding in Bitcoins).
Stripe integrated payment with Bitcoin and everyone is building a sidechain to keep track of ownership of something via the blockchain.
Nailed it.
2. The IBM Watson API will lead to a ton of amazing startups and incredible advances in technology:
I could not have been more wrong on this one, wow. What a disaster that program is, no one used the Watson engine because IBM made sure no one used it. I honestly don't understand what's going on here, it's incredibly perplexing. IBM is failing miserably, and all you have to do is look at the stock, it says everything you need to know.
3. Food tech is everywhere, and you want to be invested in it:
OpenTable was bought by Priceline for a huge premium. Everyone and their mother has a food delivery startup going on. And my main trend within the trend, Blue Apron is now worth more than $500M. Instacart is now worth $1.6B. Google, Amazon, and a zillion startups launched 1 hour delivery of fresh food.
Yea, nailed that one.
So 2 for 3, not bad. But looking back at my 2013 picks (Airbnb, Uber, 3D printing), I'd say those were even better (save for Square).
OK, enough with the big trends, let's take a look at what happened to our 10 stock picks.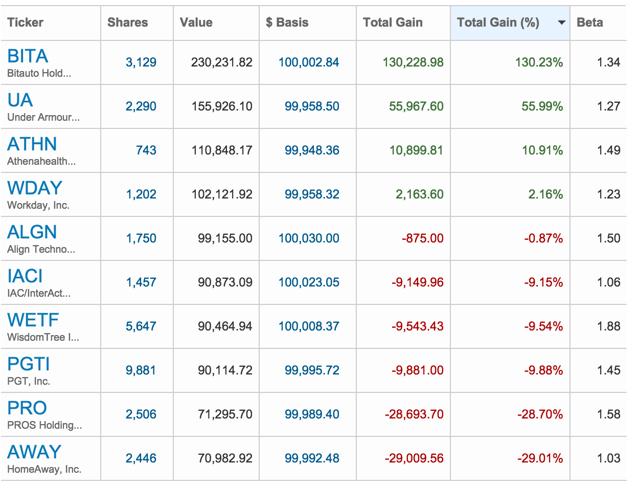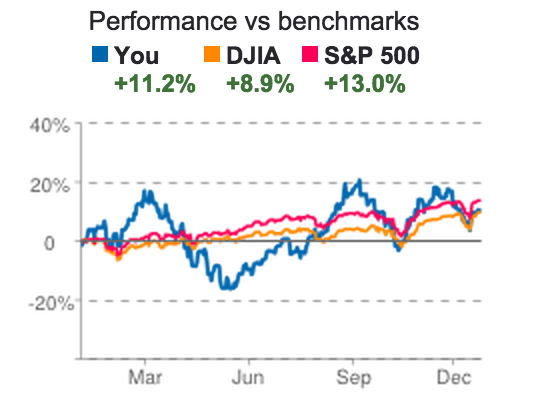 With 3 trading days left in 2014 we trail the S&P 500 return by about 180 basis points with a total return of 11.2%. Given how difficult this year was for just about every active manager, I'd say that's a decent showing, but not one that I'm happy with. While the idea of picking a portfolio of 10 stocks at the beginning of the year that cannot change is a flawed concept in and of itself, I still believe that we should be able to trounce the indices each year, as we have in the past. That said, had you used decent risk management with these picks early in the year you wouldn't have been involved in the broad swath of these names through the 2 months most of them greatly underperformed.
Let's get to the breakdown from best to worst.
BitAuto (NYSE:BITA): At a $3.35B market cap it's still early for this one. The P/E isn't even that high for a company growing this quickly in a market that is astronomically large. Expect this to be an acquisition target in 2015. Stand by to see if BITA will make the 2015 picks list for the 3rd year in a row.
Under Armour (NYSE:UA): At a $14.55B market cap it's now clear to most of the market that Under Armour is the next Nike, it may even supplant it eventually. It was rewarded this year by not being brought down in the high beta meltdown. The stock has gone nowhere since August after a great run, setting it up for a great 1st half of 2015. I continue to believe that Under Armour can be a $80 -$100B company and their CEO is dead set on leading the wearable tech charge. Stand by to see if UA will also make the 2015 picks list for the 3rd year in a row.
athenahealth (NASDAQ:ATHN): athena got caught up this year in a some bullshit around a few high profile hedge fund managers bashing it publicly. Still it was up 11%. I'll take it as the stock was down 30% at one point this year. It was also up 60%, but such was life in this crazy ass year. The company continues to put off good numbers but is just too fought over at this point.
Workday (NYSE:WDAY): The poster child of the high beta meltdown. Everything went right with this company in 2014, except how the market treated it. Well, that's the most important thing there is and we got it wrong. Hard to argue with a 75% YoY EPS growth rate and a 68% revenue growth rate. We squeaked out with a positive return, but it's disappointing.
Align (NASDAQ:ALGN): I really don't understand what happened to Align in October, there was a very short term meltdown of the stock and it quickly came all the way back, finishing the year strong. The stock basically went nowhere this year as growth slowed a bit.
IAC (IACI): Now we get into the stuff I actually got wrong. I was betting that IAC would spin off its online dating business this year including Tinder which is now valued at above $1B. Barry Diller is a genius, but he's not unlocking value keeping the dating properties under the $5.3B IAC roof. So frustrating. The stock will languish until he does so.
WisdomTree (NASDAQ:WETF): Oyyy, lucky to get out of this one not in worse shape as it was getting demolished mid-way through the year. I still don't quite understand what drives this stock, but the continuing shift to smart beta strategies which they own the ETFs for doesn't seem to be it and my thesis was wrong.
PGT (NYSE:PGTI): People didn't replace their windows enough this year. End of story.
PROS (NYSE:PRO): Even with continued great revenue growth an EPS meltdown this year didn't help.
HomeAway (NASDAQ:AWAY): Just got the thesis here dead wrong. Airbnb is crushing them and the market did not use HomeAway as a public proxy as I thought they would. AWAY is a takeout target now, but, meh. Just wrong.
So all in all, I'd say it's hard to be that mad at coming in pretty close to the S&P 500 for a year this volatile. I'm more upset than anything with getting the calls around IAC and HomeAway wrong, nothing I can do about WDAY and ALGN, they deserved to be treated better.
Stand by for 2015 picks and trends!
Disclosure: None