Source: Zoë's Website
According to its recent 10-Q, Zoë's claims the dubious honor of having "never wavered" from their "commitment" to making fresh food daily and serving customers in a warm, welcoming environment. That's a strong start. We hate when our waiters undergo existential crises regarding whether or not to be nice to us, and we really hate our pimento cheese sandwiches with a side of wavering.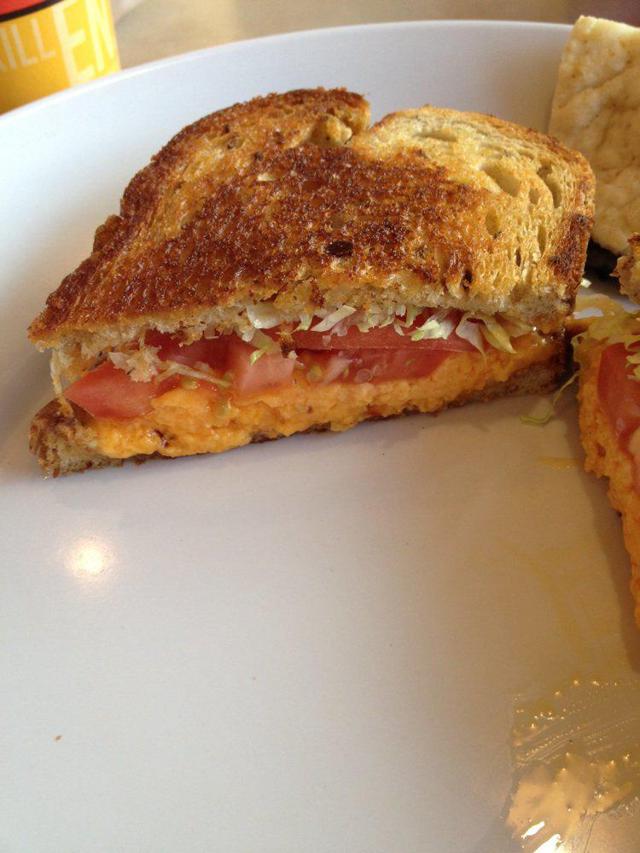 Zoë's Pimento Cheese Sandwich. Source: Yelp
So far, so good. Except maybe that pimento cheese sandwich. We'll probably regret that later.
As of October 6, according to their 10-Q, Zoë's operates 126 restaurants in 15 states. Further, Zoë's expects to double their restaurant base in the next four years. Normally, one would expect such expansion to be a good thing--for instance, in the case of Chipotle Mexican Grill (NYSE:CMG), with its strong return metrics, we'd consider doubling their restaurant base a sure-fire way to generate investor returns.
Source: Zoë's Website
As we see it, though, when it comes to Zoë's , the question is: is any Zoë's growth too much of a bad thing for investors?
To begin, let's compare Zoë's to some of its peers in the Restaurant industry.
Source: Gurufocus & Author's Compilation, TTM numbers
Some observations (all numbers from Gurufocus, TTM, unless otherwise stated):
Zoë's P/E ratio is nonexistent, because it makes no profit and generates a loss of -3.7M. Net income is considered the "bottom line," and measures how profitable a company is. Zoë's simply isn't profitable. Yikes.

Zoë's is more expensive than its peers based on several metrics, such as price-to-sales, EV/sales, and EV/EBIT.

Zoë's has a negative EV/EBIT, because it has negative earnings before interest and taxes of -0.50 per share.

Zoë's makes a negative ROA at -8.99%. It would have been better if the providers of capital to Zoe's would have put their capital in a bank account (guarantees at least 1.3%!).

Zoë's make a negative ROE at -14.45%.

Zoë's has the lowest operating margin (and a negative one, at that.) As a reminder: operating margin is needed to pay for fixed costs, like debt interest. Zoë's loses money (before interest and taxes) on each dollar of sales. Not good.
Zoë's has the lowest net margin of some of its peers (and it's negative). Like operating margin, net margin shows how much profit a company makes from each dollar of sales. That means that Zoë's is losing money on each dollar of sales.
If that's not bad enough, there's more:
Worsening Margins: Zoë's operating margin and net margin is one of the worst among its peers, as we show above. It's also getting worse.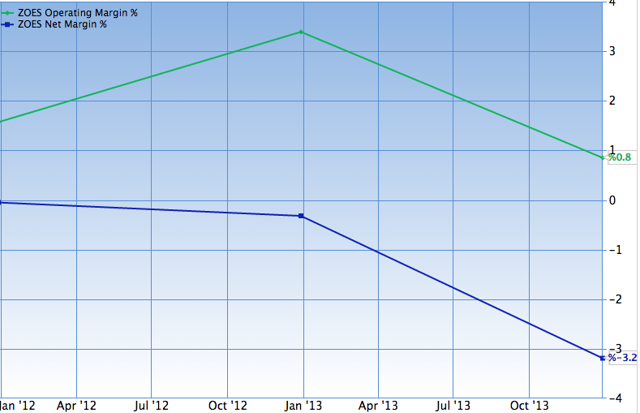 Source: Gurufocus, Annual Data
Short Interest: Zoë's short interest is high and increasing: 50.53 of the float is shorted. Short interest is often considered a measure of the sentiment of the "smart money" and can be a good predictor of future trouble for shareholders.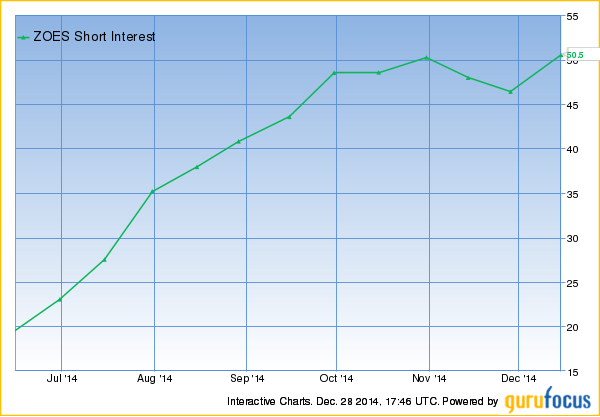 Source: Gurufocus, Annual Data
Negative EPS and FCF Per Share. In fact, based on TTM numbers, Zoë's has never made positive earnings per share or free cash flow per share.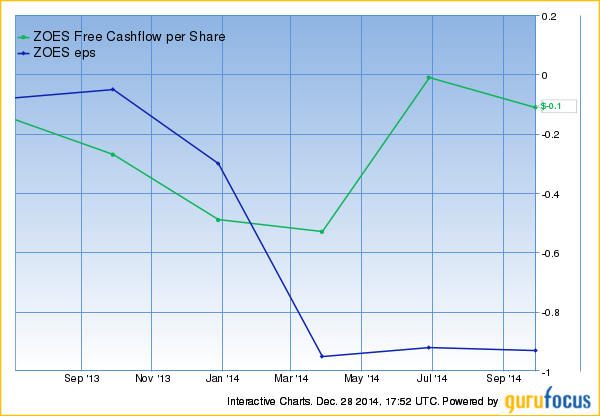 Source: Gurufocus, TTM Numbers
Perpetually Poor Net Income Despite Consistent Revenue Growth. Not only is Zoë's net income terrible, but it's also completely expected. Zoë's has never made positive net income (NYSE:TTM). This is in spite of Zoë's perpetually consistent revenue growth. Zoë's has consistently failed to turn its growth in restaurants and revenue into profits.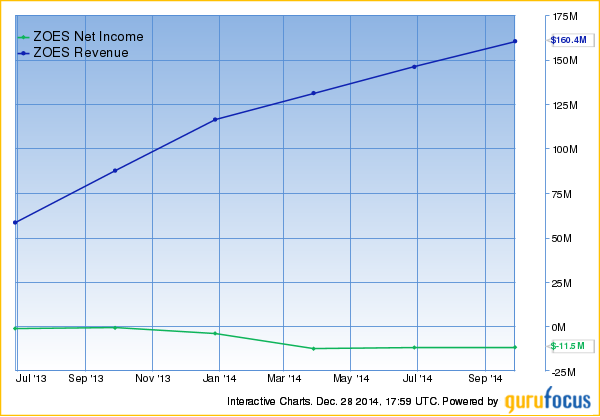 Source: Gurufocus, TTM Numbers
Conclusion
Investors are excited about new restaurant IPOs, and Zoë's is no exception. We would ask Zoe's shareholders to consider the following, though: if one restaurant loses you X amount, why is adding more such restaurants a good thing? Given that Zoë's has consistently failed to turn its growth in revenue into profits for shareholders, our advice to investors is not park their capital in one of the better-performing peers.
Disclosure: The author has no positions in any stocks mentioned, and no plans to initiate any positions within the next 72 hours.
The author wrote this article themselves, and it expresses their own opinions. The author is not receiving compensation for it (other than from Seeking Alpha). The author has no business relationship with any company whose stock is mentioned in this article.