Flanigan's (NYSEMKT:BDL), whose stock is up 118% year to date, recently reported Q4 earnings and filed its annual report for 2014.Below are some takeaways from the annual report and Q4 earnings:
For Q4, Flanigan's revenue increased 9.1% year over year to $21.7 million, while EPS doubled to $0.25 per share from last year's $0.12 per share.
For 2014, Flanigan's revenue increased 8.4% year over year while expenses rose 6.5% year over year, giving the company very solid EPS growth. For 2014, EPS rose 40% year over year to $1.49 per share from $1.06 per share in 2013.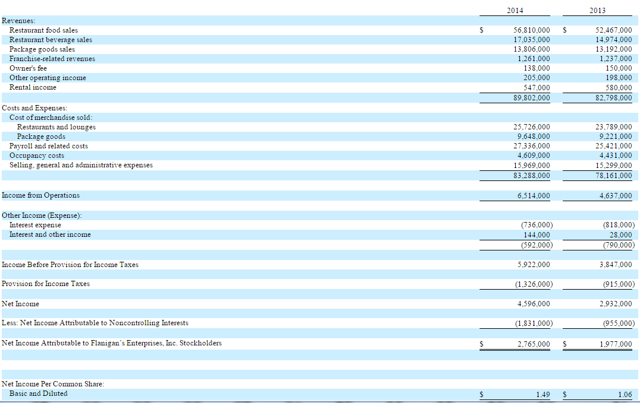 The big question on investors' minds is whether Flanigan's can maintain its EPS growth for 2015. Another year of 40% EPS growth would give the company $2.08 in EPS for 2015. Apply an industry average 23x multiple on that, and Flanigan's stock would trade around $47 per share by 2016.
Personally, I don't think the 40% year over year growth is sustainable because the company has no restaurants in development stage. Because it isn't opening any new stores, Flanigan's profit growth will have to come from increasing operating efficiency or increased traffic to its restaurants.
Although there is still room for improvement in both categories, eventually those improvements will max out. Furthermore, according to the 10-K, management expects gross margins to decrease due to higher food costs and stable menu prices.
Given the improving economy and low gas prices, I believe 15-20% EPS growth is more realistic for 2015. 15-20% EPS growth gets me around in $1.71 -$1.79 per share in EPS for 2015.
Another critical question is whether Flanigan's P/E ratio will hover around the current 20x level, or whether it will fall back down to the historic ~13x. This question is very important because if Flanigan's P/E ratio hovers around the industry average, Flangian's would trade around $40 by 2016. If it trades at 13x, it would trade at $22 by 2016.
Personally, the rally in Flanigan's stock has created high expectations. Because Flanigan's Q4 earnings was solid enough to meet market expectations, the company will likely maintain a ~20x multiple or higher until an earnings disappointment, whenever that might be.
Until that time, given the improving economy and low gas prices, I think the lower bound for Flanigan's is $25 per share.
Disclosure: The author has no positions in any stocks mentioned, and no plans to initiate any positions within the next 72 hours.
The author wrote this article themselves, and it expresses their own opinions. The author is not receiving compensation for it (other than from Seeking Alpha). The author has no business relationship with any company whose stock is mentioned in this article.
Editor's Note: This article covers one or more stocks trading at less than $1 per share and/or with less than a $100 million market cap. Please be aware of the risks associated with these stocks.