As we get ready to head into 2015, now is a great time to set the stage for the biotech sector into the New Year. While this week has been tough and volatile with the iShares NASDAQ Biotechnology ETF (NASDAQ:IBB) down 3.3% and the SPDR S&P Biotech ETF (NYSEARCA:XBI) down 1.8%, this has still been a great year for biotech with the IBB up 35.2% and the XBI up 45.0%. In this article, I will take a look at biotech from the charts as well as discuss major postive and negative themes for 2015
Biotech Review From The Charts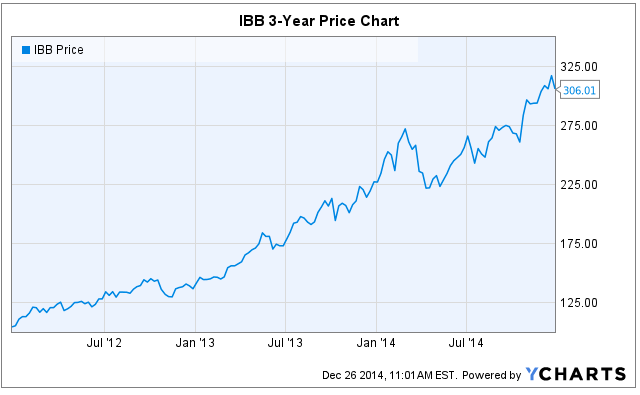 In my late October piece discussing the major break of $280 for the IBB, I suggested a target price of $316.75 given the cup and handle pattern the ETF broke out of at the time. With a high in the IBB of $319.14 on December 19th, this target worked out well, and I hope some looked to lighten up a bit at these levels. Most pullbacks for the sector have been very shallow. In my December 1st piece, I discussed the potential levels of support for the pullback in progress. This pullback found support at the first level I mentioned, which was the $300 psychological level that had been the previous breakout level.
IBB Daily Chart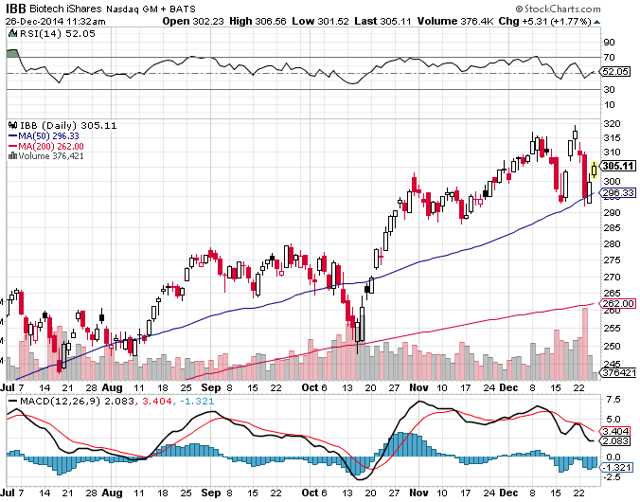 IBB Weekly Chart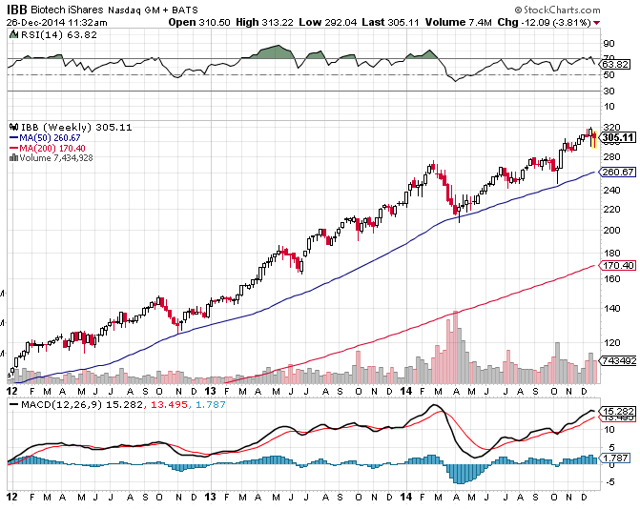 So, where do we go from here? After hitting an all-time high of $319.14 on December 19th, the IBB dropped approximately 9.5% in two trading days on high volume to an intraday low of $292.04 on December 23rd, before bouncing at the 50-day moving average to close at $306.61 on Friday. From the IBB weekly chart, you can see that the 50-week moving average (similar the 200-day moving average as it would be the 250-day moving average) has acted as a firm support level over the past few years. Given what I believe is becoming a bit more and more a mixed picture for biotech with the themes I will discuss below, I believe that biotech has the potential to test its longer term moving averages located in the low $260s, suggesting approximately 14% of downside if this were to come to fruition. While I do believe that biotech is a compelling sector and that it is smart to own high-quality names as well as names presenting very attractive valuations, I do think it is important to not be overly bullish and acknowledge the aspects that combine to create what is currently somewhat of a mixed picture.
Positives
1. Calendar Trends and Small Cap Breakout
Calendar trends support continued bullish performance over the next few weeks. In my previous piece, I highlighted the tendency of stocks to trend up between Christmas and New Years (the Santa Claus rally) as well as the exceptional stock performance after midterm elections (16.5% for S&P 500 between November and April after midterms versus 3.7% in all other years). To these trends, we can also add the January effect, which is the tendency of small-cap stocks to perform better in January than in any other month. The January effect is certainly a trend to note given the many small-cap names in the biotech sector.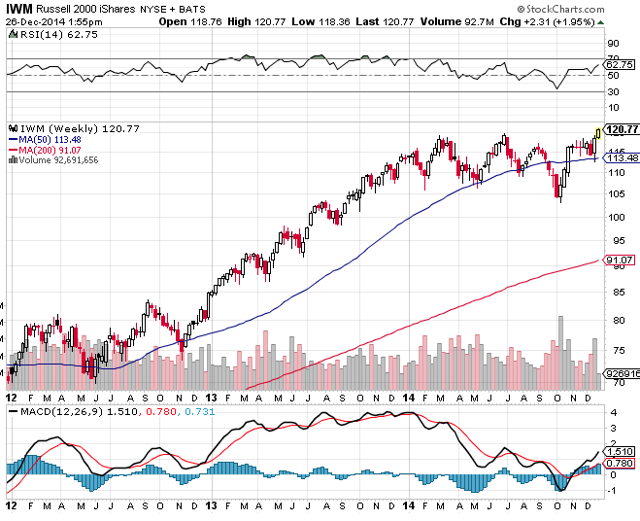 Adding on to all of these positive upcoming calendar trends, the iShares Russell 2000 ETF (NYSEARCA:IWM) is in the midst of a major breakout. The IWM has been consolidating for the past year with $120 as a resistance level, leading to pretty substantial underperformance versus larger cap names. This may all be about to change though as the IWM broke through $120 to all-time highs on Friday, the first time the Russell 2000 as hit all-time highs since July 1st. This breakout could certainly help contribute to future momentum for some of the small cap biotech names.
2. J.P. Morgan 2015
The J.P. Morgan 33rd Annual Healthcare Conference taking place January 2015 is by far the most important healthcare conference of the year, as evidenced by exorbitant rates hotels are charging such as four times normal pricing at the Villa Florence. One trigger for potential upside is that some companies will often preannounce earnings guidance or projections for major drug sales for the coming year at the conference. One of the greatest things about the J.P. Morgan Annual Healthcare Conference are the many other conferences in the area at the time of the conference. The stage will be set by the East/West CEO Conference January 10th-11th where leaders in the industry will review the year in biotech and discuss the outlook for next year. Other conferences include the Biotech Showcase on January 12th-14th (an avenue for both public and private companies to present to investors and industry leaders), the OneMedForum January 12th-13th (an event at connecting the most promising growth companies with investors), and the Redefining Early Stage Investments conference January 13th (an avenue connecting entrepreneurs and investors). For a more detailed list of all the events surrounding this exciting time in biotech, I recommend the list put together by Tilton Little (the executive director of Big3Bio) linked here, illustrating the many events the bring upwards of 10,000 life sciences professionals together. From looking at 2013 performance depicted below, you can see the nice pop stocks in the industry saw around the conferences in 2013.
3. Areas Of Biotech Leading The Charge
When discussing potential catalysts for biotech, it's important to highlight some of the hottest areas in the sector. If the industry were to continue to rally and lead the markets higher, it would certainly be very helpful for the leadership groups within the sector to continue their momentum. A recent area of strength within the sector has been CAR-T immunotherapy, as evidence by the 21.86% move in Juno Therapeutics just on Friday and a more than double from the IPO price in mid December. CAR-T is a new targeted method of treating blood cancers that has significant potential as CAR (chimeric antigen receptors) T cells are more potent than other immune-based therapies being studied. Some of the other pure plays in this space are Kite Pharma (NASDAQ:KITE) and Bellicum Pharmaceuticals (NASDAQ:BLCM). Other areas to watch include HBV (such as Alnylam (NASDAQ:ALNY)) and the many high-fliers within the broader immunotherapy space such as Bluebird Bio (NASDAQ:BLUE) and Advaxis (NASDAQ:ADXS).
Negatives
1. AbbVie (NYSE:ABBV) - Express Scripts (NASDAQ:ESRX) News
On December 22nd, 2014, Abbvie signed a deal with Express Scripts to be the preferred provider of hepatitis C treatment for ESRX, agreeing to substantially cut the price of its treatment for ESRX in the process. While it did not say exactly what size of a price cut would be associated with this deal, it did say that it would be priced similar to what Gilead prices Sovaldi at in Europe, where it is $$66,000 in Germany and $51,373 in France. While Abbvie's main competitor in the space, Gilead (NASDAQ:GILD), obviously saw its stock get hammered on the news, the biotech sector as a whole took a nosedive given worries on how a deal like this may threaten broader industry pricing power. Quotes from around the industry raise concerns that this could just be the beginning of challenges to prescriptions drug prices, which could further drag on the biotech industry. On the topic of looking to lower the costs of specialty drug prices, Molina Healthcare CEO Mario Molina stated, "We will be taking a serious look at this." He went on to say, "If there's a little bit more competition in the pharmaceutical world, it will be a good thing for health plans and health plan subscribers. I think this is a harbinger of things to come." Express Scripts CMO Dr. Steve Miller highlighted areas where it would look to expand the treatments it won't cover as it has with Gilead's Sovaldi and Harvoni for many patients by stating, "We look at this as being the first of what will happen in the field of cancer, rheumatoid arthritis and many other of the expensive specialty fields." Biotech beat writer Adam Feuerstein from TheStreet highlighted his concerns by stating, "The power to control drug prices in the U.S. now has shifted firmly to cost-cutting insurance carriers and pharmacy benefit managers." Not all in the industry are that worried though. Some have said that the hepatitis C market is unique and not a reason for broader worry. Others have said that the price decreases will expand the potential market for the drug as they will become more broadly prescribed given the price decreases, which the market is not considering. I personally find this drug pricing issue to be a clear worry and is something I will be watching very closely.
2. Valuation
Valuation. What is there to say about valuation? Many have been absolutely run over saying the biotech sector is overpriced as the sector has continued on its bull run. Even Janet Yellen tried claiming that small cap biotechnology stocks were overvalued, yet they have rallied 34% since her early July comments before this week's pullback. While its very dangerous to make a call saying that this sector is fully or overvalued, it is important to acknowledge some of the trends in biotech equity valuation. While I would prefer to briefly look at this through the lens of an ETF, I was not able to find anywhere with fundamental statistics of the IBB or XBI graphed over time so I will take a look at this through some of the major holdings of the IBB:
Price/Book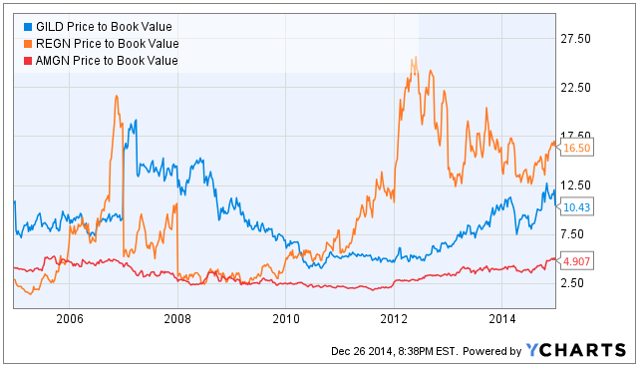 Price/Sales (Forward)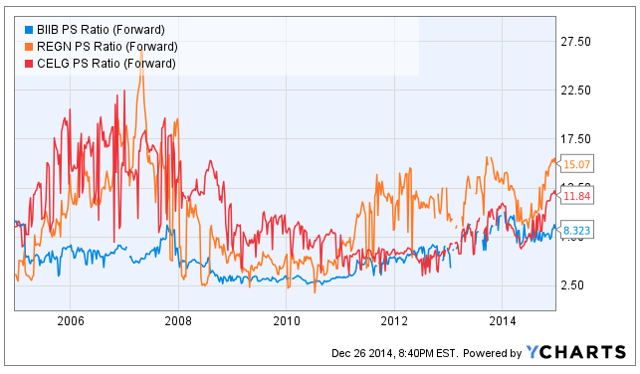 Price/Earnings (Forward)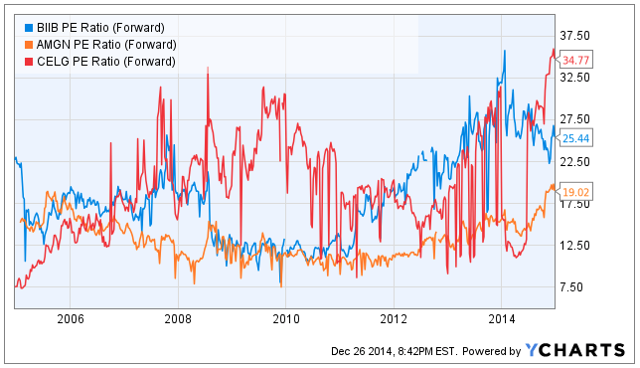 I didn't look at forward estimates for Gilead as they will no doubt be changing pretty significantly as analysts update models given the recent hepatitis C deal between ESRX and ABBV. While I am not going to try to draw a line in the sand saying biotech has hit too high of a valuation, I do think it is important to note that valuations by various metrics do seem on the higher side relative to where the have been over the past 10 years. I think it is important for investors to step back and compare current valuations to past valuations to see if current prices are still rational. While I do think you could argue that many biotechs seem pretty highly priced compared to past valuations, the flip side of the arguments are the many compelling cases around the individual stocks. Activist Dan Loeb has taken a stake in Amgen (NASDAQ:AMGN) and believes that the stock still has more than 50% of upside within the next two years if it were to split the company. Celgene (NASDAQ:CELG) is being led by blockbuster Revlimid and has an impressive pipeline that includes promising partnerships with many smaller biotechs including Agios Pharmaceuticals (NASDAQ:AGIO) and Bluebird Bio .
3. Can Dip Buying Last Forever?
This last question I have is: how long will investors keep "buying the dip" in biotech? Ever wonder why biotech has been neatly bouncing at the 50-day or 200-day moving average throughout the past few years? Every time it gets close to these moving averages, dip buyers come in to increase their positions and stop it from dropping any further, creating a self-fulfilling prophecy of sorts in regards to the reliability of these moving averages acting as support. Well, dip buying cannot last forever. When will they stop then? I think one could argue that this is almost more of a macro question than anything. Dip buying will stop when there is less of an appetite for risky assets like stocks and specifically stocks within the biotech sector. Given the enormous oversubscriptions to many recent offerings in the biotech sector, this clearly doesn't seem to be something that will be happening any time soon. I believe that the question of when dip buying will end is something that will be determined more than anything buy macro trends and relative attractiveness of asset classes, which don't think is an immediate issue given interest rate levels and the Federal Reserve's desire to move slowly.
Conclusion
While I am concerned about the potential for pricing pressure in the biotechnology sector and think that this issue has the potential to be a major cause of the sector testing its longer term moving averages, I think that there are numerous positives to point to that should keep the sector in the positive next year. Even though I do still feel mildly bullish, I don't think it would be wise to expect 35%+ returns from the IBB and XBI yet again in 2015, with returns in the range of 5-10% (maybe even approaching 15%) being much more likely. As valuations continue to increase, I think that owning the highest quality names in the sector and names that are substantially undervalued is a good alternative to just owning the sector through an ETF.
Disclosure: The author has no positions in any stocks mentioned, and no plans to initiate any positions within the next 72 hours.
The author wrote this article themselves, and it expresses their own opinions. The author is not receiving compensation for it (other than from Seeking Alpha). The author has no business relationship with any company whose stock is mentioned in this article.