I screened on Barchart for the Nasdaq 100 stock hitting the most frequent new highs, and Dollar Tree (NASDAQ:DLTR) continues to stay near the top of the list with 16 new highs and a price increase of 11.60% in the last month. The stores attract the value-seeking shopper and the stock attracts the value-seeking investor. In the past this was mainly a dry goods store, but new and remodeled locations are installing coolers and freezers for additional food items.
[Click to enlarge]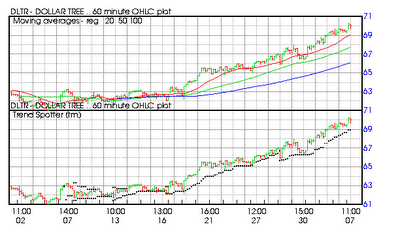 DLTR operates discount variety stores in the United States. Its stores offer merchandise at the fixed price of $1.00. The company operates stores under the names of Dollar Tree, Deal$, and Dollar Bills. Its stores offer consumable merchandise, including candy and food, basic health, and beauty care; household consumables, such as paper, plastics, and household chemicals, as well as frozen and refrigerated food; variety merchandise, which includes toys, durable housewares, gifts, fashion, health and beauty care, party goods, greeting cards, apparel, and other items; and seasonal goods, such as Easter, Halloween, and Christmas merchandise, as well as summer toys and lawn and garden merchandise. As of January 30, 2010, the company operated 3,806 discount variety retail stores in 48 states and the District of Columbia. Dollar Tree, Inc. was founded in 1986 and is headquartered in Chesapeake, Virginia.
Barchart technical indicators:
96% Barchart technical buy signal
Trend Spotter buy signal
Above its 20-, 50- and 100-day moving averages
16 new highs and up 11.61% in just the last month
Relative Strength Index is 77.66% and rising
Trades around 69.99 with a 50-day moving average of 62.58
Wall Street analysts consider this a growth stock and have released six strong buy, five buy and nine hold recommendations for their clients. No one is going against the flow with a negative report.
Sales are projected to increase by 12.10% this year and 9.40% next year.
Earnings increases are expected to be double-digit with an increase of 12.30% this year, another 13.90% next year and 15.05% annually with for the next five years.
General investor sentiment:
On Motley Fool, the 403 readers expressing an opinion on this stock have 92% voting that the stock will beat the market.
The more experienced All Stars have an identical 92% vote for the same result.
DLTR is not a flash-in-the-pan discount retailer but a well-financed value-oriented company with a well-defined business and expansion plan. Long-term investors should see a annual total return in the 9-11% range at least for the next five years.
Disclosure: I have no positions in any stocks mentioned, and no plans to initiate any positions within the next 72 hours.