* All data are as of the close of Friday, December 26, 2014. Emphasis is on company fundamentals and financial data rather than commentary.
The Medical Appliances & Equipment industry seems set to receive a very big shot of medicine from the recently enacted Patient Protection and Affordable Care Act (aka Obamacare), which came into effect at the beginning of 2014.
Essentially the Act makes health insurance obligatory to all except some exempt Americans. They must be enrolled in medical insurance plans either through their employer (mandatory for those with 50 full-time employees or more), or at the government's insurance marketplace exchanges.
It is estimated that over 7.5 million new health insurance plans were purchased on the government's exchanges in 2014, with the number rising to between 9 million and 10 million during the 2015 enrolment period. Let's think about what this means for the Medical Appliances & Equipment industry, and specifically for the three largest U.S. companies in the space.
First off, we're not talking about medical refrigerators or other "appliances". These companies provide medical implants and other devices used by patients. Here's a breakdown of what each of the three companies provides:
• Medtronic, Inc. (NYSE: MDT), headquartered in Minneapolis, Minnesota, manufactures and sells device-based medical therapies including pacemakers, insertable cardiac monitors, implantable defibrillators, leads and delivery systems, ablation products, electrophysiology catheters, products for the treatment of atrial fibrillation, in addition to information systems for the management of patients with cardiac rhythm disease management devices, products to reduce surgical site infections, coronary and peripheral stents and related delivery systems, therapies for uncontrolled hypertension, endovascular stent graft systems, heart valve replacement technologies, cardiac tissue ablation systems, and open heart and coronary bypass grafting surgical products. It also supplies bone graft substitutes, biologic products, implantable neurostimulation therapies, and drug delivery systems. For the surgical theater, the company also manufactures and sells image-guided surgery and intra-operative imaging systems.
• Stryker Corporation (NYSE: SYK), headquartered in Kalamazoo, Michigan, provides orthopaedic reconstructive implants used in hip and knee joint replacements, surgical equipment and surgical navigation systems, endoscopic and communications systems, patient handling and emergency medical equipment, reprocessed and remanufactured medical devices, as well as other medical devices for use in various medical specialties. It also provides neurosurgical and neurovascular devices, products for traditional brain and open skull base surgical procedures, orthobiologic and biosurgery products, as well as products for the treatment of acute ischemic and hemorrhagic stroke, in addition to spinal implant products including cervical, thoracolumbar, and interbody systems.
• Zimmer Holdings, Inc. (NYSE: ZMH), headquartered in Warsaw, Indiana, designs, develops, manufactures, and markets orthopedic reconstructive devices, spinal and trauma devices, biologics, dental implants, and related surgical products, including replacements for knees, hips, shoulders, and elbows, spinal devices used by orthopedic surgeons and neurosurgeons in the treatment of degenerative diseases, deformities, and trauma of the spine, as well as trauma devices used primarily to reattach or stabilize damaged bone and tissue to support the body's natural healing process. It also provides surgical products, supplies and instruments designed to aid in orthopedic surgical procedures and post-operation rehabilitation.
How is the PPACA expected to benefit these companies? Most of the new recipients of medical insurance are those in the lower income brackets and labor sector, which generally tend to have more of the types of injuries these companies tend to. Barely a year into the program, the companies' stocks have been healing quite nicely already, as graphed below.
Notice in the first graph how all three companies lagged considerably behind the S&P 500 index [black] and the SPDR Healthcare Sector ETF (NYSE: XLV) [blue] from 2010 through 2012?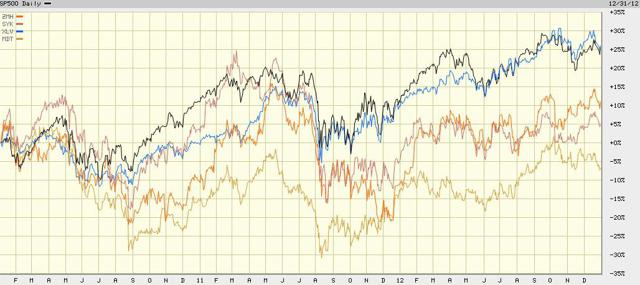 Source: BigCharts.com
Well just look at their performance during the last two years from the start of 2013 until today, as graphed below - starting a full year before the PPACA even took effect.
Where the S&P has gained 43% and the XLV has gained 70% over the past two years, Zimmer has risen 69%, Stryker has risen 71%, and Medtronic has risen 75%. That is one speedy recovery.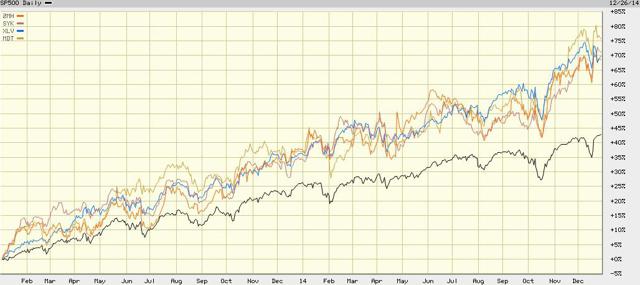 Source: BigCharts.com
Looking at future earnings growth, the Medical Appliances & Equipment industry as a whole is expected to continue its rehabilitation as tabled below, where green indicates outperformance while yellow denotes underperformance.
Over the current quarter, the industry is seen growing its earnings at some 6.01 times the S&P's average earnings growth rate, before calming to a more tranquilized 1.04 times next quarter.
But come next year, the adrenaline is set to surge through the industry's veins once again as it outgrows the broader market's earnings at some 2.22 times its growth rate in 2015, and 1.88 times annually over the next five years.

Zooming-in a little closer, however, the earnings growth rates of two of our three competitors in the space are expected to lose their metabolism as their earnings under-grow the broader market rather significantly, while the third also succumbs to underperformance longer term, as tabled below.
Over the next two quarters and 2015, all three companies are expected to under-grow their earnings considerably relative to the S&P's average with the exception of Stryker which barely market-performs in the present quarter and in 2015.
Over the next five years, all three continue to under-grow their earnings relative to the market - though not by much in the cases of Stryker and Zimmer.

Yet there is more than earnings growth to consider when sizing up a company as a potential investment. How do the three compare against one another in other metrics, and which makes the best investment?
Let's answer that by comparing their company fundamentals using the following format: a) financial comparisons, b) estimates and analyst recommendations, and c) rankings with accompanying data table. As we compare each metric, the best performing company will be shaded green while the worst performing will be shaded yellow, which will later be tallied for the final ranking.
A) Financial Comparisons
• Market Capitalization: While company size does not necessarily imply an advantage and is thus not ranked, it is important as a denominator against which other financial data will be compared for ranking.
• Growth: Since revenues and expenses can vary greatly from one season to another, growth is measured on a year-over-year quarterly basis, where Q1 of this year is compared to Q1 of the previous year, for example.
In the most recently reported quarter, Stryker delivered the greatest revenue growth year-over-year, while Zimmer delivered the greatest earnings growth. At the low end of the scale, Stryker and Zimmer reciprocated the worst growth rates, with Stryker and Medtronic both reporting earnings shrinkage.

• Profitability: A company's margins are important in determining how much profit the company generates from its sales. Operating margin indicates the percentage earned after operating costs, such as labor, materials, and overhead. Profit margin indicates the profit left over after operating costs plus all other costs, including debt, interest, taxes and depreciation.
Of our three contestants, Zimmer operated with the widest profit and operating margins while Stryker contended with the narrowest.

• Management Effectiveness: Shareholders are keenly interested in management's ability to do more with what has been given to it. Management's effectiveness is measured by the returns generated from the assets under its control, and from the equity invested into the company by shareholders.
For their managerial performance, Zimmer's management team delivered the greatest returns on assets, Medtronic's team delivered the greatest returns on equity, while Stryker's team delivered the least on both.

• Earnings Per Share: Of all the metrics measuring a company's income, earnings per share is probably the most meaningful to shareholders, as this represents the value that the company is adding to each share outstanding. Since the number of shares outstanding varies from company to company, I prefer to convert EPS into a percentage of the current stock price to better determine where an investment could gain the most value.
Of the three companies here compared, Zimmer provides common stock holders with the greatest diluted earnings per share gain as a percentage of its current share price, while Stryker's DEPS over current stock price is lowest.

• Share Price Value: Even if a company outperforms its peers on all the above metrics, however, investors may still shy away from its stock if its price is already trading too high. This is where the stock price relative to forward earnings and company book value come under scrutiny, as well as the stock price relative to earnings relative to earnings growth, known as the PEG ratio. Lower ratios indicate the stock price is currently trading at a cheaper price than its peers, and might thus be a bargain.
Among our three combatants, Medtronic's stock is cheapest relative to forward earnings, while Zimmer's stock is cheapest relative to company book value and 5-year PEG. At the overpriced end of the scale, Stryker's stock is the most overvalued relative to earnings and company book, where Medtronic's is the most overpriced relative to PEG.

B) Estimates and Analyst Recommendations
Of course, no matter how skilled we perceive ourselves to be at gauging a stock's prospects as an investment, we'd be wise to at least consider what professional analysts and the companies themselves are projecting - including estimated future earnings per share and the growth rate of those earnings, stock price targets, and buy/sell recommendations.
• Earnings Estimates: To properly compare estimated future earnings per share across multiple companies, we would need to convert them into a percentage of their stocks' current prices.
Of our three specimens, Stryker offers the highest percentage of earnings over current stock price for the current quarter, while Medtronic offers the highest percentages for all other time periods. At the low end of the scale, Medtronic offers the lowest percentage for the current quarter where Stryker offers it the rest of the way.

• Earnings Growth: For long-term investors this metric is one of the most important to consider, as it denotes the percentage by which earnings are expected to grow or shrink as compared to earnings from corresponding periods a year prior.
For earnings growth, Stryker offers the greatest growth from the current quarter through 2015, while Zimmer offers it over the next five years. At the low end of the spectrum, Zimmer offers the slowest growth prospects from the current quarter through 2015, while Medtronic offers it over the next five years.

• Price Targets: Like earnings estimates above, a company's stock price targets must also be converted into a percentage of its current price to properly compare multiple companies.
For their high, mean and low price targets over the coming 12 months, analysts believe Stryker's stock offers the least upside potential and greatest downside risk, while Zimmer's stock offers the greatest upside and Medtronic's offers the least downside.

• Buy/Sell Recommendations: After all is said and done, perhaps the one gauge that sums it all up are analyst recommendations. These have been converted into the percentage of analysts recommending each level. However, I factor only the strong buy and buy recommendations into the ranking. Hold, underperform and sell recommendations are not ranked since they are determined after determining the winners of the strong buy and buy categories, and would only be negating those winners of their duly earned titles.
Of our three contenders, Medtronic is best recommended with 7 strong buys and 10 buys representing a combined 77.27% of its 22 analysts, followed by Stryker with 11 strong buy and 8 buy ratings representing 70.37% of its 27 analysts, and lastly by Zimmer with 12 strong buy and 5 buy recommendations representing 68% of its 25 analysts.

C) Rankings
Having crunched all the numbers and compared all the projections, the time has come to tally up the wins and losses and rank our three competitors against one another.
In the table below you will find all of the data considered above plus a few others not reviewed. Here is where using a company's market cap as a denominator comes into play, as much of the data in the table has been converted into a percentage of market cap for a fair comparison.
The first and last placed companies are shaded. We then add together each company's finishes to determine its overall ranking, with first place finishes counting as merits while last place finishes count as demerits.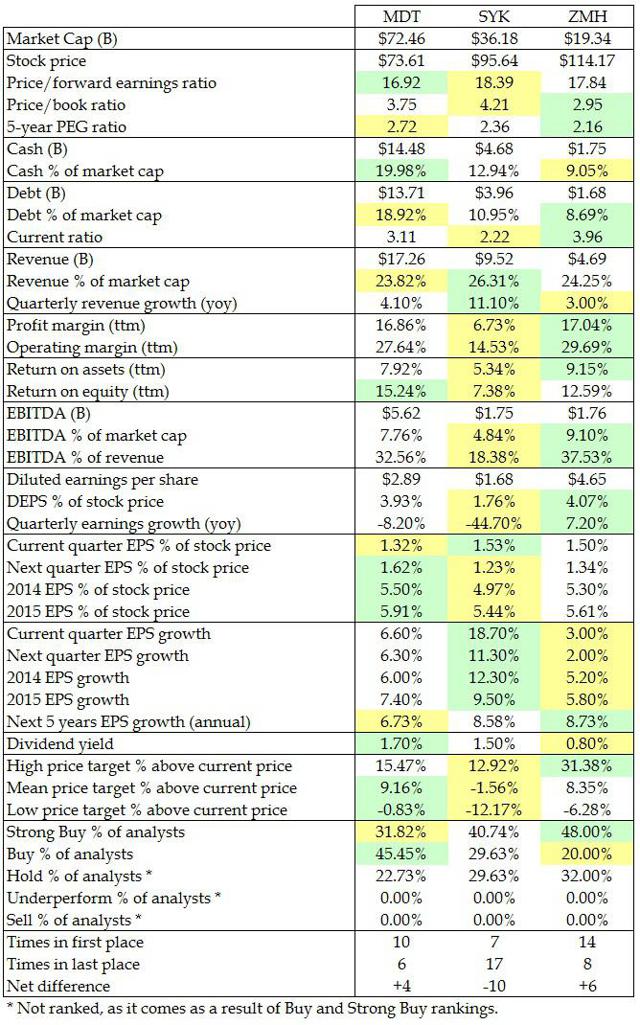 And the winner is… Zimmer with a heart pounding finish, outperforming in 14 metrics and underperforming in 8 for a net score of +6, followed very close behind by Medtronic, outperforming in 10 metrics and underperforming in 6 for a net score of +4, with Stryker left panting a distant third, outperforming in 7 metrics and underperforming in 17 for a net score of -10.
Where the Medical Appliances & Equipment industry is expected to outperform the S&P broader market astronomically this quarter, negligibly next quarter, and significantly in 2015 and beyond, Medtronic and Zimmer are expected to struggle in earnings growth versus the broader market for the foreseeable future, while Stryker barely market-performs near term before underperforming longer term too.
Yet after taking all company fundamentals into account, Zimmer Holdings, Inc. posts the healthiest financial figures given its lowest stock price to company book and 5-year PEG, lowest debt over market cap, highest current ratio, widest profit and operating margins, highest return on assets, highest EBITDA over market cap and revenue, highest diluted earnings over current stock price, highest trailing earnings growth, highest future earnings growth over the next 5 years, best high price target, and most analyst strong buy recommendations - narrowly winning the Medical Appliances & Equipment industry competition.