Internet search has proven to be quite profitable for the likes of Google (NASDAQ:GOOG) (NASDAQ:GOOGL), Facebook (NASDAQ:FB) and other Internet technology giants. This article isn't on the technology industry and the advertisements through which they profit. No instead the focus of this article is on search interest. The theory is that as online sales grow and brick and mortar sales decline, consumers will need to review products and brands, many of which will find their way through Google. It would make sense then that search interest for a brand could predict sales growth.
Through the use of Google, we can take a glimpse at recent trends in the mid-level luxury retailers Michael Kors (NYSE:KORS) and Coach (COH). In case you missed it, Coach has had a dismal 2014, with its stock plunging 33% for the year as revenues decline amidst a more competitive luxury market, interest in its statement accessories fading, and margins coming under pressure.
On the opposite side of the coin, KORS stock has remained relatively flat (down 6% for 2014) despite growing revenues to $3.9 billion on gross margins that have increased for 5 consecutive years. Many had feared Michael Kors might lose some appeal when it agreed to distribute select accessories through Costco (NASDAQ:COST) retailers and engage in other discounting practices. It appears the company has managed to parlay those sales into greater brand appeal and higher profits.
While I will never claim to be a fashionista, search trends may have been signaling the dethroning of Coach and the crowning of Michael Kors the entire time.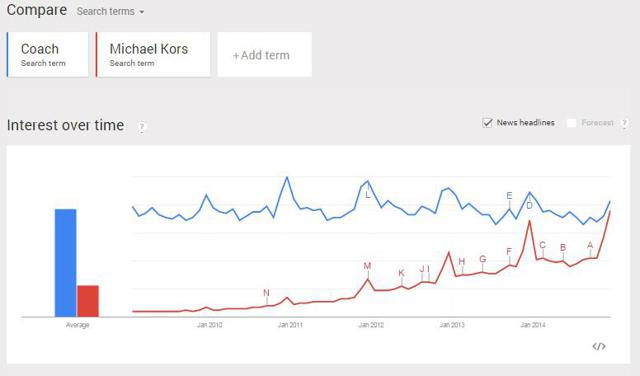 It's clear that since December of 2010 Coach has been losing search interest (albeit slowly) while Michael Kors has experienced outstanding search growth.
In a attempt to reclaim market share, Coach has aggressively discounted items, and as a result has lowered gross margins over the past 5 years by over 500 basis points. This combined with increasing SG&A costs have trimmed operating profits to 10 year lows for the company (just under 21% for the trailing twelve months).
To help manage costs the company said it would shutter 20% of its existing North American retail outlets and has pushed to the front two immediate revenue boosting initiatives. The first is to convert the brand to a higher end luxury retailer. Coach has brought in top bag designers and will look to realign its products with its target consumer, avoiding discount outlets and margin crushing promotions. Secondly, the company is pushing forward with its efforts to expand in China, a market that offers great growth potential.
The effectiveness of these moves have yet to be seen and may take a few quarters to play out. One key question that will need answering is whether or not the company will be able to shake off the image it has created for itself over the recent years. Another would be how a rising dollar could negatively impact profits from sales overseas. Then there remains their Michael Kors competitor, will they be able to stop the juggernaut that it has become?
To get an idea of where that story may be heading, look at a closer snapshot of search trends over just the last 12 months.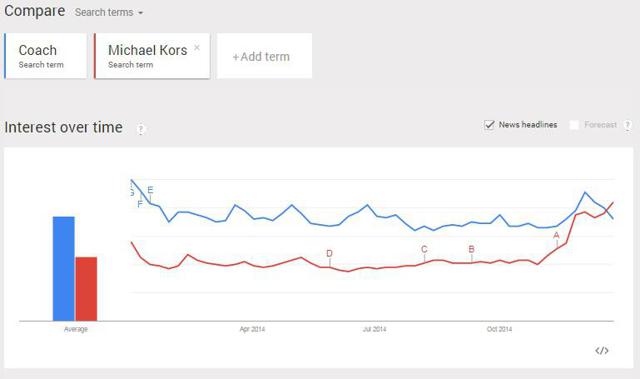 If only one thing in this chart jumps out at you it should be all the way on the right side of the graph. For the first time ever, internet searches for Michael Kors have exceeded searches for Coach. While this is only a single data point, I believe it marks the official collapse of Coach. Falling revenue is one thing, but to lose brand appeal to a competitor is significantly worse, there may be no turning back.
Disclosure: The author has no positions in any stocks mentioned, and no plans to initiate any positions within the next 72 hours.
The author wrote this article themselves, and it expresses their own opinions. The author is not receiving compensation for it (other than from Seeking Alpha). The author has no business relationship with any company whose stock is mentioned in this article.