Emerson Electric (NYSE:EMR) is a relatively unknown dividend aristocrat stock from the industrial sector. The company provides "technology and engineering solutions to industrial, commercial, and consumer markets worldwide" and has increased its dividend for 58 consecutive years. However, due in part to its exposure to the energy sector, Emerson Electric's share price has declined by more than 10% during the past year. This article examines the firm's fundamental attributes and looks at its projected future earnings growth rate to determine whether income investors should consider adding shares of Emerson Electric to their portfolios heading into 2015.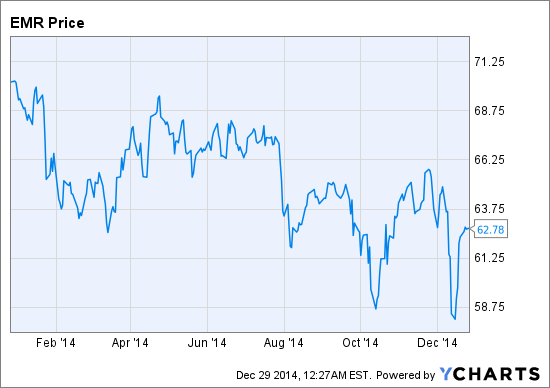 Please click here to read my article which outlines the DRAG analysis framework in more detail.
To summarize, the four variables used in a DRAG (dividend and risk adjusted growth) analysis are as follows (each company is ranked from 0 to 3 in each category):
1) How cyclical is the industry in which Emerson Electric operates?
2) How strong is Emerson Electric's competitive position within this industry?
3) How risky is Emerson Electric's balance sheet?
4) What is Emerson Electric's dividend yield and dividend growth history?
The premise is that a company that operates in a non-cyclical industry, with a strong competitive position and a clean balance sheet that pays an attractive dividend should trade at a higher earnings multiple than a company without these attributes, even if the lower quality company has higher projected future earnings growth. After adjusting for these variables, it becomes easier to compare companies in different sectors with different levels of future growth potential.
Emerson Electric DRAG Analysis:
Emerson Electric Industry Analysis

Industry Beta

1.14

Stock Beta

1.28

10 Year EPS Std Dev

19.2%

Industry Score

1.5/3
An academic research website from NYU's Stern School of Business demonstrates that the average electrical equipment stock exhibits a slightly above average beta (1.14). Over the last five years, Emerson Electric's share price has exhibited a level of volatility approximately equal to the rest of its industry and above the broader market: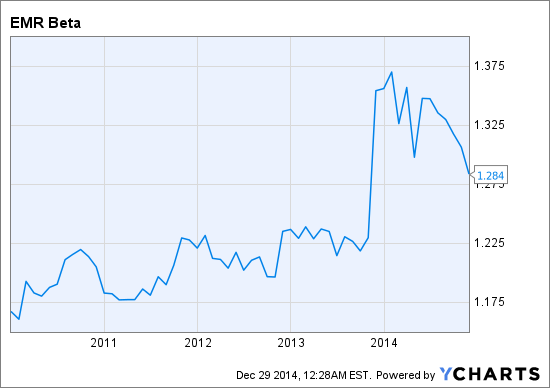 However, the firm's annual earnings have remained fairly consistent during the last decade, declining only twice during this period. A standard deviation of earnings per share of less than 20% also suggests that Emerson Electric's business is only moderately cyclical. Therefore, despite a slightly elevated beta, the stock deserves an average score for its level of economic sensitivity.
Emerson Electric Competitive Position Analysis

Gross Margin

41.4%

Operating Margin

18.1%

Return on Assets

8.8%

Return on Invested Capital

14.1%

Competitive Position Score

1.5/3
The company's margins have improved slightly in recent years and are now significantly wider than those of its largest direct competitor, ABB Ltd (NYSE:ABB). Emerson Electric has made focusing on higher margin businesses a priority for the company and it recently announced the sale of its power-transmission business for nearly $1.5 billion. Its return on invested capital has ranged between 13-20% during the last decade, which indicates the presence of some moderate competitive advantages. The firm's efficiency ratios are meaningfully higher than ABB's, suggesting that Emerson maintains a solid competitive position within its industry, which will likely improve if it continues to focus on higher margin segments.
Emerson Electric Balance Sheet Analysis

Debt to Equity Ratio

0.35

Current Ratio

1.29

Interest Coverage

16.4

Balance Sheet Score

2/3
Compared to the company's $43 billion market capitalization, its $6 billion in total debt outstanding is not particularly troubling, especially given a cash position of greater than $3 billion. Neither its current ratio nor its level of interest coverage should concern its shareholders and its debt to equity is the lowest it has been in more than a decade. One minor concern is that goodwill represents more than $7 billion of the firm's assets and when combined with an additional $1.7 billion of intangible assets, Emerson's net tangible asset value is minimal. However, the company has a flexible financial position that is worthy of an above average score in this portion of the DRAG framework.
Emerson Electric Dividend Analysis

Current Yield

3.0%

Payout Ratio

56.4%

1 Year Dividend Growth

9.3%

3 Year Dividend Growth

17.5%

Dividend Score

2.5/3
Although its current yield is only slightly above average, Emerson Electric has an impressive dividend growth track record. The company recently raised its quarterly payout by nearly 10% in November, the 58th consecutive year it has announced a dividend increase. Further dividend increases are likely thanks to the previously discussed underleveraged balance sheet and impressive free cash flow generation, which has consistently outpaced the firm's net income since 2010: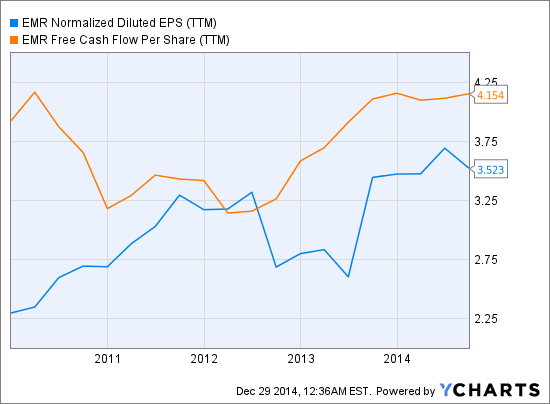 While Emerson's payout ratio was a reasonable 56% of earnings in its recently completed fiscal 2014, the firm's dividend represented just 41% of its free cash flow. While a 3% yield would not normally warrant such a high score, Emerson Electric's dividend track record and future growth potential are notable.
Emerson Electric DRAG Analysis

Total DRAG Score

7.5

/4 = Average DRAG Score

1.875

x Projected LT EPS Growth Rate

7.99%

x Projected 2016 EPS

= Emerson Electric Target Price

$64.42
Although the analyst community expects that Emerson Electric's earnings growth will decelerate slightly in the coming years, a future growth rate of 8% appears to be a reasonable estimation: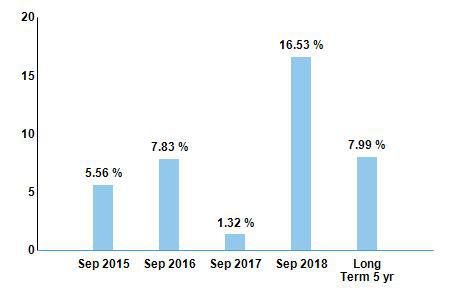 And while this level of growth might appear low for a stock trading at nearly 15 times forward earnings, this valuation is in line with the firm's historical average: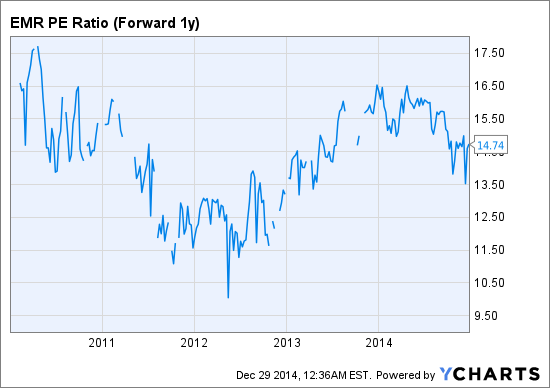 Because of Emerson Electric's conservative balance sheet and enticing dividend profile, the DRAG framework suggests that its shares are slightly undervalued based on their current market price of approximately $63. Though some investors might scoff at such a low expected return over the next 52 weeks, Emerson Electric represents an attractive long term opportunity for dividend growth investors.
Disclosure: The author has no positions in any stocks mentioned, and no plans to initiate any positions within the next 72 hours.
The author wrote this article themselves, and it expresses their own opinions. The author is not receiving compensation for it (other than from Seeking Alpha). The author has no business relationship with any company whose stock is mentioned in this article.