We have been told over and over by Wall Street, "cash is a drag on a company's balance sheet." We are told cash needs to be spent to increase shareholder value via acquisition, buyback or dividend. Yet we never question it. We don't even blink an eye and blindly agree. If an acquisition works and increases shareholder value, that's great. Trouble is, history shows us more than not, that acquisitions come at the expense of the shareholder. Just look how an acquirer's stock drops on the news.
For a buyback example let's look at Cisco (NASDAQ:CSCO). Since 2002, Cisco has spent $70.3B on a share repurchase program. The company has ~$26.4B in net cash and its market cap is $86B.
If Cisco had held on to its cash, it would equal at least $96.7B today. That's much greater than its current market cap. Would Cisco be valued under its cash price today? Did Wall Street or Cisco really do what's best for shareholder value? Would Cisco be one of the most valuable tech stocks if it had held on to its cash?
Let's look at Microsoft (NASDAQ:MSFT). The company has spent $110B on share repurchases in the past 10 years. Microsoft has $49B in net cash. Its market cap is $219.5B. Again we need to ask, would the $110B better serve shareholder value as cash on the balance sheet? Would Microsoft be the most valuable company in the world if it had held on to cash?
These examples were simplified as interest payments on debt were not included. The dividend topic is a discussion unto itself therefore excluded from this article along with its cash value. As a note, Microsoft's total payout in dividends in the past 10 years is $70B. Cisco has paid out $329M in dividends. (Source of buyback/dividend value from investor relations)
Then There Was Apple
Apple (NASDAQ:AAPL) is a company that does not bend to Wall Street or its rules. The company concentrates on the business end or top and bottom line. The rest will eventually fall into place, as Steve Jobs has stated. Cash serves many purposes for companies. I want to reserve this article for one specific purpose. What does holding cash on a balance sheet do for shareholder value? Let's try an exercise.
Apple's weakest fiscal quarter is Q2. The company added $6.1B in cash in FY11Q2. Let's use this figure to see what its cash will be at the end of 2018. This way we have a worst case scenario. This assumes 0% growth rate from here on out. The graph below illustrates this.
Click to enlarge (or view here):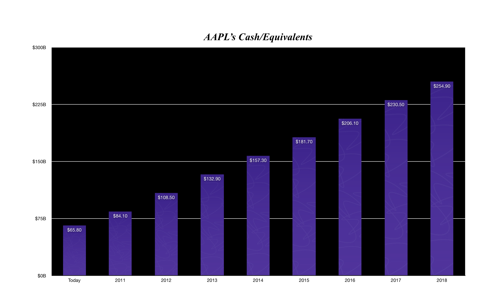 At the end of 2018, Apple will have $255B in cash/equivalents under our assumptions. Apple currently holds 21% of its market cap in cash/equivalents. If held constant, in 2018 Apple will have a market cap of $1.21 trillion.
Cisco currently holds 31% of its market cap in cash, while Microsoft holds 22%.
So this begs the question. Is Wall Street really preaching what's best for you? Are companies just playing to Wall Street or do they really believe that spending cash, just to spend, is best?
Future Stock Price
Sliding off topic for a moment; at $255B in cash, Apple's cash per share value would roughly equal $250. If this ends up being the case, one of two things must happen. Apple's stock price must greatly appreciate to bring the market cap to cash ratio in line. Or, Apple will be bought for close to book value. And who says the market correctly prices in the future? Here is a graph of what 21% cash to market cap looks like regarding stock price, again at 0% growth.
Click to enlarge (or view here):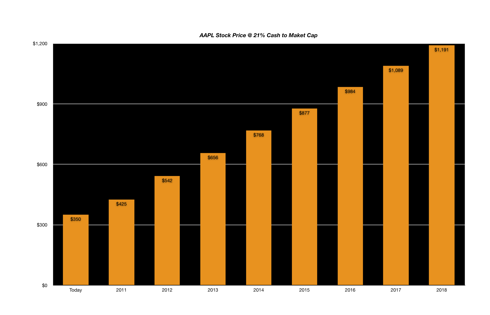 Conclusion:
We need to re-think this theory that cash is a burden. It is actually one of the best ways to increase shareholder value. Either used as $1 for $1 gain or for strategic operations. The cash strategy Apple is using has never been tried before. Is it possible Apple has learned from others, and in order to fulfill its fiduciary responsibility, the company must keep building cash? After all, doing our little exercise on cash would have any company asking for a mulligan.

Disclosure: I am long AAPL.

Additional disclosure: Short July Put Spreads, Short July Covered Calls