By Taras Berezowsky
When it comes to forecasting metal prices, one of MetalMiner's core beliefs rests on the need to analyze metal markets within the broader context of commodities markets - not in a vacuum.
That's why we put a category sourcing guide together for a number of base metals and steel; since many purchasing organizations are sourcing a diverse metal mix, shouldn't you have a resource (and strategies) to match? However, if you buy a significant volume of copper, read on.
Below is an excerpt from our recent report, "2015 Metal Buying Outlook: What Can We Expect for Base Metal and Steel Prices Over the Next 12 Months?"
MetalMiner's Copper Price Outlook 2015
Copper is the worst performer among the industrial metals in 2014. Since the start of the year, we've continued to say that there is no reason to go long on copper unless prices managed to break above $7,500/mt, which they haven't.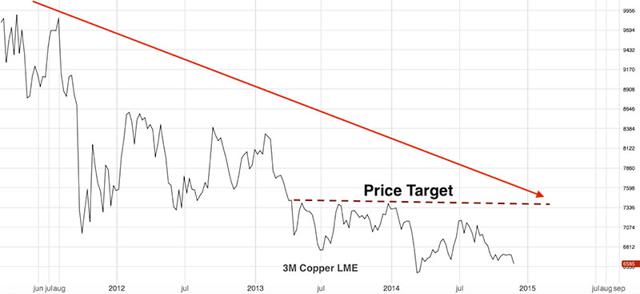 Copper is ending 2014 near its lowest levels in 4 years. Some would argue that copper is near a support zone - but supports are there to be broken. Furthermore, we don't see strong trading volume supporting prices as we near the end of Q4, and this means that selling might again overcome the buying pressure, causing prices to fall more.
Fundamentals don't seem to differ from the price action. The copper market seems to be shifting into a supply surplus, or at least market watchers do not foresee a significant deficit. LME inventories remain at their lowest levels, but we shouldn't pay attention to this since inventories have been falling with prices since their peak in mid-2013.
Because copper lacks strong fundamentals, we wouldn't expect copper to make significant moves upward while commodity prices remain low. Buyers should keep riding the trend down and only hedge if prices move above $7,500/mt.