At first glance, the outrageously high yield of Whiting USA Trust I (NYSE:WHX) may look appealing to the average investor. Whiting's annual dividend payout of $2.04 per share is nearly 110% (!) of the trust's share price of $1.95 at the time of this writing.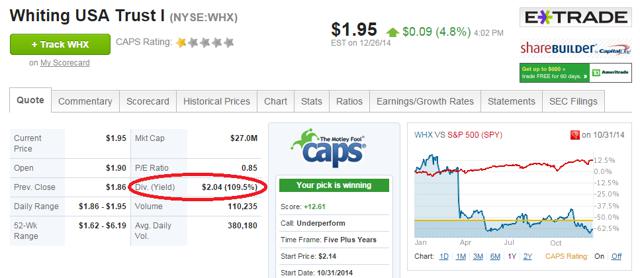 However, there's much more to this stock than initially meets the eye. Let's look into the rationale as to why this trust is not a good investment and also consider some alternatives in the depressed oil sector.
What The Trust Does
According to the Whiting USA Trust I website, the trust was established in October 2007 by Whiting Petroleum Corporation (NYSE:WLL). The trust owns a "term net profits interest…that represented the right to receive 90% of the net proceeds from Whiting's interests in certain existing oil and natural gas producing properties. The net profits interest entitled the trust to receive 90% of the net proceeds from the sale of production of 9.11 million barrels of oil equivalent (MMBOE), which is equivalent to 8.20 MMBOE attributable to the net profits interest, after which the trust will terminate."
Whoa! Can you repeat that in English, please?
Here's what that all means: Whiting USA Trust I was set up to give investors direct access to dividends from the sale 90% of 9.11 million barrels of oil equivalent (MMBOE) that Whiting Petroleum Corporation owns. After those oil reserves are depleted, the trust itself will terminate, resulting in the complete loss of all share value. By design, the trust will shut down, and the stock will be worth nothing.
This is a fact that even the trust managers themselves openly admit. According to the trust's FAQ page: "What will be the value of the units when the trust terminates? Answer: Zero." And when will this termination occur? Quite soon, actually - again from the FAQ page: "How long are the trust's distributions expected to last? Answer: Based on independent engineering at December 31, 2013, the trust is expected to terminate in March 2015." That means that in little more than three months, early next year in March 2015, the trust will most likely have pumped the 9.11 MMBOE that will result in its dissolution at that time.
With all that being said, it should be readily apparent that current Whiting shareholders need to get out of the stock, pronto. By investing in the trust, investors are playing Russian roulette with their money, betting that they can collect the rich dividends before the trust terminates. With the next dividend payout probably getting doled out in February or March, you're looking at only one or two more dividend payouts at most before the trust dissipates, and the two number is being overly generous. This stock may have been a good play in years past if you cared only about dividends and did not care about stock price appreciation, but now it is not as the trust's termination date looms.
What About Whiting Petroleum Corporation?
While the Whiting USA Trust I is definitely not be a solid oil stock, the company that manages the trust, Whiting Petroleum Corporation, is a different story with interesting potential. The firm's shares have been tanking over the last couple months in correlation with sharp declines in oil prices. The market is pessimistically pricing many oil stocks due to substantial oil price decreases, and Whiting Petroleum is no exception, seeing its stock decline over 57% since the end of September.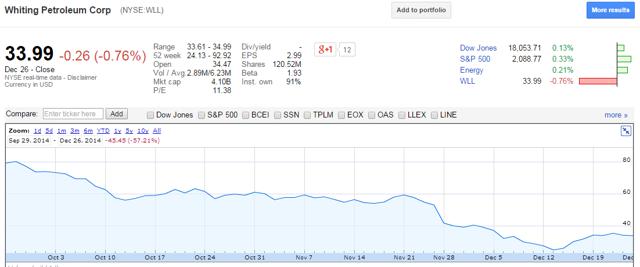 Despite these staggering stock price declines, there is some good news for Whiting Petroleum. The firm can be viewed as value play, as at the time of this writing, the stock is trading below its intrinsic worth, with its price-to-book value standing at 0.95. Also, the company's most recent press release has brought some good news to the market's attention. Whiting Petroleum's reserves have increased 29% year-over-year to an estimated 780 million barrels of oil equivalent, and the corporation also has a large amount of equity to draw from per analysis by Whiting Petroleum CEO James J. Volker.
However, there are also large risks associated with Whiting Petroleum. The company's debt level has significantly increased after its acquisition of Kodiak Oil and Gas. While Whiting Petroleum does have a good position in terms of liquidity, the debt situation could drag down earnings if Whiting Petroleum does not manage its debt efficiently. And obviously, if oil prices continue to decrease, Whiting Petroleum will continue to be pressured on its margins.
An Alternative Oil Play That's Built To Last
Whiting Petroleum may be a good pick to ride oil prices back up in the long term, but there is another stock I strongly believe will outperform the market and provide shareholder value for years to come: Kinder Morgan (NYSE:KMI). Kinder Morgan is not a traditional oil refining or petroleum business; rather, it operates a vast system of pipelines and transportation infrastructure that helps oil companies move their products across the nation.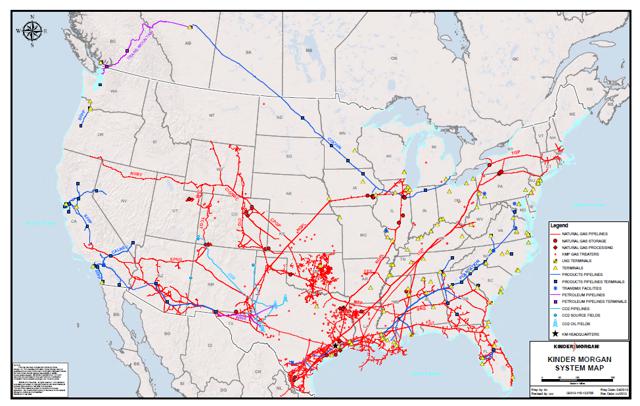 Kinder's structure allows the firm to profit from both low and high oil prices; lower oil prices means more oil is flowing through pipelines managed by Kinder, while higher prices means heightened profitability and the possibility for Kinder to charge higher rates. As fellow Seeking Alpha writer David Alton Clark explains:
2015 through 2020 is setting up to be an excellent five-year stretch for Kinder Morgan. The company has a solid long-term growth story and several positive catalysts on the horizon. These developments are related to benefits from the recent merger combined with potential acquisition opportunities related to the drop in oil prices. Moreover, Kinder Morgan has a fortress balance sheet and strong fee-based cash flow more than sufficient to cover current dividend distributions. The company has an excellent record of steadily increasing dividends throughout its history. Kinder Morgan recently announced the dividend will be increased to $2.00 for 2015 and then grow by 10% year-over-year until 2020. Based on these facts, I posit Kinder Morgan offers the best dividend growth opportunity for investors over the next five years.
Conclusion
Motley Fool writer Reuben Brewer summed it up best regarding Whiting USA Trust I:
If you own Whiting USA Trust I, I suggest you heed the company's advice and expect price declines. If you're looking at Whiting USA Trust I because of its insane yield, move on to greener pastures. And if you're searching for yield in increasingly arcane places, make sure you know what you're buying.
While the trust isn't a good investment, Whiting Petroleum Corporation is an intriguing value play you may want to look into to ride oil prices back up. However, Whiting Petroleum's massive debt load is worrisome, which leads me to recommend Kinder Morgan as a much more stable and solid play on the oil industry.
Disclosure: The author is long KMI.
The author wrote this article themselves, and it expresses their own opinions. The author is not receiving compensation for it (other than from Seeking Alpha). The author has no business relationship with any company whose stock is mentioned in this article.
Editor's Note: This article covers one or more stocks trading at less than $1 per share and/or with less than a $100 million market cap. Please be aware of the risks associated with these stocks.