Statoil ASA (NYSE:STO) is a fully integrated oil and gas company based in Stavanger, Norway. Statoil is the largest company in the Nordic region, boasting a market cap of approximately $82 billion and employing more than 30,000 people. Despite Statoil's size, this company is not as well covered by American media sources as some of its rivals. That appears to be creating a buying opportunity.
Statoil is a major operator in the North Sea and on the Norwegian Continental Shelf. The company also operates in the Canadian oil sands, the Marcellus shale, the Eagle Ford shale, the Gulf of Mexico, Brazil, and Russia, among others. Statoil was founded in 1972 by the Norwegian government to build up the petroleum industry on the Norwegian Continental Shelf. The company has grown since then and was partially privatized in 2001. The company grew substantially into today's form through a 2007 merger with the oil and gas division of Norsk Hydro. The Norwegian government remains the largest shareholder today, holding approximately 67% of the company's outstanding shares.
Statoil spent much of its life as a regional operator. The company has always produced most of its oil and gas off of the Norwegian coast. That remains true today. I provided a list of all of Statoil's oil and gas fields as a supplement to an article that I wrote a few months ago. While this information is from March and so is a few months out of date, it should still provide some useful information about where the company has most of its production.
The company has made international expansion a priority in recent years. Statoil is expanding into Brazil and the Canadian oil sands, partially as a way to improve their reserve replacement ratio which is currently 87%. This international expansion is an intelligent move by management as production from the company's historical base on the Norwegian Continental Shelf is expected to begin declining significantly in 2020. Indeed, management believes that future growth will be coming from these fields that are located outside of Norway.
Statoil recently discovered 250 million barrels of recoverable oil in the Barents Sea. This was the largest oil field discovered in Norway in more than a decade. This could further the company's growth and bolster their reserves but I would not recommend getting overly excited about it. Statoil had average production of 1.971 mboe per day in the first quarter. This find would thus only be enough to handle Statoil's production for 126 days at current levels. Devon Shire points out here at Seeking Alpha that this discovery is only enough to supply the world for three days and is quite minor in the oil industry and for investors. The Norwegian Petroleum Directorate states that Norwegian oil production peaked in 2000 and will continue to drop going forward. If 250 million barrels is the most significant find after ten years of searching then I am inclined to believe them. Statoil will indeed profit from this find and it is beneficial to the company's reserve replacements. There is little doubt that the best opportunities for production growth lie outside of Norway. Statoil's management realizes this.
Statoil earned NOK 16.1 billion ($2.99 billion) in the first quarter of 2011. This gives the company a quarterly EPS of NOK 5.02 ($0.93). This is a 45% increase from the NOK 11.1 billion that Statoil earned in Q1 2010. Production volume declined by 6.23% from 2,102 mboe/day in Q1 2010 to 1,971 mboe/day in Q1 2011. The increase in net income was caused by higher prices for both oil and gas as well as a NOK 5.3 billion gain on a 40% sale of the company's stake in the Kai Kos Dehseh oil sands. Statoil expects production to return to the 2010 level for most of this year as the production decline was largely attributable to the Gullfaks Field not producing at full capacity along with operational issues at a few fields. CEO Helge Lund discussed these issues in the company's Q4 2010 Earnings Call. None of these operational issues are systemic although they may still be a drag on the share price. As production will increase steadily as these operational issues are resolved, profits should follow. An investor willing to bet on the resolution of these issues could have an opportunity to profit.
Statoil's average selling price was $100.90 per barrel of oil in Q1 2011. This is a substantial increase from the average price of $74.00 per barrel that the company had in Q1 2010 but it is unlikely that this is a surprise to any oil investor. Statoil expects to return production back to around 2010 levels during this year and then grow production at a CAGR of 3% until 2020 beginning in 2012. This should lead to steadily increasing cash flows even assuming a stable price for oil at the current level. Any increase in oil price will only amplify the increase in cash flows.
Statoil has a trailing P/E of 11.64 based on 2010's earnings of NOK 11.94 per share ($2.215 per share). Zack's estimates that the company will earn $3.00 per ADR in 2011 and $3.10 per ADR in 2012. This gives the company forward P/E ratios of 8.59 and 8.32 for 2011 and 2012 respectively. Zack's estimates forward sales growth of 7.05% annually and forwards earnings growth of 4% annually over the five year period.
Statoil's ADR dividend has fluctuated dramatically in past years with company profits and the NOK/USD exchange rate. Click to enlarge: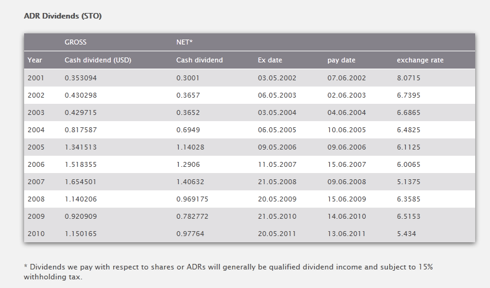 Source: Statoil Investor Relations
At one time, Statoil's dividend payments were directly linked to the company's net income. This is one factor that caused the large annual fluctuations in dividend payments seen in the table above. This link has now been severed and Statoil is looking to produce steadily growing annual dividends to shareholders, possibly supplemented with a stock buyback. As the company grows its income going forward, it should also increase the dividend. This may make the company appealing for the same reasons that other dividend growth stocks are.
Statoil's last annual dividend payment was NOK 6.25 or $1.15 per ADR. This gives the stock a yield of 4.46% at the current price. This dividend is subject to a 15% Norwegian withholding tax and as such is best held in a taxable account.


Disclosure: I am long STO.