Tim Cook did well this year for Apple (NASDAQ:AAPL) investors and retail customers. However, I opine that Mr. Cook's golden chain of accomplishments this year is still marred by the weakest link, iAd. Cook does not seem to have the right strategy to make Apple profit more from its huge pool of loyal iPhone and iPad users through advertising.
Tim Cook needs to fire the current iAd team and pirate the ad sales people of Facebook (FB) and Google (GOOG) (GOOGL). Facebook and Google again made the most money from global mobile and digital ad spending. The chart below illustrates very clearly just how bad Apple is when it comes to attracting advertisers.
Apple's iAd does not even have 0.2% market share of the global mobile ad sales in 2013 and 2014.
The late Steve Jobs launched iAd in 2010, but it was never a priority for the company, even under Tim Cook. Investors should note that even though Apple has handily beaten Android OS phones in the $500-and-up category, Google's AdMob is far more successful in attracting app developers and mobile ad buyers.
Even in the U.S., where the iPhone is the runaway leader in premium smartphones, Apple's iAd is still a bench player compared to Google and Facebook.
It should bother investors that Apple commands just 2.6% of the lucrative U.S. mobile ad market this year.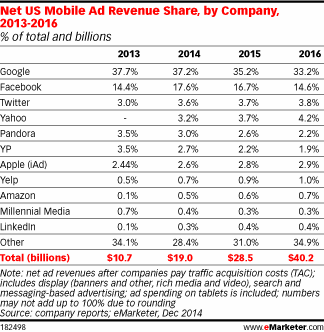 Research firm eMarketer is also predicting that the pathetic situation of iAd will not likely change for the next two years. We all know that Apple bears keep on whining about the company's over-dependence on iPhone sales.
Tim Cook urgently needs to strengthen iAd against Facebook and Google. He will be doing a tragic disservice to AAPL shareholders if he continues to let Facebook and Google make the most money out of ads served to iOS devices.
iAd Is Not Hopeless
As a recent retiree of the advertising industry, I strongly object to the assessment of Gene Munster (senior research analyst at Piper Jaffray) that iAd is a zombie zone for Apple. Contrary to Munster's musings, I opine Tim Cook did not "miss the boat" when it comes to the mega-billion mobile advertising business. Apple may have been a laggard in mobile ads, but the company has enough money to hire the best ad salespeople (and even do contra revenue to steal market share).
Recent moves from Apple's management are helping iAd compete more effectively against AdMob and Facebook. Apple's new willingness to share data from its iOS device users with advertisers is a big step forward. The company's decision to collaborate with Rubicon Project in its initial entry into programmatic advertising is another strong move toward growing iAd.
Programmatic or automated ad space selling can certainly help iAd attract more budget-constrained companies. Programmatic advertising is emerging as a very efficient and cost-effective method for ad buyers to quickly put their ads on mobile devices.
Tim Cook's decision to share Apple's data of its 600 million iTunes users is necessary toward implementing programmatic advertising. Google and Facebook outgrew iAd precisely because those two companies never hesitated in sharing data with advertisers.
China Opportunity
Apple can decrease its huge dependence on iPhone sales by reinvigorating iAd. While Apple Pay and Apple Watch are hot topics, I firmly believe iAd is also a potential future revenue growth driver for Apple.
Giving enough resources to the iAd team should be a top priority of Tim Cook in 2015. Apple is expanding iAd to 70 countries and it is another reason why I will increase AAPL's share to 30% of my 2015 portfolio. The global mobile advertising industry is a big $159 billion boat that Apple should not miss.
Facebook and Google's core apps are still banned in China. Apple should exploit this and build a strong iAd presence in China, while Facebook and Google are still too proud to play within the rules of Chinese censors. China's mobile advertising revenue grew 600% this year to over $7 billion.
Chinese consumers are madly in love with the new iPhone 6 and eMarketer is predicting that mobile will account for more than 2/3 of total ad spending in China. By 2018, mobile ads in China will be a $85.80 billion industry.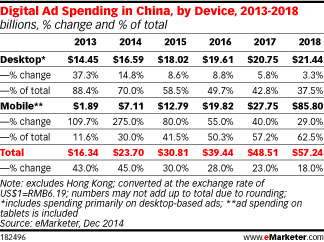 Conclusion
AAPL is a strong buy for both medium and long-term investors. The iAd unit is an underperforming asset that might become a huge moneymaker once Tim Cook finally understands why a momo ticker like FB beat AAPL's YTD performance in 2014.
Zuckerberg speaks Chinese and he is the boy genius of mobile advertising. Tim Cook does not speak Chinese and he still is learning the art of mobile advertising.
(click to enlarge)

Source: Google Finance
Disclosure: The author is long AAPL, FB.