Russian officials may have spoken too soon last week as the Ruble and their equity markets are falling again today after news of a shrinking economy broke. The Market Vectors Russia ETF (NYSEARCA:RSX) is down about 3.50% today which is just off of the day's lows here in the US.
Oil markets are still focused on Libya which continues to see fighting and fires disrupt its oil exports. Reuters reported this morning that the country is only producing 128,000 barrels of oil per day right now. Last week's attack on oil tanks at the country's largest oil exporting port, Es Sider, damaged infrastructure which could further hinder future exports.
Chart of the Day:
The Russian Ruble is falling against the US Dollar again with the dollar rising about 6%. Today's move does call into question last week's statement from Russia that the Ruble's fall had ended.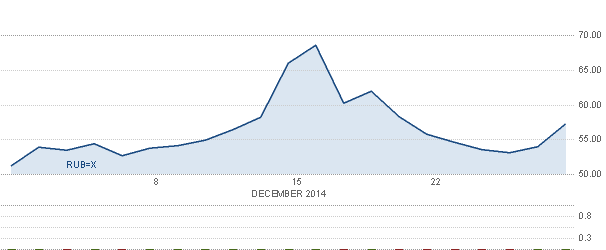 Source: CNBC
Commodity prices are as follows (at time of submission):
Gold: $1,180.00/ounce, down by $15.30/ounce
Silver: $15.77/ounce, down by $0.377/ounce
Oil: $54.79/barrel, up by $0.06/barrel
RBOB Gas: $1.4941/gallon, down by $0.0146/gallon
Natural Gas: $3.069/MMbtu, up by $0.062/MMbtu
Copper: $2.8245/pound, up by $0.0105/pound
Platinum: $1,199.20/ounce, down by $19.30/ounce
Icahn Sees Value
Carl Icahn announced a new position in Manitowoc (NYSE:MTW), the maker of cranes and other heavy construction machinery as well as commercial foodservice equipment. Mr. Icahn stated that he would use his nearly 7.8% stake to push the company to split into two separate entities, one focusing on the construction industry and the other on foodservice.
With Icahn establishing his 7.8% stake, it appears that Manitowoc will now have to come to the table to negotiate as activists now control over 15% of the company's outstanding shares. Previously, Relational Investors disclosed an 8.5% stake so one would now expect the company to give Icahn and/or Relational board seats to voice their views.
New Pricing Models To Kick In For Shippers
As a new year is ushered in, both FedEx (NYSE:FDX) and United Parcel Service (NYSE:UPS) will shift their pricing models from weight based models to dimensional (or sized) based models. The move will force many internet retailers to shift their packaging from standardized boxes to more customized sizes in order to cut back on the free space in each package shipped.
Currently, those shipping goods leave a lot of unused space in each box which causes shippers to lose valuable space capacity in their systems. Right now the problem is not that the package delivery companies see too much weight go through their systems, but too much volume (by size). The hope is that by charging by size rather than weight is that those shipping goods will reduce the sizes of their packages and thus free up further capacity for FedEx and UPS to drive growth on the top and bottom lines as well as increase margins.
Death Spiral For Petrobras?
With auditor PwC refusing to sign off on the company's financial statements until Petrobras (NYSE:PBR) (NYSE:PBR.A) conducts its own internal review over allegations of misused funds, some are beginning to worry about the company's future as it must deal with its debt load and oil production issues. The problem with PwC not signing off on the company's financial statements is that a technical default could be triggered by mid-2015, which could then prevent the company from getting access to cash. Petrobras needs outside cash to fund its Capex plans and if they are unable to boost production then the entire growth plan centered around the company's offshore Brazilian assets could be called into question.
Disclosure: The author has no positions in any stocks mentioned, and no plans to initiate any positions within the next 72 hours.
The author wrote this article themselves, and it expresses their own opinions. The author is not receiving compensation for it (other than from Seeking Alpha). The author has no business relationship with any company whose stock is mentioned in this article.