Intrexon (NYSE:XON) is immersed in the field of synthetic biology. According to the company website, it is focused on "collaborating with companies in health, food, energy, environment, and consumer sectors to create biologically based products and processes that improve the quality of life and health of the planet."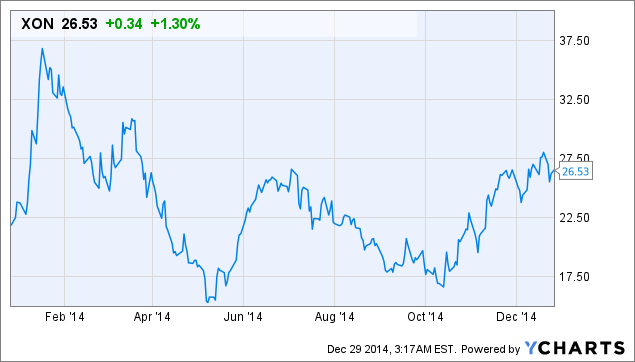 Fundamental outlook
The biopharmaceutical industry tends to be highly volatile, with significant downside susceptibility to recessions. While Intrexon's growth has been robust since its inception in 1998, shares have yet to return to post-IPO levels. This is largely due to the fact that the entire biopharmaceutical industry suffered a massive blow back in January-March 2014. The NBI lost nearly 600 points during that period, as many companies saw their share prices cut in half. Unfortunately, Intrexon is no exception to this enormous PPS decline. Following a stellar IPO performance, the stock fell below $20 in April-June, only to return to $26.53/share more than a year after it went public.
As it stands, Intrexon experienced a lackluster third quarter, having missed earnings estimates by $0.37. Although total revenue was up sharply year over year (at around 150 percent), the actual amount is relatively modest for a company that has a multi-billion dollar market capitalization. Other highlights of Intrexon's Q3 Earnings Report are as follows:
Total revenues of $21.2 million, an increase of over 250% over the third quarter of 2013;
Net loss of $52.7 million, including noncash charges of $44.8 million, attributable to Intrexon, or $(0.53) per share;
Adjusted EBITDA of $1.6 million, or $0.02 per share; and
Cash consideration received for research and development services covered 59% of cash operating expenses (exclusive of operating expenses of consolidated subsidiaries).
Nevertheless, Intrexon's outlook is encouraging. I suspect its various partnerships and collaborations with companies in the aforementioned sectors will translate to substantial revenue flow in the years to come. In this article, I will support my investment thesis by analyzing Intrexon's partnerships and collaborations with two anti-infective developers that, in my opinion, represent significant revenue opportunities for Intrexon: AmpliPhi Biosciences (OTCQB:APHB) and Oragenics (NYSEMKT:OGEN).
Challenges facing the anti-infective industry
There are five main challenges posed by infectious diseases that government agencies and biopharmaceutical companies must resolve:
Antibiotics have unintended adverse effects on the microbial ecology since they eliminate neutral bacteria that help protect humans from the expansion of dangerous bacteria throughout the body.
They also help facilitate the development of antibiotic-resistant bacteria, which are bacteria that have little to no sensitivity to antibiotics and thus are able to defend against it, colonize, and expand uncontrollably throughout the body.
C. diff alone causes approximately 250,000 hospitalizations and more than 14,000 deaths every year in the United States.
Targeting infectious diseases creates in excess of $20 billion in healthcare costs, as well as a loss of societal productivity equivalent to a staggering $35 billion a year.
Both the economic and human suffering are projected to worsen because the use of antibiotics to combat infections remains standard practice. This facilitates the development of new forms of antibiotic-resistant bacteria that cannot be eliminated by regulated therapies.
While these challenges are extensive, I believe that AmpliPhi and Oragenics could be positioned to address them through their respective partnerships and collaborations with Intrexon. Continue reading and I will explain why.
Intrexon and AmpliPhi
In April 2013, Intrexon formed an exclusive channel collaboration (NYSE:ECC) with AmpliPhi to develop phage therapies to target certain antibiotic resistant infections. According to the terms of the ECC, AmpliPhi issued Intrexon 24,000,000 shares of its common stock. Development milestones were established, and Intrexon will receive royalties on the net sales of products developed. Ultimately, the ECC has led to the fruition of the AMP-001 program, targeting lung infections in Cystic Fibrosis (NYSE:CF) patients caused by Pseudomonas aeruginosa (or P. aeruginosa). This indication represents a $1.2 billion market, which is projected to increase to $3.5 billion by 2019.
What is a phage therapy?
Bacteriophage, or phage, are naturally occurring viruses with an acute ability to infect and, in numerous cases, kill bacterial cells. They are often referred to as "smart bombs" because different phage are naturally designed to target specific bacterial cells. This distinguishes phage from antibiotics in that the latter cannot specialize in terms of which types of bacteria they target and eliminate. The consequence of this limitation is that neutral bacteria, which often prevent harmful bacteria (e.g., C. diff and S. aureus) from colonizing and expanding, are often killed by antibiotics. This alteration to the microbial ecology exploits the human body's ability to defend against and kill bacterial infections, which is one of the primary reasons why antibiotics are less desirable than phage. When administered, phage neither targets nor kill neutral bacterial cells. Instead, they fight in conjunction with those cells to curtail the spread of infections.
Similar to most viruses, the phage's first step is virion binding to cell-surface receptors. This is followed by intracellular replication, leading to the termination of their infections by way of lysing, which shuts down the bacterial metabolism of the infected cell. About 90% of phages have tailed icosahedral heads that carry out this task. More importantly, lysis enables the phage to infect additional bacterial cells by releasing phage progeny to the surrounding environment of the pre-infected bacterial cell. As more bacterial cells are neutralized by the phage, the infection weakens, the patient's symptoms subside, and, in many cases, the infection is killed altogether. The AIT Experiment serves as a perfect example of the efficacy potential of phage combinations in treating a variety of antibiotic-resistant infections in humans.
AMP-001 in a nutshell
In a Proof of Concept study, the AMP-001 phage mix was tested to determine its efficacy in killing P. aeruginosa lung infections in a simulated CF environment. Three mice groups were infected with P. aeruginosa bacteria. The treatment group received AMP-001 and the control group received 200 mg of Cipro, a common antibiotic used to treat bacterial infections. The last group was not administered an anti-infective. The results were positive as all of the mice treated with phage therapy showed no traces of infection at any point after 6 hours.
In contrast, mice administered Cipro still had traces of infection in their lungs up until 8 hours, and those in the group that were not treated with any anti-infective had even higher traces of infection at this point. As all of the mice survived in both the treatment and control groups after 24 hours, the study proves that AMP-001 yields similar efficacy to strong antibiotics when targeting P. aeruginosa lung infections in mice in a simulated CF environment. Furthermore, management believes that these results are successful enough to warrant the advancement of AMP-001 to phase I/II clinical trials in early 2015.
Unfortunately, there are limited treatments for patients suffering from antibiotic-resistant infections. AMP-001 is one potential treatment specific to P. aeruginosa that is both low risk and efficacious since phage evolves with P. aeruginosa as the bacteria mutates. This component of phage reduces the concern of antibiotic resistance; however, it does not eliminate the possibility that bacteria can develop phage resistance. While AmpliPhi has developed a two-step plan to counteract any potential phage resistance in a targeted bacteria, it is far too speculative to say that this measure will prevent phage resistance from occurring at a rate that will significantly reduce the efficacy of the AMP-001 phage mix. Thus, there remains the possibility that phage resistance could develop, and AMP-001 could prove inefficacious regardless of complementation and phage-swapping protocol. While I believe that phage resistance could occur, there remains little research on whether it could happen to the extent that it would significantly alter the efficacy of phage complementation and/or the efficacy of the AMP-001 phage mix.
Of course, the biggest concern is whether AmpliPhi can make the jump to human clinical trials. If it does, AmpliPhi and Intrexon would accomplish an unprecedented step in the development of phage technology. If and when AmpliPhi's phage therapies are validated in a Phase 1/2 study, I believe Intrexon should benefit handsomely. In the short term, Intrexon's position in AmpliPhi should appreciate in value. In the long term, the regulatory success of phage therapy could bring about a new treatment modality in the anti-infective industry. This could prompt Intrexon to expand its ECC with AmpliPhi for the development of additional phage therapies, thus driving new revenue opportunities.
Intrexon and Oragenics
In June 2012, Intrexon formed an ECC to develop and commercialize lantibiotics. According to the terms of the ECC, Oragenics paid Intrexon a technology access fee of $6.0 Million, which translated to 1,348,000 shares of Oragenics' common stock at $3.00/share and a promissory note in the principal amount of $1,956,000. Intrexon also purchased 1.3 million shares of Oragenics' common stock for a total price of $3.9 Million. Intrexon will receive pay from Oragenics for program costs, developmental milestone fees and commercial royalties. Under the ECC, Intrexon has provided Oragenics with a variety of technologies, including Intrexon's UltraVector platform, DNA and RNA MOD engineering, cell system engineering, genome engineering, and protein engineering. This has led to the fruition of the Mu1140 clinical program targeting a variety of HAIs, including C. diff, MRSA, VRE. The program is currently in preclinical trials and is expected to reach IND filing in the near future.
What is a lantibiotic?
Lantibiotics are classified as peptide antibiotics that contain the amino acids mesolanthionine, 3-methyllanthionine, dehydroalanine and dehydrobutyrine. The unusual mechanism of action of lantibiotics is characterized as a "detergent-like" inhibitory effect on the cytoplasmic membrane of specific gram-positive bacteria. As shown in the case of Oragenics' pilot rat peritonitis model using S. aureus, this mechanism of action yields efficacy. While Mu1140 is in early stage and investors should be aware that at least another year of clinical testing is required in order to potentially market this novel lantibiotic, it is important to emphasize that scientists have already established that it is effective against numerous HAIs. The next step is phase I/II clinical trials, which are expected in the near future.
There is an abundance of new research supporting the development of novel lantibiotics that could validate the lantibiotic program specific to the ECC. In particular, there are 591 peer-reviewed articles accessible online at PubMed--the majority of which were published this year--detailing the immense potential of lantibiotics as a viable therapeutic alternative to marketed antibiotics. The reality is that traditional antibiotics are rapidly losing effectiveness against HAIs both in humans and animals. In particular, a large class of broad-spectrum drugs that serve as the main treatment for gram-positive infections are exploited through several pathways by which gram-positive bacteria develop resistance. Tetracycline, Ciprofloxacin, Penicillin, Erythromycin, Cephalosporin and Polymyxins are all drugs that the CDC notes are losing effectiveness due to resistance. Because lantibiotics have never been used in humans, they are a viable short-term option to reverse this unfortunate trend.
Mu1140 in a nutshell
In addition to use as a traditional antibiotic treatment, the unique compounds of lantibiotics enable them to be used as probiotics, prophylactics or additives. Preclinical studies demonstrate that Mu1140 has synergy with aminoglycosides, suggesting that lantibiotics could also serve as an adjunct to FDA approved antibiotic products, such as Cephalosporins, Fluoroquinolones and Macrolides, for the treatment of select gram-positive infections. Moreover, as opposed to some peptides that are often drastically modified and are mainly produced by bacteria, lantibiotics are ribosomally synthesized, meaning that they are natural peptides.
In other words, lantibiotics are produced by all species of life and serve as a natural defense against various gram-positive bacteria. Mu1140 is found in the mouth of healthy people, which means that it is not foreign to the human body like traditional antibiotics. Mu1140 was found to have minimal cytotoxicity in vitro and was well tolerated in rats at a sufficient dosage (50 mg/Kg) for efficacy to be obtained. Also note that Nisin, another lantibiotic, is used in food preservation applications as it is Generally Recognized As Safe (OTCPK:GRAS) by the FDA. For more information click here.
Since in-vitro efficacy has been established for Mu1140 against S. aureus and other HAIs, investors have somewhat of an idea of how desirable lantibiotics could be for human therapeutic use. Having said that, investors should be aware of the story of IB-367, an earlier lantibiotic drug candidate for the treatment of S. aureus that was advanced by the since-failed antibiotic developer, Intrabiotics. Admittedly, IB-367 was an utter disappointment due to unexpected deaths among the subject population of a phase III trial (which is the last thing that the FDA wants to hear), but not before establishing safety and efficacy in preceding phase I/II studies.
Why the discrepancy? In a 2007 correspondence letter, Dr. Hendrik van Saene et al. (all of whom are unaffiliated with Intrabiotics) explain that the likely reason for the demise of IB-367 was not due to inefficacy or high toxicity, but rather, human error. Specifically, they note that Dr. Kollef M. Pittet et al. administered placebos to the control group consisting of patients with a high propensity for pneumonia. This unethical move endangered many patients and led to several deaths. Saene et al. conclude by stating that had the phase III clinical study been executed properly, they believe IB-367 warranted further research and eventual approval. Therefore, I believe it is safe to say that lantibiotics are effective, but proper execution and oversight is paramount to clinical success and regulatory approval.
Similar to AmpliPhi, the biggest concern is whether Oragenics can make the jump to human clinical trials. Should it successfully file an IND and demonstrate safety and efficacy in clinic, I believe Intrexon should benefit handsomely. Like AmpliPhi, Intrexon's position in Oragenics should appreciate in value over the short term. In the long term, Mu1140 could very well become standard treatment for a variety of HAIs. This could prompt Intrexon to expand its ECC with Oragenics for the development of additional lantibiotics, thus driving new revenue opportunities.
Final thoughts
It is clear that Intrexon has encouraging prospects for future growth. The company has positioned itself to reap the benefits of multiple opportunities in the anti-infective industry; an industry that is in desperate need for innovation to combat antibiotic resistance. I believe Intrexon's partnerships and collobrations with AmpliPhi and Oragenics could hold the key to such innovation. As previously discussed, phage technology and lantibiotics represent two completely different approaches to tackling this critical threat to public health. Both have shown promise where traditional anti-infective treatments have not. And while both AmpliPhi and Oragenics will certainly live or die by the success or failure of their respective technologies, Intrexon will continue growing regardless of whatever outcome. Thus, a great way for an investor to establish a stake in either of these technologies is through Intrexon, a highly diversified biopharmaceutical corporation.
Disclosure: The author is long APHB.
The author wrote this article themselves, and it expresses their own opinions. The author is not receiving compensation for it (other than from Seeking Alpha). The author has no business relationship with any company whose stock is mentioned in this article.
Editor's Note: This article covers one or more stocks trading at less than $1 per share and/or with less than a $100 million market cap. Please be aware of the risks associated with these stocks.