Independence Realty Trust (NYSEMKT:IRT) has some of the things I've been clamoring for in an apartment REIT for a while. I grow tired of apartment REITs that operate on the east coast or in other lower capitalization markets. I don't like the long term trade. I don't want to give up capitalization today for growth tomorrow. That might sound short sighted, but I assure you that it is not. Growth tomorrow is a very questionable proposition. Higher capitalization rates today represent less risk. Over the very long term, I have not seen a strong economic argument for high cost cities growing their cost of housing at a substantially faster rate than lower cost cities.
When you buy into a low capitalization market, through a REIT or with a personal investment, you are looking at your total return. You get less income now, but your property should appreciate faster. In the short term, that is a very viable argument. However, when you consider several decades, it becomes hard to explain why someone in New York can spend nine times as much on rent as someone in Dallas. Of course, nine times may seem extravagant, but accepting lower capitalization rates requires higher growth rates, so eventually that would need to occur. Remember, growth rates are measured in percentages, not in dollars.
Rather than focusing on GAAP measures, I'll be using some non-GAAP measures in this article. Investors should be aware that these non-GAAP measures should not be used as a substitute for measures computed in accordance with GAAP.
Where is IRT located?
The following charts will break down IRT's locations by gross rental revenue. Data for net operating income by city was not available. Locations that report 0% are locations for which less than one full operating month of data was available. IRT is rapidly acquiring locations so these location weightings are also changing rapidly. The following table breaks it down by the location of apartment communities. I'll explain that in more detail after the chart.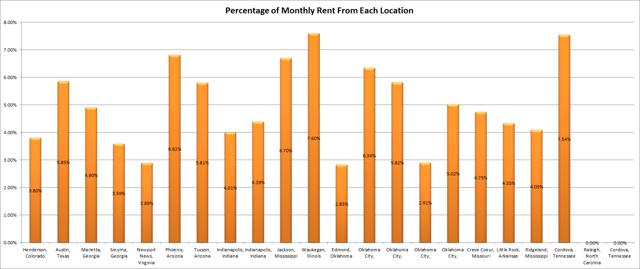 If you looked at the chart closely you may have noticed some cities were listed multiple times. In those instances, IRT owns multiple communities within the same city.
The next way to break it down is to look at the states and add the properties together. I did that in the next chart: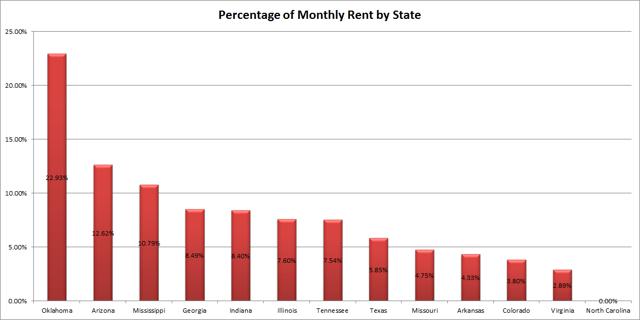 As you can see, Oklahoma is the major piece of the portfolio. The first thing I want to point out is the relative lack of coastal markets. The majority of the locations are entirely landlocked. Without going into each individual market, an investor can generalize that highly developed east coast markets frequently have low capitalization rates because they have strong barriers to entry that provide a bullish case for faster growth in property values. Because of the expectation for faster growth, property investors accept lower capitalization rates. Those REITs, in turn, may offer lower FFO yields.
I love this landlocked portfolio
I believe investing in these areas is a very intelligent move because lower costs (and higher yields) are being locked in from the start. I believe these areas will see decent levels of population growth over the next few decades because lower costs of living are very appealing to employees with mobile skill sets. While wages were previously tied to geography, work that is completed over the internet can be done from any location. This provides an incentive for employees with internet based skills to look for lower cost of living areas to stretch their paychecks. I'm not saying Oklahoma City will see the same rental increases as San Francisco, but over the next 40 years I think the reinvested proceeds from stronger dividends will result in a larger portfolio.
FFO yield
Based on a recent share price of $9.24, the annualized FFO yield from the last quarter is 6.06%. If you look at the annualized FFO yield over the last nine months, it is 8.64%. Due to the inclusion of a gain from the sale of an asset, I feel that yield is over-stated.
The Core FFO yield, annualized from the last quarter, is 7.36%. If it is annualized from the last nine months, it is 7.48%.
Adjusting Core FFO
As I've written about previously, the Core FFO calculations for the company were poorly done and included adding back stock-based compensation. There is no (economic) reason to do that. By reversing the "add back" of stock-based compensation, I come to adjusted Core FFO of 6.06% over the last quarter (annualized) and 7.20% over the last three quarters (annualized). In my opinion, these last two figures for the yield represent the best estimate of the on-going profitability of the existing operations prior to inclusion of new additions.
New additions are massive
As of September 30th, 2014, the company had cash on hand of almost $35 million. That compares to total assets of $469 million and equity of $204 million. That may seem like it isn't massive, but that's because you need to look deeper.
Remember the orange chart? There were two properties on there that were not being included because they had less than one month of operation. Another one of them had only a hair over one month of operation. Using a simple unit basis those 3 properties were 17.43% of the total units owned by the REIT. On average, they contributed just under a month of revenue. If we simplify that to pretend that one third were operating the entire period and the other two were never operating, the result is that about 11.61% of revenue would have been non-existent in the third quarter financial statements. When you combine that with the $35 million that was just waiting to be invested, you have a very substantial increase in productive assets for the fourth quarter.
Conclusion
While I dislike the way IRT structured the business, I love the growth in FFO and I don't think that growth is priced into the market. The monthly dividend is currently $.06 per share which provides an annualized yield of 7.79%. While that dividend is slightly higher than could be supported based on "adjusted core FFO" values, when we adjust for the missing months of operation on three of the properties, I would expect the dividend to be very sustainable and I would consider 2% to 3.5% to be a reasonable growth rate for modeling the returns.
I do believe there is a significant risk that IRT will issue equity even when the share price is not advantageous. Therefore, I would not recommend the company as a short term holding where price fluctuations matter. For a long term holding, I think the geographic exposure and increasing FFO make it a reasonable inclusion in a dividend income portfolio.
Update: I'd like to take a moment to mention that the external manager, RAIT (NYSE:RAS) holds a fairly substantial 23% equity stake in IRT, which does improve the alignment of interests between the two companies.
Disclosure: The author has no positions in any stocks mentioned, and no plans to initiate any positions within the next 72 hours.
The author wrote this article themselves, and it expresses their own opinions. The author is not receiving compensation for it (other than from Seeking Alpha). The author has no business relationship with any company whose stock is mentioned in this article.
Additional disclosure: Information in this article represents the opinion of the analyst. All statements are represented as opinions, rather than facts, and should not be construed as advice to buy or sell a security. Ratings of "outperform" and "underperform" reflect the analyst's estimation of a divergence between the market value for a security and the price that would be appropriate given the potential for risks and returns relative to other securities. The analyst does not know your particular objectives for returns or constraints upon investing. All investors are encouraged to do their own research before making any investment decision. Information is regularly obtained from Yahoo Finance, Google Finance, and SEC Database. If Yahoo, Google, or the SEC database contained faulty or old information it could be incorporated into my analysis. The analyst holds a diversified portfolio including mutual funds or index funds which may include a small long exposure to the stock.