The Dallas Fed released its December Texas Manufacturing Outlook Survey on December 29. The headline was optimistic, saying that "Texas Manufacturing Picks Up Pace" but the optimistic data is backward looking, and the forward looking indicators in the report showed a rapid, negative change.
Specifically, two forward looking data points were dramatically worse than the November data. New orders were down from 5.6 to 1.3. And General Business Activity was down from 10.5 to 4.1. These are huge movements and do not bode well for the near term future of the Texas economy.
The Fed used positive wording to describe the changes in the report from November, focusing on trailing indicators such as actual production data for the month. However, new orders and general business activity are better indicators for what that production data and what purchasing data might look like in future months.
I discussed the negative wealth effect for the Texas economy from the drop in oil prices in this article. And I explained JP Morgan's view on Texas's economy in this article. Both highlight risks that the Dallas fed has glossed over in its commentary, but that will surface in early 2015 if the price of oil (NYSEARCA:OIL) stays low.
Another article discussing the Fed numbers quoted "business executives in metal product manufacturing" saying "that the drop in crude oil prices was "going to make things ugly ... quickly."" This is consistent what the prior Seeking Alpha article I wrote said and what JP Morgan's Chief US Economist seems to be saying.
Below is a chart of the price of the oil ETF (NYSEARCA:USO) which tracks the front month price of oil. It is down almost 50% in the past year, which is indicative of a large revenue source for the economy of Texas dropping off. Follow on effects could be material for Texas's economy, and for certain businesses that are disproportionately levered to that economy.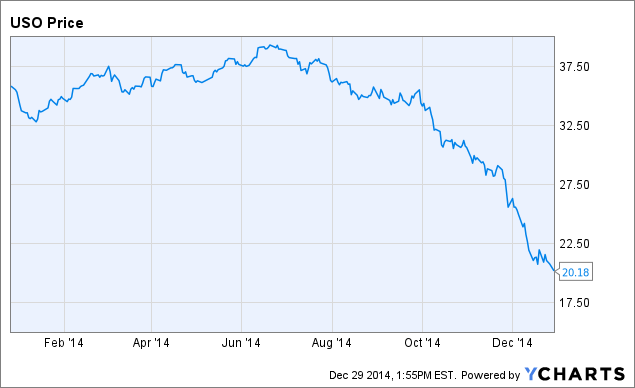 Disclaimer: Opinions expressed herein by the author are not an investment recommendation and are not meant to be relied upon in investment decisions. The author is not acting in an investment adviser capacity. This is not an investment research report. The author's opinions expressed herein address only select aspects of potential investment in securities of the companies mentioned and cannot be a substitute for comprehensive investment analysis. Any analysis presented herein is illustrative in nature, limited in scope, based on an incomplete set of information, and has limitations to its accuracy. The author recommends that potential and existing investors conduct thorough investment research of their own, including detailed review of the companies' SEC filings, and consult a qualified investment adviser. The information upon which this material is based was obtained from sources believed to be reliable, but has not been independently verified. Therefore, the author cannot guarantee its accuracy. Any opinions or estimates constitute the author's best judgment as of the date of publication, and are subject to change without notice.
Disclosure: The author has no positions in any stocks mentioned, and no plans to initiate any positions within the next 72 hours.
The author wrote this article themselves, and it expresses their own opinions. The author is not receiving compensation for it (other than from Seeking Alpha). The author has no business relationship with any company whose stock is mentioned in this article.