I reaffirm my bullish thesis on Costco Wholesale (NASDAQ:COST); the company has maintained a strong position in the industry despite the competitive environment. COST will fuel its top-line growth with its intelligent strategic growth formula, its focus on facilitating a greater number of customers by increasing store numbers, and through the expansion of its e-commerce network. Moreover, the company's top-line success will continue to translate into EPS growth. The strong growth potentials will support its future financial performance and positively affect its stock price. Therefore, I am bullish on the stock.
Accelerated Store Openings & Online Expansion Efforts Will Better Future Performance
In the highly competitive U.S. Retail Industry, COST's strategy of driving more customer traffic at its stores through attractive product offerings at discounted prices has helped it gain a better market share and grow its sales base. In fact, these sales growth initiatives have been gaining popularity among low-to-mid income groups. And the success of the company's sales growth plan is very evident from its healthy sales growth. COST's sales base is showing better results than retail giant Wal-Mart Stores (NYSE:WMT); in the last eight quarters, COST grew its comparable store sales (CSS) at an average rate of 5.1%, while WMT's CSS growth averaged at -0.06%.
One of the dominant factors behind COST's ability to grow its sales at a healthy pace ahead of its peers is the company's intelligent strategic plan to serve a larger customer base through new store openings in areas in which its peers do not have a significant presence. COST's store expansion plan is on track, as it has opened 26 new stores in FY13. Moreover, during FY14, the company opened almost 29 stores, three each in Canada and Australia, two each in Korea and Japan, and one in the U.K., Spain and Mexico.
COST has been making efforts to expand its international market presence, and is competing with WMT in the U.S. and international markets. WMT's international segment's sales growth momentum slowed down in 3QFY'15. The segment's sales grew only 1.7% as compared to 3.1% in 2QFY15. I believe the slowdown in WMT's international segment's sales base growth is a positive sign for COST. Through its committed approach towards the further extension of its store network around the globe, COST is working to strengthen its footprints in WMT's weak areas. For FY15, the company is looking to open almost 31 new stores, out of which almost 12 stores will be opened in international markets. I believe the growth in the company's store network will direct more customer traffic, which will portend well for growing its top-line numbers, and will improve its market share.
Along with store openings, the company is also trying to capitalize on the growth potentials of emerging international markets like Taiwan, South Korea and Japan, in order to grow its international presence via the online retail market. COST recently entered the Chinese online market by partnering with Alibaba's (NYSE:BABA) well-known online selling website, 'Tmall'. So far, the company is selling almost 120-130 bulk products through Tmall, most of these products are from COST's food and sundries categories. I believe that selling more products through Tmall will strengthen COST's position in the Chinese market, creating an opportunity for COST to open a warehouse in China. And by doing so, the company would be ready to yield the growth potential of the growing Chinese market over the long term.
The company's efforts to expand its presence in the U.S. and international markets will fuel its top and bottom-line growths. Also, COST's efforts to increase its online business operations will portend well for its future performance. I believe that with the improved market share and accelerated store traffic, COST's CSS growth will be in high-single digits for FY'15, and the growth momentum will continue in FY16. The following graph shows COST's CSS growth trend for the last two fiscal years, and includes estimated CSS growth for FY15 and FY16.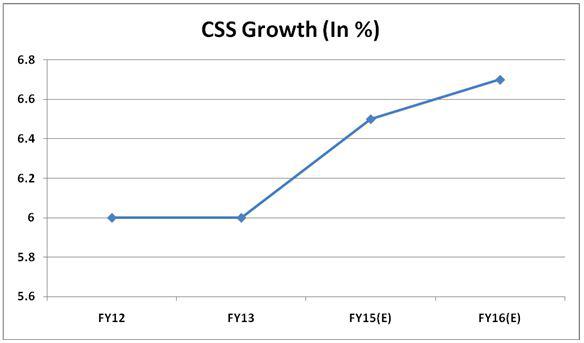 Source: Company's Yearly Earnings Reports & Equity Watch Estimates
In the recent past, the company's sales growth has constantly translated into bottom-line growth, which has also helped it report earnings beats in recent quarters. Going forward, as the strong strategic initiatives continue to fuel COST's sales growth, its EPS will grow. Due to the company's healthy growth prospects, analysts anticipate COST's EPS to grow consistently in upcoming years, as shown in the chart below.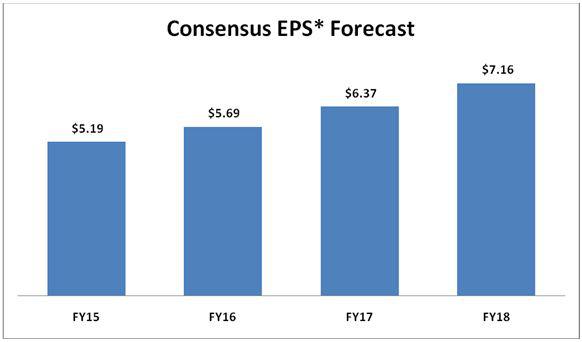 Source: Nasdaq.com
Risks
The company's business model, focused on selling large volumes of products in membership clubs at discounted prices, will continue to face intense competition from other established retailers like WMT's and Target Corporation (NYSE:TGT). Also, COST's strategy of getting ahead of its peers through ongoing pricing discounts may depress the company's sales and pressurize its margins. Furthermore, foreign currency headwinds and potential food cost inflation are key risks to my bullish thesis, which could pressure the stock price going forward.
Conclusion
COST's efforts to better its store traffic by selling quality products at discounted prices through its extended store network will remain an important top-line driver in the long run. Moreover, its intelligent partnership with 'Tmall' is perfectly timed to benefit from the emerging trend of online selling in the Chinese market, which promises long-term growth potential for the stock. The strategic initiatives will not only portend well to grow COST's retail market share, but will also fuel the company's earnings growth. Due to the aforementioned factors, I am bullish on COST.
Disclosure: The author has no positions in any stocks mentioned, and no plans to initiate any positions within the next 72 hours.
The author wrote this article themselves, and it expresses their own opinions. The author is not receiving compensation for it (other than from Seeking Alpha). The author has no business relationship with any company whose stock is mentioned in this article.