It is interesting to note that in a bull market, the share prices of companies can get all "outta whack." Investors will engage in momentum investing, and enterprises with high leverage and little or no free cash flow can become market darlings. But let the bear come out of hibernation, and investors in stocks with poor fundamentals drop their "investments" and run for the hills.
One might consider the current secular oil bear as an investor tsunami. Imagine novice and speculative investors as college kids, visiting the beach for a thrill filled Summer Break. As massive waves crash upon the shore, they frantically abandon the hot date they picked up at the bar and scurry for the hills, jettisoning anything and everything that may encumber them as they climb the nearest palm tree in panic. Meanwhile, long term and DGI investors sit on their home atop a hill in relative calm. We've seen this before; heck, we may have adopted our current investment style by having once been amongst a throng sprinting from a past apocalypse.
I've noted from past bear cycles that all companies suffer initially, but once the initial shock passes, one can discern the better investments by simply measuring the relative loss in share price. Today we see the oil majors trading at near fair value, something seldom witnessed because of the robust, safe dividends companies of this type generally offer.
Highly leveraged, speculative companies have suffered from heavy sell-offs: meanwhile there are the "in-between" companies. These are enterprises with sound fundamentals, but lacking the obvious safety provided by the majors. In their midst I see some good value investments, and here lies Devon Energy (NYSE:DVN).
A Fracker With Robust Production Growth in 2015
Devon is a corporation that suffered a share loss just large enough that I consider it a good value; however, the company boasts a variety of strengths that I contend will allow it to prosper throughout this rough patch.
In 2010, Devon sold approximately $10 billion in assets in Brazil, Azerbaijan and the Gulf of Mexico. Today Devon stands as a pure-play North American E&P company. Devon successfully transitioned from a company that primarily produced natural gas to one that focuses more on oil production, where margins and profits are higher. Devon's chief projects, largely in the Permian Basin and Eagle Ford shale, are predicted to garner 30% greater oil production YOY.
The charts below illustrate the company's divestitures and investment strategy and the projected results once the transition is complete.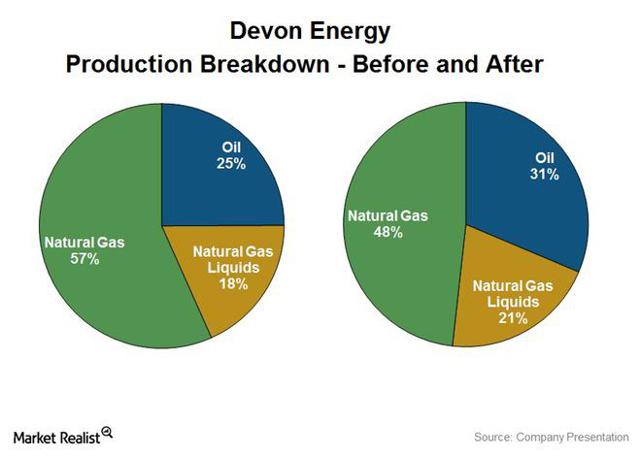 Devon's third quarter revenues nearly doubled YOY with margins improving by 20 percent. Furthermore, with a strong balance sheet, Devon now holds over $8 per share in cash.
I consider the fact that all of Devon's assets are in North America as an added margin of safety, insulating the company from the geopolitical risks suffered by many E&P companies.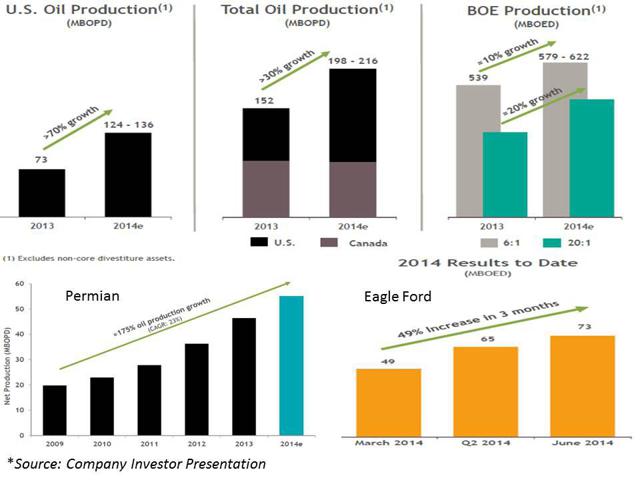 $60 Oil! Who Cares?
Devon projects production increases as a high as 25% in 2015.
The company has aggressively hedged oil production for 2015. Devon has roughly 140,000 barrels of oil per day hedged, the equivalent of 80% of the company's third quarter production. Due to these hedges, Devon stands to rake in an extra $1.3 billion in revenue, according to calculations from Reuter's.
At least one insider, Director John Bethancourt, agrees that Devon is a compelling investment. In mid-October, Mr. Bethancourt purchased 9,150 shares at $54.64 per share. That investment totals a hair under a half million.
Recent Acquisition in Eagle Ford
Devon's acquisition in late 2013 of GeoSouthern's Eagle Ford properties places the company in a prime production zone.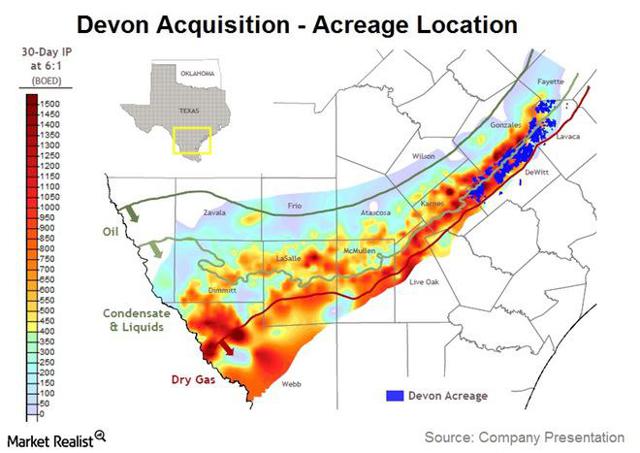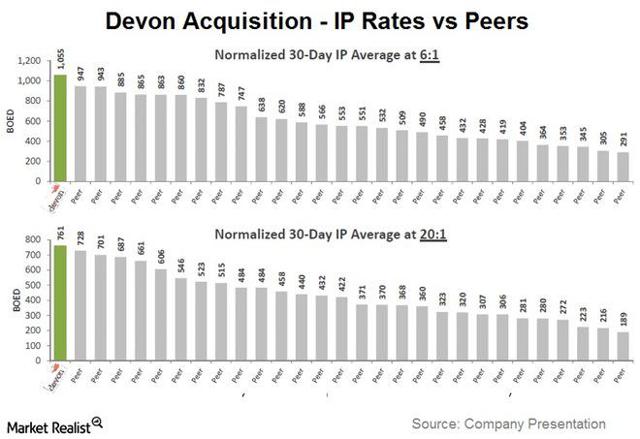 Furthermore, it appears as if the company made a major coup, acquiring the acreage at a very attractive price.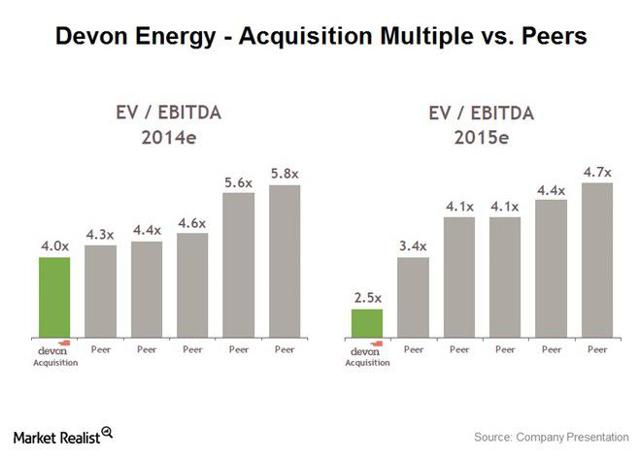 Devon stated the assets were purchased at 4.0x 2014 EBITDA. The company noted peers, at the time of the acquisition, traded at multiples higher than 4.0x.
Consequently the Eagle Ford acquisition is considered a major positive for the stock and stands to drive future growth in Devon's production rates as well as share values.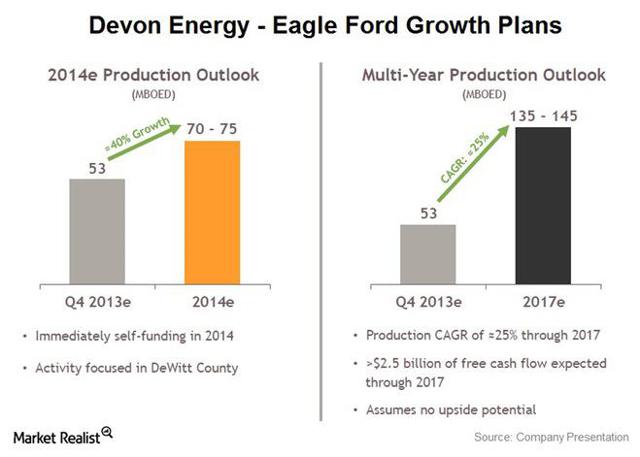 Conclusion
The recent turmoil in oil resulted in the company's shares dropping to a price that represent a significant value. Devon's focus in North American properties, strong hedges, future production growth, and healthy balance sheet indicate a company with a margin of safety and prospects of future share appreciation.
I consider Devon a long term investment. Although I have confidence in the company's prospects, and I believe oil must return to prices that will provide greater returns to E&P enterprises, I readily admit that neither I nor any other person can predict the time span required for crude prices to rise to former levels.
Disclosure: The author has no positions in any stocks mentioned, and no plans to initiate any positions within the next 72 hours.
The author wrote this article themselves, and it expresses their own opinions. The author is not receiving compensation for it (other than from Seeking Alpha). The author has no business relationship with any company whose stock is mentioned in this article.
Additional disclosure: This information is provided for guidance and information purposes only. This information is not intended to provide investment, tax, or legal advice. The information contained herein has been compiled from sources deemed reliable and it is accurate to the best of my knowledge and belief. However, I cannot guarantee its accuracy, completeness, and validity and cannot be held liable for any errors or omissions. All information contained herein should be independently verified and confirmed. Readers are advised that the material contained herein should be used solely for informational purposes.