American Airlines (NASDAQ: AAL) has been a favorite of investors this year because of its merger with US Airways. The stock has been shooting higher since the deal closed in December 2013.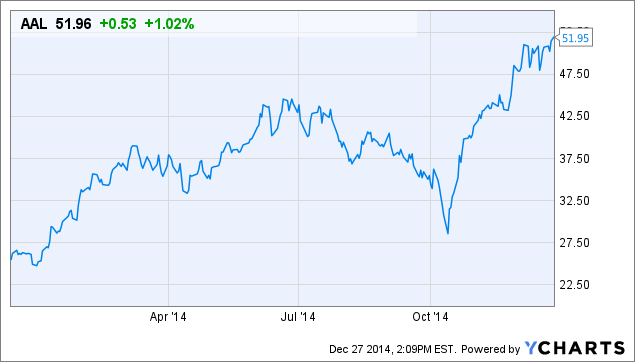 For a long time, airlines were considered to belong to an uninvestible industry, but that has rapidly changed. Consistent consolidation in the sector since 2005 has made the airline industry gradually more appealing to investors. The American-US Airways partnership was the catalyst that officially brought the industry and its stocks from obscurity to the spotlight. American Airlines, specifically, is a hedge fund favorite held by 23 funds. The merger has caused a huge run-up in share price over the course of 2014, with the stock trading above $50. 2014 was a tremendous year for the company, but that doesn't mean 2015 will be any different.
Full Integration
While integration efforts have been underway for quite some time now, they are not completed. On the Q2 Conference Call, CEO William Douglas Parker projected that the two companies will be operating seamlessly as one entity in the first half of 2015. Obviously, all possible synergies won't be realized until after the integration is complete. There will be significant opportunity for further benefits of the merger to materialize next year. Once the two airlines are fully unified as AAL from an operations perspective, there will still be synergies that are yet to be realized. Just because the firms have consolidated operations doesn't mean that the new entity is operating in the most efficient way possible. After the integration is completed, there will be changes implemented to maximize profitability. Investors should expect synergies to continue to be realized for the entirety of 2015 and even into 2016.
Earnings Growth
At the end of the day, the biggest source of a stock's movement is earnings. According to NASDAQ, consensus earnings estimates for American Airlines in 2015 are $9.09, up an incredible 58.92% from FY2014 estimates of $5.72. That leaves shares trading at a very low forward P/E multiple of 5.72 for arguably the best stock in the sector. The current forecast for 2016 is $9.28 which doesn't represent anything near the astronomical growth projected for 2015, but I expect those numbers to be revised throughout the coming year. 2015 will be a record-setting year for AAL and its bottom line will only be helped by expense reduction from cost synergies and lower fuel cost.
Jet Fuel Prices
While many businesses have been beneficiaries of the plummeting price of oil, none have more than airlines. Jet fuel costs comprise approximately 25% of operating expenses for airlines, providing the opportunity for massive fuel cost savings. American Airlines is significantly better positioned than its competitors with respect to fuel prices because it is the only major airline that doesn't hedge jet fuel. This is a very risky strategy, but the equally large reward will be realized in the next few years. With oil recently dipping below $55/barrel, AAL stands to save billions of dollars in 2015 and beyond. There has also been an effort to introduce newer, more fuel efficient planes at airports around the world. Management has been upgrading the company's fleet since 2011, receiving almost 100 new planes this year, and can boast of one of the youngest and most technologically advanced fleets in the industry. The company plans to spend an additional $2 billion on fleet upgrades, leaving room for management to move forward with its "Capital Deployment Program".
Capital Deployment Program
Implemented in the third quarter of 2014, the Capital Deployment Program is a multi-faceted cash expenditure plan. Included in the program is a $1 billion share buyback as well as a $0.10/share quarterly dividend. This is the first dividend for American Airlines shareholders since the former AMR cancelled it in 1980. Additionally, $2.8 billion was allocated to debt prepayments in an effort to delever the company's balance sheet. Below are some highlights of the program:
$600 million in pension contributions above the required level of $120 million.
$630 million in aircraft prepayments.
$900 million dedicated to retiring bonds maturing in 2015 and 2016.
Description of program found in Q2 Conference Call
Since these payments were set to be completed in 2014, management may be looking to make additional advance payments to strengthen the balance sheet. The most significant part of this initiative to me is the intent of management. Despite just completing a merger that will completely change the company, Parker is immediately shifting his attention to shareholders. To keep things in focus, the dividend yield is below 1%, but it's a testament to the management's intention to be shareholder friendly. Parker is aware that although his company has been the subject of great hype, there is a cohort of investors who remain weary of airline stocks. A healthy record of shareholder distributions through both buybacks and a dividend is an excellent way to ensure the company remains a favorite of the market over the long term.
Employee Relations
Investors aren't the only stakeholders enjoying the way they're being treated by management. On average, employees have seen an additional 4% raise to complement the 10% raise they have already been granted. This is massively important because employee retention is a huge concern when a large scale merger is completed. Thousands of employees have their jobs changed in some way or another and many choose to leave instead of adapting to the change. Keeping employees happy is especially important when dealing with unions, as strikes and hostile labor negotiations can ensue. Both of these scenarios would have financial repercussions while simultaneously distracting management. In American Airlines' case, it would stagnate integration efforts as well.
American Airlines is a great company post merger, and its stock is poised to have another great year in 2015. Investors shouldn't allow the stock's breakout year in 2014 deter them from getting involved.
Disclosure: The author is long AAL.
The author wrote this article themselves, and it expresses their own opinions. The author is not receiving compensation for it (other than from Seeking Alpha). The author has no business relationship with any company whose stock is mentioned in this article.