Citigroup (NYSE:C) will publish its 4th quarter earnings report on January 15th, less than three weeks away. Citi's CEO, Michael Corbat, presented at the Goldman Sachs 2014 U.S. Financial Services Conference, where he updated investors on the outlook for Citi's 4th quarter. Mr Corbat covered a large number of items in its unusually detailed guidance - including legal provisions, trading performance and progress on the various businesses and efficiency initiatives. Lets look at the details.
$2.7 billion legal provision
Citi has booked a $2.7 billion provision in respect of several outstanding issues - specifically, legal and conduct costs consisting of a "combination of foreign exchange, LIBOR and AML and process controls with some other small ones." In accordance with U.S. GAAP, to be able to book such a provision - Citi needs to demonstrate that the liability is both probable (i.e. that the confirming event will occur) and the amount can be reasonably estimated. Mike Corbat specifically commented on Citi's accounting position:
I think from our perspective based on the conversations that we've had and I think a number of precedents that have been established in the market were at a point in the fourth quarter where we are going to go and recognize what we believe are the charges necessary to largely put those behind us which will be about a $2.7 billion charge in the fourth quarter.
Clearly though, Citigroup is somewhat ahead in recognizing the full probable impact of outstanding legal issues - none of the other large U.S. banks such as JPMorgan (NYSE:JPM), Bank of America (NYSE:BAC) and Goldman Sachs (NYSE:GS) seem to have taken a similar path on legal provisions this quarter.
Why is Citi being so proactive on legal provisioning?
The most likely answer relates to the 2015 targets set out by Mike Corbat in May 2013, soon after he assumed the CEO position.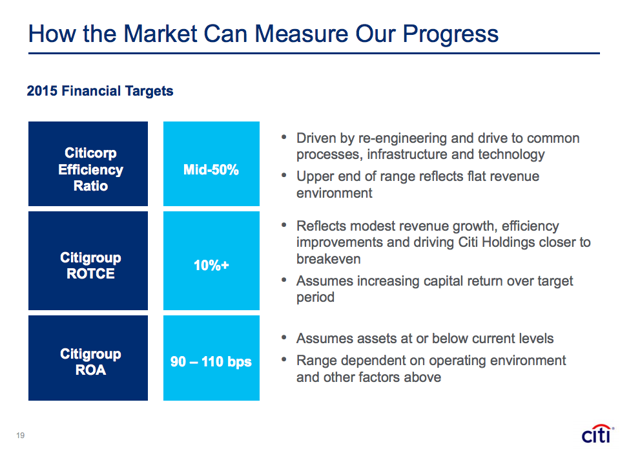 It looks like Citi's management wants to ensure it hits these targets in FY2015 - and for that, it really needs to clear the decks of legal costs that otherwise would hinder its ability to accomplish the above targets. Furthermore, it is probably safe to assume that Mike Corbat's overall compensation (and his senior team) is directly linked to some of these metrics - as such, it is hardly surprising that they would elect to absorb these legal costs in 2014 financials (subject to compliance with accounting rules). Clearly, there is some subjectivity in applying the probable and reasonably estimable test - however, I would not expect Citi's external auditors to push back too strongly against recognizing a provision early on (being a conservative accounting approach). Furthermore, given the presumed motivation to front-load the expected legacy legal costs in 2014 - it is probable that Citi has been somewhat conservative in the quantum of provision. In other words, the firm's management is likely to ensure that the provision cost is at the very least sufficient to absorb expected legal costs, with perhaps a reasonable cushion. I wouldn't be completely shocked if Citi writes back some of this provision in 2015!
Repositioning Costs
In addition to the $2.7 billion legal provision, Mr Corbat also announced an additional repositioning charge for the 4th quarter. Citi's CEO described this as follows:
As John and I went through the fourth quarter budget work, we saw some opportunities in this quarter to go ahead and pull some restructuring and repositioning forward and so we are going to as part of the fourth-quarter take about $800 million of repositioning in the quarter.
Mr Corbat then further added:
The expectation should be that going into 2015, repositioning is largely behind us and that number should come off significantly.
Similarly, to the legal provision, Citi is bringing forward repositioning charges to 2014. Over the last 8 quarters, Citi's repositioning costs accumulated to about $2.6 billion (i.e. on average approximately $350 million per quarter). In the last quarter of 2014, it accelerated to approximately $800 million. The most likely reason for the accelerated charges, is once again - Citi's management focus and strong motivation on meeting the 2015 targets noted above.
Investors should not be fooled by Mr Corbat assertion that the additional repositioning actions have resulted from a routine budget review process. Repositioning costs involve laying off staff and $800 million worth of layoffs are not BAU (and clearly impactful personally for those affected) - these are typically very challenging actions that are taken on a department by department basis. It is usually a top-down exercise with a target "savings" articulated and very difficult decisions need to be made. Clearly, Citi's management is not balking at making these difficult decisions affecting staff and morale (but beneficial for shareholders).
Other performance updates
The consumer bank is performing well - the key headwinds of Korea restructure and U.S. mortgages revenue declines are abating - which bodes well for 2015
Treasury and trade services is showing some revenue uplift as well - given low interest rates and margin compression, this may mean that volumes are up significantly and/or Citi is capturing additional market share
Trading markets income, in line with industry trends, is down around 5% (primarily driven by fixed income trading)
Summing it all up - Citi's CEO is guiding to a marginally profitable quarter for Citigroup. More than six years following the GFC, this is a very poor outcome - has Citi become uninvestable and shareholders (including myself) should consider liquidating their holdings?
Should investors sell Citi on account of another really bad quarter?
Absolutely not - rather I believe investors should accumulate on any weakness (especially if Citi is trading below $55). This is a classic kitchen sink quarter - where management is doing their utmost best to clear the decks and start 2015 with a clean slate. I expect to continue on buying (shares and call options) in anticipation of stock volatility around earnings announcement.
The bottom line
Citigroup reported earnings for Q4 2014 are not going to be pretty! However, we have reached the final innings in Citi's restructure - this is possibly the last big legal charge and certainly the last of the big repositioning charges (for a long while). The normalized earning power of the franchise will finally emerge in 2015. The next several weeks, could well be the last opportunity to buy Citigroup shares at less that $55, unless of course it manages to slip on another banana skin. Investors should do well to ignore the inevitable negative headlines in the next few weeks and look forward to 2015. It's mostly blue skies ahead....
Disclosure: The author is long C, BAC.
The author wrote this article themselves, and it expresses their own opinions. The author is not receiving compensation for it (other than from Seeking Alpha). The author has no business relationship with any company whose stock is mentioned in this article.
Additional disclosure: Also hold long term call options