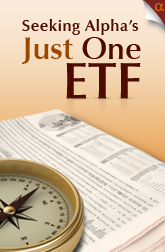 Seeking Alpha's Jason Aycock asks money managers about their single highest-conviction position - what they would own (or short) if they could choose just one security.
---
Axel Merk is founder, president and chief investment officer of Merk Investments - a California-based RIA - and author of the book Sustainable Wealth. Through Merk Funds, Merk Investments administers an absolute return currency fund (MABFX), an Asian currency fund (MEAFX) and a hard currency fund (MERKX), as well as institutional shares.
What investment area is the subject of your highest conviction right now?
We focus on the currency markets, and we do that because we can implement the mania of the policymakers in a straightforward fashion, without taking on the corporate risk in particular as you do in the equity markets.
And which currency in particular has your attention?
We tend to focus more on the long-term strategic view. And in that, we don't shy away from controversial ideas. In particular, we've been far more favorable on the euro than most people; we called it a buying opportunity when it was at $1.18, rather than saying the euro was going to break apart, and we still think it's a buying opportunity.
At the other end of the spectrum are currencies like the Australian dollar, which everybody was longing, and as a result we were less passionate about it - although many things are favorable for the Australian dollar. In that region, for example, we prefer the New Zealand Dollar vs. the Australian dollar.
One way of going about this is through ETFs?
We happen to buy the currency directly; the reason I mention CurrencyShares Euro Trust ETF (NYSEARCA:FXE) in our discussion is that an investor that considers getting exposure to currency, or to the euro in particular, has an array of choices these days. Most investors don't have access to the currency markets the same way institutional investors do, where you can buy on the spot market or the forward market.
And so the individual investor, if they want to get exposure to a currency, a single-currency ETF like FXE is a choice; alternatives are baskets of currencies, and leveraged vehicles out there.
Now just to give a little bit of background as to what instrument might be more suitable for certain types of investors: If an investor has a strong conviction of what a currency or basket of currency may do tomorrow, that investor may want to use a leveraged vehicle. Because quite frankly, the movements in the currency markets are not all that exciting. Everybody gets all excited when a currency moves by one cent, but on a percentage basis that's very little.
Whereas an investor who wants to have longer-term exposure to a currency, and thinks the U.S. dollar may weaken over time - they may want to have a non-levered vehicle. And there again, if you have a stronger view about a particular currency, you can do that with a single-currency [fund] such as FXE, or you can use a basket of currencies, or alternatively, you can also choose to outsource some of that by choosing a managed basket of currencies in a mutual fund setting.
So, speaking in broader terms: Why the euro in the current situation?
We have been arguing that the issues in the eurozone are very real, very serious, but they should be expressed in the spreads in the bond market. But the euro itself can thrive in this environment. So if a Spain, a Greece, a Portugal does not get their house in order, the bond market in those countries will force them to action.
There is one language that policymakers understand and one language only: It is the language of the bond market. And that is the one instrument that's been working throughout this crisis; it's because of the bond market forcing reforms on these countries that the governments have done things they would never otherwise have done.
And so that is the key thing that is working in the eurozone which is not working in the U.S. The bond market is behaving in the U.S. and we are not fixing our issues. The other thing that is being addressed in the eurozone - although the way it's gone about it is a very awkward one - is that countries that are weak, that have lost control over their fiscal process, they've lost sovereign control over their budgeting process. It's the IMF, the other countries in the eurozone that are dictating the terms in Greece, and that is the sort of punishment that ought to happen in these countries. We have those reform processes in place.
What about the non-periphery countries?
On the other hand, the euro being weaker than it would be without these issues is helping the stronger countries dramatically. So the exports in Germany are thriving, for example. We have an environment where Germany can thrive, and peripheral countries are in charge of their own destiny - if they implement the reform, they will do much better, but if they're haphazard or slow in implementing the reforms, the issues are going to drag out.
---
'There is one language that policymakers understand and one language only: It is the language of the bond market.'
---
Ultimately the price that needs to be paid is going to be reflected in the bond market - and obviously the riots in the streets as well, but in the bond market - the euro itself has been climbing that wall of worry and will continue to do so. Now with the uncertainty reduced for the next two years in Europe, that should dramatically help the euro to leap ahead from here, especially in the context of the U.S. where the consumer continues to be too much underwater in their mortgages, in their housing, too much leverage. We would not be able to raise interest rates in the U.S. In Europe, we do not have that leverage with the consumer in most eurozone countries.
The weaker countries in Europe will not be greatly affected by a quarter-point interest-rate hike - they have far bigger issues to worry about - and so the central banks in the rest of the world, Europe in particular, are far more flexible in raising rates than in the U.S.
You've talked about various ways to get exposure to the euro, such as German bunds. Is there any advantage to going in through FXE, and for whom?
Again, there's a choice on how to buy the euro. We would not recommend that anybody buy Greek bonds to buy the euro. We prefer buying German Treasurys, as an example, or any Northern European debt. For the average investor, buying those sort of securities might be expensive; if you want to lower transaction costs, you need pretty large amounts. And that is why an exchange-rate vehicle or mutual fund might be a more cost-effective way of getting that exposure.
Now, as with anything that investors have these days, being in a U.S. money market fund - where, by the way, you're taking on a lot of debt obligations of European issuers, because European banks are issuing commercial paper in U.S. dollars that those funds are buying - you want to look at the underlying holdings of that instrument that you're buying.
With FXE, for example, what you're getting is a deposit at the custodian, which is JPMorgan (NYSE:JPM). You're lending money to JPMorgan by buying FXE. If you believe that JPMorgan is sound, or too big to fail, that is one way of getting exposure. No matter how you are getting your currency exposure, look underneath, whether it's a mutual fund, FXE - look underneath at the underlying holdings and decide whether you're comfortable with it. If you buy derivatives there are other things to consider. Always read the prospectus so you can be comfortable with whatever you're choosing.
QE2 has come to an end; do you think a ripple effect is likely with the Fed's bond buying program now over?
First of all, the end of QE2: I would call it one of the better publicity stunts of the Federal Reserve, and the reason I say that is this that what we have is a pause - there's no end here. The liquidity that's been pushed into the banking system remains in the system. The proceeds of any securities that mature will be reinvested. So we have an economy that remains awash in money. And the excess reserves in the banking system, the money that's available to make loans, are there. So we have a tremendous amount of stimulus in the system just waiting to be deployed.
On the other hand, the day-to day buying is not happening to the same extent ... so there will be some impact. The bigger story here is: Why has this not worked? And what will the Federal Reserve do about it, if anything? For the time being the Fed will have a pause; they are waiting; they are baffled as to why the economy has not gone into a higher gear.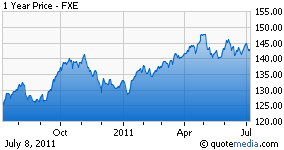 The reason in our view is that policymakers in the U.S. are fighting market forces. Homeowners underwater would like to downsize; the Fed doesn't like that, so they're throwing a lot of money at the problem, and the money doesn't "stick." But instead it goes to places with a greater monetary sensitivity, it goes to precious metals, and it goes to other currencies.
So the Fed will continue to keep extremely accommodative policies until this economy kicks into higher gear. The bigger concern I have is, if and when this money is going to "stick," is the Fed going to mop this up? Because we have this leverage with the consumer, we would crash back down in the economy. One thing that Bernanke has said was that raising interest rates in the Great Depression was one of the big mistakes and they raised too early.
Turning that to the euro relationship and the U.S. dollar: Historically when the U.S. starts raising interest rates, the dollar tends to go down, and the reason that happens is foreigners tend to buy a lot of bonds in the U.S. If interest rates go up, the bond market tends to go into a bear market. And it's only in the late stages of a tightening cycle that the U.S. dollar is benefiting.
So if somebody believes that yes, economic growth will kick in and some tightening will take place, that doesn't mean the dollar will be doing fine anytime soon. So there are many reasons we think the U.S. dollar continues to remain very, very vulnerable.
How contrarian do you think it is right now to be bullish on the euro?
It continues to be highly controversial. Many people believe the eurozone will fall apart, that Greece will default. We think that it is in nobody's interest for either Greece or the stronger countries to leave the euro. We do agree that at some point Greece will default. But it is not in Greece's interest for that to happen now; it may happen two years from now, but that doesn't mean the euro will fall apart.
Remember that a year ago, we had in some ways fewer issues in the eurozone and people were talking about the euro going to parity. Now we have riots in the street, and all kinds of drama playing out in Greece, yet the euro made it to the $1.40s. Again, the issues in the eurozone ought to be reflected in the spreads in the bond market - or in a restructuring in the bond market. Obviously the bonds that would be restructured would be the bonds of the peripheral countries, and not the stronger countries.
So when investors buy the euro, look at how you're buying. Buy it with JPMorgan through FXE, for example, buy it through a basket of currencies, in a mutual fund, but don't buy Greek bonds ... that is not the way that I would go about buying the euro.
For currencies, is this about the lesser evil? The euro may not be a great investment, but better there than the U.S. dollar?
The answer I would give to that: There is no such thing anymore as a safe asset, and investors may want to take a diversified approach to something as mundane as cash. What I mean by that is, when you hold the U.S. dollar, a prime U.S. money market fund, you're getting 50% of your exposure to European banks. U.S. Treasurys, you have a debt ceiling discussion. Buy the euro, you have other issues. We live in a world that is uncertain, and we're moving further and further into that.
So yes, you can say it is the lesser evil, but what's more, you need to throw away that risk-free asset in your portfolio allocation, and there you see that central banks are diversifying to baskets of currencies, to be less dependent on any one currency. Similarly, investors may want to do the same thing, and the euro may play a valuable role.
We talked about QE2's ending, and the prospect of Greek default; what market catalysts can you see ahead that will affect the euro?
The Greek vote certainly was a catalyst. From that, we're going to unleash a lot of catch-up potential in risky investments that has been put on hold. So in the near term, that's going to be an influence.
The medium-term catalyst will be one of continued structural reform in Europe that's going to be driven by the bond market vs. haphazard compromises that are not addressing our long-term entitlement issues in the U.S. So those are the catalysts; now, many of them you cannot pinpoint to certain events - there's no silver bullet that resolves the issues in Greece. The catalyst, if you want to call it such, is the bond market. The bond market is going to continue to be the main driver that is going to dictate the terms.
Similarly, we don't expect the bond market is suddenly going to quiet down because Greece has been patched up. That dialogue between the bond market and policymakers is going to continue and drive reform, and with that we get the euro at a higher level.
What can go wrong for an investor taking a bullish stance on the euro?
The thing that can go wrong in Europe is that the bond market no longer applies the pressure, such that the will for reform is lost. That we're giving too much money to a country like Greece and they're not implementing any reform. They will certainly not implement the reforms perfectly, but if you're just throwing money at them, and there's no reform, then that's worse.
The reason, by the way, is: A country like Greece can default any day. But if they were to default, their primary deficit has to go to zero overnight because they're not going to get a loan tomorrow. So right now the calculation for Greece is: They have too much of a deficit; it would be too much of a hardship to do that. In two years or so, that's a different equation, because reform has been implemented.
So what can go wrong is, we're not implementing any reform, and we can't move forward. What we have to do in Europe is we have to continue to strengthen the banking system and that hasn't taken place sufficiently. So that can go wrong, if we take our eyes off the ball on getting the banking system to a healthier state.
In many ways the drama that has been playing out in Europe has been very positive for the euro, as painful as it is. What can go wrong is that the pain goes away and we go back to business as normal. That's exactly what's happening in the U.S. with the discussion on the debt ceiling - that we'll find a compromise that's not going to address long-term issues, and then we go back to business as normal, until we reach the debt ceiling the next time around, which is within a year, probably. So then we redo the process, and continue doing that in the U.S. until the bond market tells policymakers to do it differently.
The key thing is the U.S. is far more vulnerable to a derailed bond market than the eurozone is, because in the U.S. we have a current account deficit and we need foreigners to buy the bonds. In Europe that isn't as crucial.
As far as downside risk is concerned - of course, with any investment you can lose a substantial portion; historically speaking, the currency markets are far less volatile than other markets are, if you don't use leverage. And we're not encouraging any long-term investor to employ leverage on those sort of things.
Thanks, Axel, for sharing your thoughts on this with us.
Disclosure: No position in FXE.
Read more Just One ETF interviews »
If you are a fund manager and interested in doing an interview with us on just one stock position you'd hold, please email us at Just One Stock.