Many economists believe Europe remains under the threat of deflation, with some even expecting a Japan-style "Lost decade" in store. While the European Central Bank is planning quantitative easing to alleviate these concerns, some argue this won't help much.
One of the main proponents against QE is Europe's largest economy, Germany. Its central bank chief, Jens Weidmann, recently came out and said that the situation in Europe is "not doing as badly as some people believe," stating that in regards to 2015, "if oil prices stay this low, inflation will be lower than expected, but growth will also be better."
Weidmann relates the low oil prices to a stimulus package in and of itself, so he questions why QE is even necessary at all. The German government expects low oil prices to boost its GDP forecasts by around 0.2%-0.3% next year, with GDP expanding by a total of 1.3%.
The German government will probably not "print" money, especially because of its determination to run a balanced budget and retain budget surpluses. Germany's finance minister, Wolfgang Schauble, even stated that, "We can stick to our budget plan... We must stay the course even in difficult times."
It appears things may be messy for awhile in the Eurozone, but this may also present investors with some opportunities along the way as well. I have three possible scenarios playing out in Europe going forward, and I have selected three companies for each one.
Scenario 1.) Betting on Germany and low oil prices
Siemens (OTCPK:SIEGY) is a German dividend aristocrat that's been floundering recently with little growth. The company's management has indicated that revenues are expected to remain flat for 2015 as well.
Despite these negatives, Siemens is still a solid company and it's not exactly priced for perfection at around 14 times forward earnings and roughly 13 times its free cash flow (slightly below its historical five year average P/FCF multiple of 14). It can also provide an income stream that will likely increase annually for years to come. Shares yield roughly 3.5%, as long as the company follows through with its announced dividend increase. This represents roughly 49% of earnings, so it appears to be a pretty safe dividend as well.
I think this is a good company to consider if you believe Weidmann's optimistic "it's not that bad" scenario, where oil stays below $80/barrel until 2018. Personally, I have this company on my watch list until things get a little more settled and there's more certainty, however.
Scenario 2.) Oil bounces back in 2015
Under this scenario I like BP (NYSE: BP) as a deep value play. This oil supermajor has been beaten down for numerous reasons, including: its exposure to Russia with its 20% stake in Rosneft, legal ramifications from the infamous Macondo oil spill in 2010, and pessimism surrounding most European stocks in general.
Now for the positives. BP currently has $31 billion in cash on its books, which could cover the entire $29 billion in remaining Macondo-related after-tax cash outflows Morningstar estimates. The company also currently trades below its book value and carries an enterprise value/EBITDA multiple of only 4.23. Despite its cheap valuations, shares also yield over 6%.
There are also numerous, serious risks regarding this company, so a low valuation is warranted, but if oil recovers in 2015 this beaten down oil major should increase from its current levels by quite a bit. Britain's growth is also expected to be much better than most of Europe, and BP also has significant operations in the U.S. as well.
Scenario 3.) Europe remains flat
If Europe remains stuck in growth purgatory for 2015 I think British-based Diageo (NYSE: DEO) is a good pick. The company gets most of its revenues from the U.S. as well, which should help it remain better insulated from the negative effects of an increasing dollar as well if that trend continues.
Diageo owns a portfolio filled with iconic brands such as Tangueray, Smirnoff, Guiness, Captain Morgan, Johnny Walker, and Don Julio, just to name a few. This gives the company a wide moat with many brands that rank either first or second in their respective markets globally.
Shares have not performed well at all this year, with an abnormally large drop-off in demand coming from China being a main reason for this. Emerging market weakness and an overall drop in global sales also contributed to a negative impact on profits and share price as well.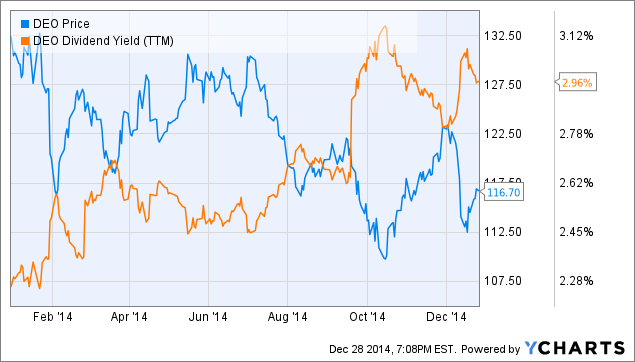 DEO data by YCharts
It should also be noted that the drop in share price has also pushed the dividend up towards a juicy 3% yield. Going forward, I don't think Diageo's problems are systemic and/or permanent. When global currencies eventually normalize along with emerging markets, I think things will pick up again for the company. For the long-term investor, I believe current short-term pain provides a nice entry point into this British blue-chip, despite its premium valuation at 19-20 times trailing earnings.
The bottom line
I will be watching Europe closely for bargains in 2015, especially if the U.S. markets continue to march upwards valuation-wise. Of the three above mentioned picks, I like Diageo best as a defensive company that I think will capture upside if Europe recovers, while also protecting against dramatic downside losses in a worst-case scenario.
Disclosure: The author is long BP, DEO.
The author wrote this article themselves, and it expresses their own opinions. The author is not receiving compensation for it (other than from Seeking Alpha). The author has no business relationship with any company whose stock is mentioned in this article.
Additional disclosure: Additional disclosure: Articles I write for Seeking Alpha represent my own personal opinion and should not be taken as professional investment advice. I am not a registered financial adviser. Due diligence and/or consultation with your investment adviser should be undertaken before making any financial decisions, as these decisions are an individual's personal responsibility.
Editor's Note: This article discusses one or more securities that do not trade on a major U.S. exchange. Please be aware of the risks associated with these stocks.