Wells Fargo (NYSE:WFC)'s Wealth, Brokerage and Retirement ("WBR") operating segment is one the largest wealth managers within the United States. It includes Wells Fargo Private Bank, which serves HNWI and their families, Wells Fargo Advisors, the brokerage arm, which is the third-largest in the country, and Wells Fargo Retirement, which manages employer-sponsored retirement plan assets for millions of Americans.
Operating results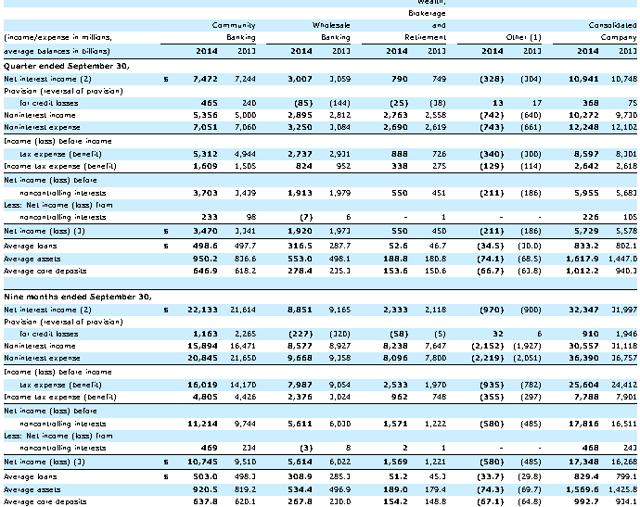 Source: SEC Filings
In the company's most recent quarter, the WBR segment reported an increase in revenue of 7% from 3rd quarter 2013, from $3.3bn to $3.5bn, and an increase of 8% on a 9-month basis, from $9.7bn to $10.5bn over the same period in 2013. The company posted $550m in net income, up 22% over the same period in 2013. On a 9-month basis, net income was $1.6bn, up 29% compared with the same period in 2013. Net income margins experienced an expansion from 12.5% to 14.8% for the 9 months ended September 30, from 2013 to 2014.
Considering the growth in revenue was dwarfed by the growth in net income is indicative that the segment is benefiting hugely from economies of scale. Since the segment operates on an advisor-client model, I expect Wells Fargo's WBR business line to continue benefiting from operating leverage in the future. Furthermore, Wells Fargo is known to be the best in the business of cross-selling financial products; the WBR segment cross-sell was 10.44 products per household in Aug 2014, up from 10.41 in Aug 2013. Due to this, I expect further margin expansion to occur within the WBR segment in the following quarters. Average assets have also increased from $179bn to $189bn on a 9-month basis, which represents the continued increase in demand for the bank's WBR services. With many baby boomers nearing retirement or have already retired, I expect this demand to not only increase in the future, but also be sustained due to the high switching costs that clients face were they to switch financial advisers. Wells Fargo's client base on average already have approximately 10.44 products and services per household; it would be too much of a hassle to switch to another bank, hence discouraging clients from leaving to competitors.
Growth Opportunities
According to a PR NewsWire report, the number of US HNWIs is forecast to grow by 12.1% to reach approximately 6m by 2018, while HNWI wealth is expected to grow 28.7% to reach $28.8tr by 2018. Bearing in mind that Wells Fargo is one of the largest wealth managers in the US with $1.6tr in client assets, and that the bank offers a full suite of every wealth management product one can think of, it is not a stretch to say that the bank is in a prime position to capitalize on this trend. In addition, the bank has also made investments to beef up the WBR segment, evident from its recent launch of "Wells Fargo Investment Institute", which brings together investment research, strategy, manager research and publication teams from WBR's lines of business to create a single group tasked with the objective of providing world-class advice to the bank's wealth advisers. Simply speaking, the WFII is a support team for the bank's financial advisers. With this initiative, I anticipate that financial advisers will be able to focus more of the attention on attaining new clients and bringing in more assets, while the WFII maintains relationships with existing clients.
A recent CNBC survey in December revealed that American millionaires are becoming increasingly confident in the US economy, where 50% of wealthy investors believe the economy will be stronger in 2015, up 9% from 6 months ago. With increased investor confidence, wealthy individuals are more likely to park their assets with wealth managers such as Wells Fargo's team of financial advisers. Given the bank's popularity and position as one of the Big Four US banks, I expect average assets managed by the WBR segment to continue increasing in the following quarters.
Challenges
Though Wells Fargo can be considered a much-loved bank within the US, it barely has any international presence at all, a fact that could hamper long-term growth for the WBR division. With China recently managing to surpass America as the world's largest economy, it is clear that the US bank is missing out on a lot of potential revenue within the international financial markets. Many predict that the U.S. will grow at a slower pace compared to the many countries in Asia, and Wells Fargo's choice to not expand internationally could damper the company's long-term prospects. Financial advisory, at its core is a relationship business after all. If and when the US bank decides to enter the international market, it may already be too late; its competitors may have already established their presence and gained the trust of the consumers, leaving little opportunity for Wells Fargo.
Conclusion
Wells Fargo's WBR division has delivered spectacular performance in the company's third quarter, and considering the factors mentioned above, I expect the division to continue expanding its profit margins, with net income growth dwarfing revenue growth in the following quarters. Prospects for the US wealth advisory market are bright, and given the bank's position within the industry, I expect it to be able to take advantage of the growth opportunities listed above. In the long-term, I expect the bank to experience difficulties in growing its revenue, due to its dependence on a mature market like the U.S, and its current minimal presence within fast-growing economies in Asia-Pacific.
Disclosure: The author has no positions in any stocks mentioned, and no plans to initiate any positions within the next 72 hours.
The author wrote this article themselves, and it expresses their own opinions. The author is not receiving compensation for it (other than from Seeking Alpha). The author has no business relationship with any company whose stock is mentioned in this article.