I would like to point out that in spite of its small market share in global smartphone sales, BlackBerry (BBRY) still outperformed Apple (NASDAQ:AAPL), Microsoft (NASDAQ:MSFT), HTC (OTC:HTCKF), LG Electronics (OTC:LGEAF), Sony (NYSE:SNE) and Samsung (OTC:SSNLF) on a year-to-date basis (as of Monday's close). This achievement is more impressive when we take into account that 2014 showed persistent heavy shorting (31.79% Short Float) of BBRY.
The chart below is a prima facie evidence that there is a legion of BBRY bulls who believe in CEO John Chen's turnaround strategy. As 2014 is about to end, BBRY is again nearing $11 price level. This is in spite of the missed Q3 revenue target. The chart also strongly contradicts the negative assessment of BBRY made by another Seeking Alpha contributor.
(click to enlarge)

Source: Google Finance
It makes me smile that even though BlackBerry Passport handsets are not selling as well as I expected, BBRY is still posting a better 2014 YTD performance than Apple and Microsoft. The +46.10% YTD of BBRY is also in great contrast with the YTD of the world's biggest smartphone vendor, Samsung (-20% YTD).
Detractors of BlackBerry should also note that unlike Sony, no BlackBerry Enterprise-using company has reported any serious security breach this year. The recent headline news of security breaches greatly enhances BlackBerry's brand. I hope John Chen reduces the patent licensing fees for BlackBerry's Certicom patents Elliptical Curve Cryptography so that more small and medium enteprises can afford them.
I remain adamant that Elliptical Curve Cryptography is the future of security in cloud, internet and mobile security.
Why It Matters
History often repeats itself. The impressive run of BBRY this year should continue in 2015 when Chen delivers better EPS and revenue numbers. I firmly believe that BlackBerry, the walking dead smartphone company, may again run up faster than other smartphone vendors can in 2015.
BlackBerry will continue to have a 1-to-3% share of my portfolio next year. Buying below $9.80 and profit taking at $10.50 has been a profitable strategy. Yes, BBRY never did hit the original $15 price target of Citron Research, but the stock did post a $12.54 52-week high last November 13.
I also strongly disagree with TD Securities analyst Scott Penner's outlook that phone hardware sales will no longer be relevant for BlackBerry. BB 10 phones like the new Classic will likely encourage BlackBerry Bold fanatics to upgrade their phones in 2015. I opine that Penner's claim that lower average selling prices of BB 10 phones makes it hard to make them profitable is wrong.
Lowering the average selling price of new BlackBerry phones will help them compete better with cheap Android and Windows OS smartphones. If Chen allows an unlocked $150 BB OS 10 phone, it is my professional opinion that many customers in emerging markets will prefer them over $100 Android or Lumia phones.
Take India for example - a majority of that country's phone buyers dislike expensive handsets like the iPhone 6. Sub-$100 Android phones made with low-quality materials saturate India. A cheaper $150 version of the BlackBerry Z3 will be attractive to many Indians.
Even at $230, BlackBerry Z3 handsets are finding buyers in India. Zauba's data says more than 10,000 units of the Z3 were again imported by India retailers.
(click to enlarge)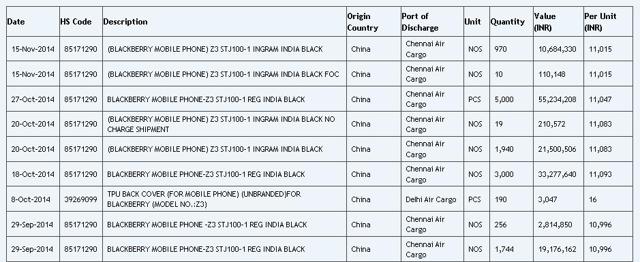 Source: Zauba.com
Even the premium $800+++ BlackBerry Passport is finding buyers in an emerging market like India. Zauba's data says almost 4,000 units of the Passport were imported since November 3, 2014. India is just one of the many emerging countries that will gladly remember the cult-status symbol of owning a BlackBerry handset.
The BlackBerry's Classic expected retail price in India is 30,000 Rupees ($471.03). The lower price tag compels me to believe that the Classic will do better than the Passport in India and other emerging markets. Penner's pessimistic opinion of BlackBerry's hardware business is therefore questionable.
On the other hand, I am still very grateful for Penner's $13 price target for BBRY.
Conclusion
Since BlackBerry (like other heavily-shorted tickers) is vulnerable to propaganda or news mongering, I am now a heavy believer of technical indicators. Technical indicators are a good barometer to learn the emotional flow of the stock market. BarChart Opinion's major technical indicators say BBRY still has an overall average score of 48% Buy
StockTA's EMA analysis also reinforces the technical assessment of BarChart. BBRY's EMA indicators are very bullish for short, medium and long-term investors.
(click to enlarge)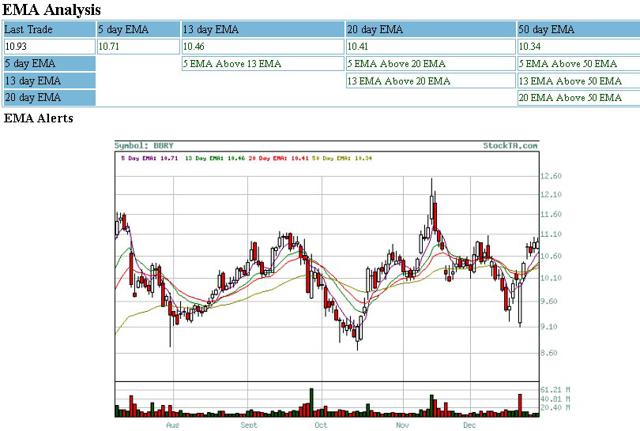 The most recent candlestick analysis of StockTA (December 23) gives a DOJI or indecision hint. I am decisive when it comes to investing and my decision is Banzai, John Chen! Banzai, BlackBerry!
Disclosure: The author is long BBRY, AAPL, MSFT.
Editor's Note: This article discusses one or more securities that do not trade on a major U.S. exchange. Please be aware of the risks associated with these stocks.