By Sumit Roy
Price action signals that growth considerations dwarf IEA's release of 60 mmbbl of oil from strategic petroleum reserves.
The Department of Energy reported this morning that in the week ending July 1, 2011, U.S. crude oil inventories decreased by 0.9 million barrels, gasoline inventories decreased by 0.6 million barrels, distillate inventories decreased by 0.2 million barrels and total petroleum inventories increased by 0.5 million barrels.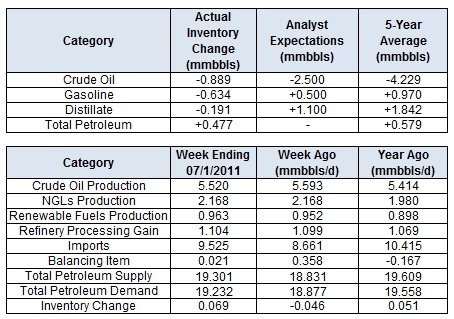 Already rallying thanks to a strong ADP jobs report, crude oil surged even more after the latest EIA figures. Prices are now decisively above where they were immediately before the IEA announced it would release 60 million barrels of strategic petroleum reserves onto the market, with WTI near $99 and Brent near $118.
Notably, Brent prices bottomed out June 27 at around $102, thus the benchmark has rallied $16 over the course of only several sessions. The primary catalyst for the move has been a remarkable turnaround in investor sentiment.
The S&P 500 is now only a mere 1 percent below its multiyear peak set back in May. During June, it fell as low as 8.2 percent below that peak. Thus, we've seen a huge recovery in stocks, and that bullish price action has naturally spilled over into commodity markets.
The dismal U.S. economic data that we saw through May and June seems to have run its course. Recent figures have been much more encouraging, starting with last week's ISM Manufacturing survey, which came in at 55.3, increasing from the prior month's 53.5, and solidly above the 50 threshold that represents growth.
Then today, a much-better-than-expected employment report from ADP raised optimism that tomorrow's official employment figures from the U.S. government could also turn out to be better than expected. While that remains to be seen, the data is clearly trending in the right direction and suggests that the world's largest economy could be accelerating after this recent slow patch.
But that's the U.S. While still the biggest consumer of many commodities, including crude oil, the country is no longer a very influential driver of prices. Indeed, oil demand growth in the U.S. remains negative on the year (figures discussed below).
For commodities in general — and crude oil in particular — the biggest driver of demand growth is China. The Asian giant is still on track for impressive economic growth this year, but recent data has been subpar. Last week's PMI Manufacturing survey, for example, came in at 50.9 — the lowest reading since February 2009.
Meanwhile, the People's Bank of China raised its benchmark interest rates by 25 basis points for the third time this year. Thus, even with evidence of slower growth, the central bank tightened monetary policy further in order to rein in inflation. China's CPI rose by 5.5 percent in May — a 34-month high.
Balancing growth and inflation is a difficult task for any central bank, but how successful the People's Bank of China ends up being is especially crucial for oil. China remains the single biggest driver of demand growth for the commodity. The country accounts for almost 45 percent of this year's global demand growth, according to IEA estimates.
Nevertheless, the market seems to have confidence that China will be able to successfully orchestrate a soft landing. With more than $3.05 trillion in foreign exchange reserves, the country will have little problem stimulating growth if the need arises.
Turning back to the latest U.S. inventory figures, total petroleum inventories didn't fluctuate much last week, which was in line with the five-year average. The surplus over the five-year average was steady at 13.2 mmbbl, or 1.3 percent.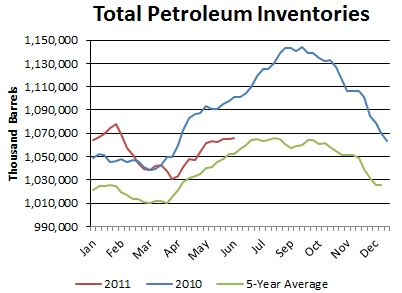 Crude inventories fell modestly, but that's much less than the normal 4.2 mmbbl withdrawal. The surplus in the category increased to 21.1 mmbbl, or 6.3 percent. But movements were not even across regions. A big build in the Midwest offset a similar-sized draw outside the region. In turn, West Texas Intermediate prices lagged other benchmarks in today's rally.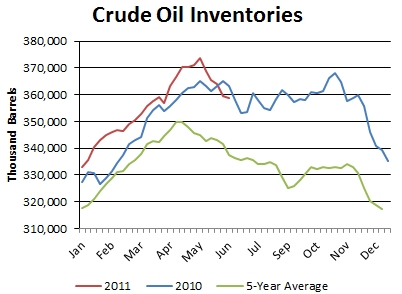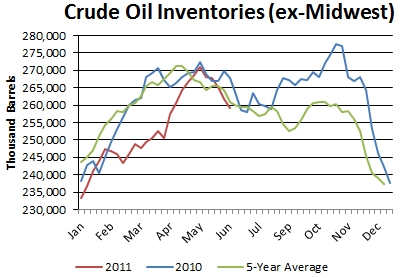 Gasoline inventories fell counter-seasonally, with inventories now right in line with the five-year average. Distillate inventories also fell counter-seasonally, sending the surplus to 3.4 mmbbl, or 2.5 percent. This is the lowest distillate surplus since December 2008.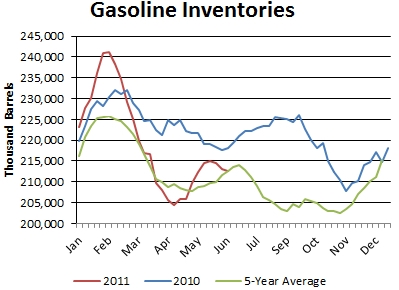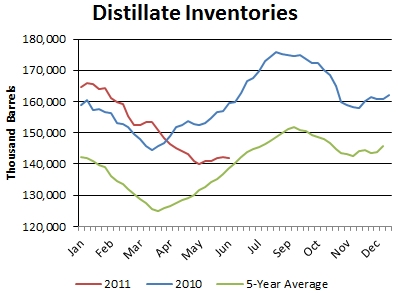 Demand
For the first time since April, total petroleum demand in the U.S. was up year-over-year last week. Gasoline demand was fairly firm, but a strong rebound in distillate demand drove the increase. On a four-week rolling basis, total petroleum demand was still down 1.8 percent. On that same basis, gasoline demand was down 0.6 percent, and distillate demand was down 5.4 percent.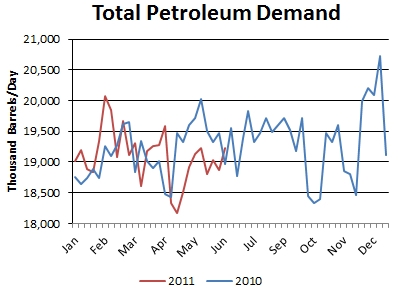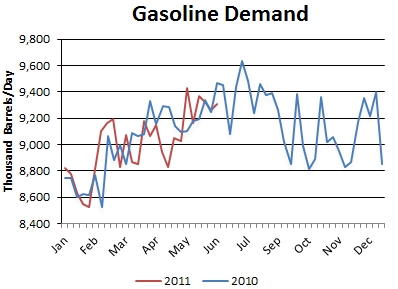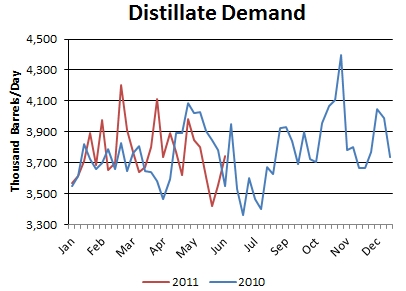 Imports
Crude oil imports rose by a significant 1 mmbbl/d last week, putting them above the year-ago level for the first time since February. Nevertheless, on a four-week rolling basis, imports were down 0.5mmbbl/d.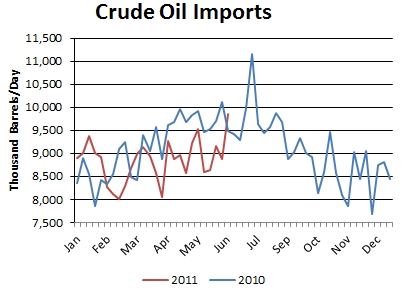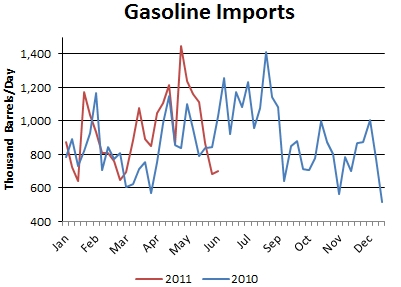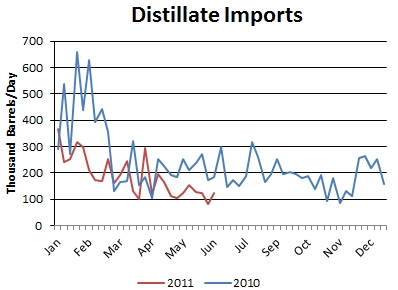 Refinery Activity
Refinery utilization ticked up to 88.4 percent from 88.1 percent, still near the year-ago level and the five-year average. Gasoline production surged toward the highest levels of the year at 9.5 mmbbl/d, while distillate production edged up to 4.4 mmbbl/d.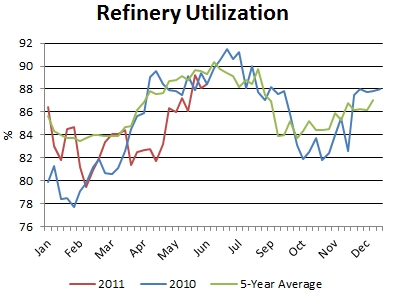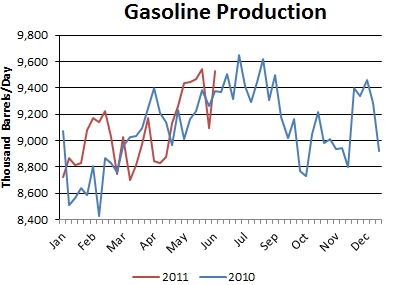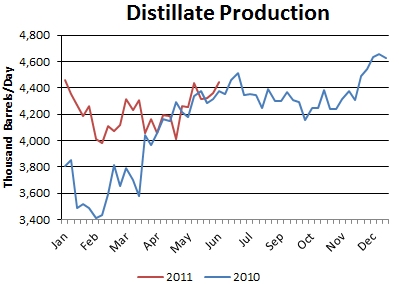 Miscellaneous
U.S. crude oil production had its biggest dip since January, falling to 5.5 mmbbl/d. In the bigger picture, however, output remains near seven-year highs, thanks to surging output in unconventional oil plays. Year-to-date production is up 2 percent year-over-year.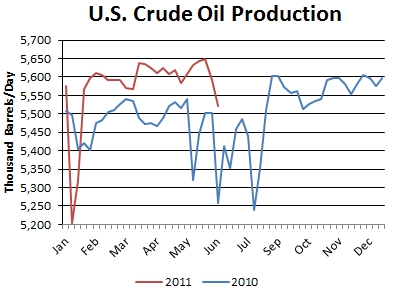 Inventories at the NYMEX delivery point in Cushing, Okla., fell by 0.5 million barrels to 37 million barrels, or 64 percent of the EIA's estimate of capacity. Overall Midwest inventories increased 1.6 million barrels to 99.4 million barrels, or 79 percent of estimated storage capacity.
Front-month WTI calendar spreads were little changed week-over-week at -0.45.
West Texas Intermediate's discount to Brent increased to -$19.20 from -$16.97 last week, while WTI's discount to Louisiana Light Sweet increased to -$16.40 from -$13.75 last week.