With the S&P 500 up roughly 85% over the past 5 years and the overall level of the market looking fairly valued with pockets being overvalued, I'm heading into 2015 looking to add companies with high dividend yields and good free cash flow. The easy returns seen in the market over the past several years will likely be a thing of the past as interest rates begin to rise and global economies continue to face question marks. Because of this, I expect stocks with decent dividend yields to outperform the market in 2015. One company that recently caught my attention is R.R. Donnelley & Sons (NASDAQ:RRD). The stock pays a 6.1% dividend yield and provides the free cash flow to sustain this impressive yield.
R.R. Donnelley
Founded 150 years ago in the print media industry, R.R. Donnelley has become an industry leader with 2014 sales expected to surpass $11 billion, making it the largest printer in North America. Today, the company has over 60,000 customers, including 100% of Fortune 100 companies and 98% of Fortune 500 companies. While many investors believe print media is going the way of the dinosaur, R.R. Donnelley has stayed in business for 150 years by being proactive and constantly looking for new markets and opportunities. The company's source of revenue has changed dramatically since 2000 by expanding internationally and into areas such as digital print. In 2000 the company had 70% of revenue coming from publishing and retail services, which now only stands at 24% of sales. International sales have nearly quadrupled and variable print business has grown by over $3 billion per year. R.R. Donnelley's long history of being able to stay relevant in an increasingly digital age warrants further analysis of the company to determine if the stock is a good investment.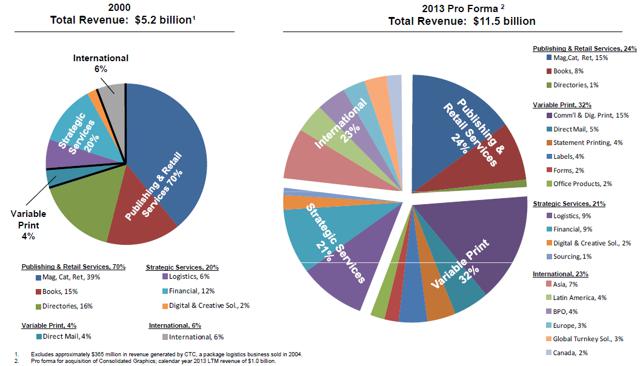 Source: Bank of America Merrill Lynch Leveraged Finance Conference
Analysis
R.R. Donnelley piqued my interest because of its 6+% dividend yield. However, generally when a stock pays a dividend over 5%, it raises some red flags, so I wanted to see if the yield was sustainable. Through the first 9 months of 2014, revenue has risen roughly 10% and is expected to range between $11.6 and $11.7 billion for the full year. 2014 revenue should increase over 10%, or over $1 billion, year-over-year. This was a surprising find, because on the surface it would appear print media companies are destined to decline as tablets take the place of books and everything from newspapers to magazines can be read on a mobile phone. What this assumption ignores is the ongoing need for printed financial documents, printed advertising (direct mail), product packaging and labeling, healthcare labels, and regulatory compliance requirements. The bottom line is while some sectors, such as book publishing and retail services, may see negative organic growth, other areas, such as digital print and international markets, remain largely untapped markets. In addition, R.R. Donnelley is extremely diversified with over 60,000 clients and remains the go to company for the vast majority of Fortune 500 companies. With revenue remaining fairly stable over the past ten years and 2014 renewing revenue strength, it's clear the basic assumption of a dying industry may be overstated.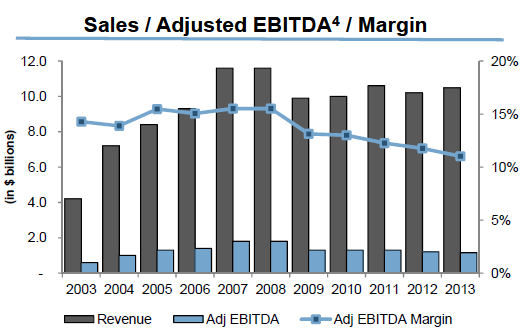 Source: Bank of America Merrill Lynch Leveraged Finance Conference
With roughly 200 million outstanding shares and an annual dividend of $1.04/share, the company must be able to payout $208 million to sustain their dividend. Looking back to historical data, R.R. Donnelley has sustained their $0.26 quarterly dividend payment since 2003 without any interruption. Even during times when the stock has plummeted in price, the company has sustained this dividend.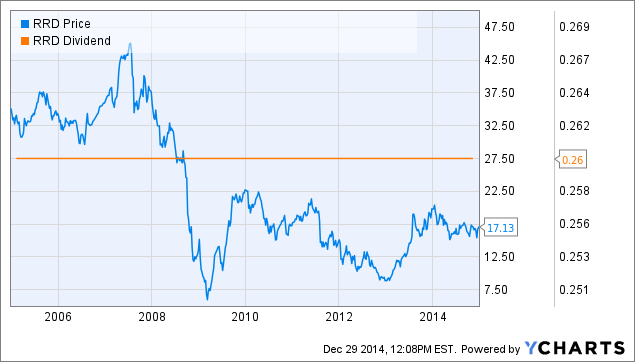 The company has been able to sustain the dividend because of their healthy free cash flow. For 2014, the company estimates they will produce $400 to $500 million in free cash flow. This is more than enough to payout $208 million in dividend payments. Again looking back historically, the company has achieved tremendous free cash flow. This has allowed the company to pursue acquisitions, while managing its debt.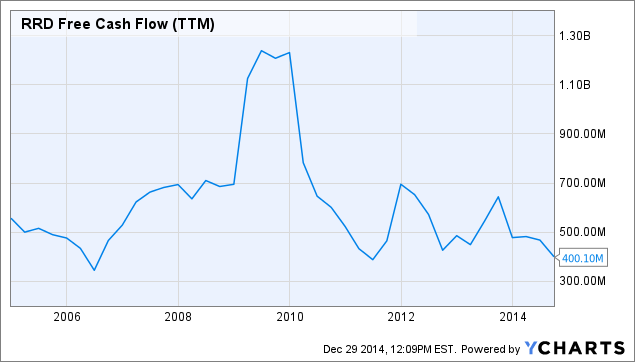 RRD Free Cash Flow (NYSE:TTM) data by YCharts
Concerns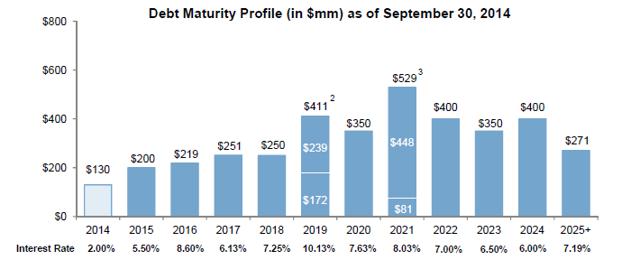 Source: Bank of America Merrill Lynch Leveraged Finance Conference
R.R. Donnelley has a high debt load with $3.7 billion in debt and annual interest payments of approximately $285 million in 2014 and nearly $270 million in 2015. This $3.7 billion in debt is financed through high interest rates, which averages out to roughly 7.4%. Even though the company consistently produces impressive free cash flow, it's a concern because the company is paying more in annual interest payments than it does in dividends. The debt is spread out in manageable levels for the company to retire, but any downward pressure in operating margins or gross revenue may negatively impact the company's ability to effectively sustain the dividend down the road.
Conclusion
R.R. Donnelley is likely able to sustain their dividend payments for the foreseeable future, but its large debt level may scare off conservative investors. While nearly all the debt is issued at fixed rates, it still represents large annual financial commitments far out into the future, which has the potential to create problems. In the near-term (1-3 years), I believe there is enough support and revenue trajectory for the company to easily sustain their dividend. However, this stock isn't a buy and forget stock, such as Lockheed Martin (NYSE:LMT) or Procter & Gamble (NYSE:PG). It requires investors who are willing to undertake due diligence on a semi-regular basis to ensure the dividend is safe. If investors are willing to take the time to actively follow R.R. Donnelley, it offers the reward of an impressive 6.1% dividend yield, which is hard to beat.
Disclosure: The author has no positions in any stocks mentioned, and no plans to initiate any positions within the next 72 hours.
The author wrote this article themselves, and it expresses their own opinions. The author is not receiving compensation for it (other than from Seeking Alpha). The author has no business relationship with any company whose stock is mentioned in this article.