Search analytics have proven to be quite the useful tool in identifying the latest trends in retail. If you had taken note of the rapid rise in internet searches for Michael Kors (NYSEARCA:KOR) a year or two ago, you could have enjoyed riding the stock higher (though it has since pulled back).
Today though we look at a different retailer, not in the luxury segment but in sporting goods. Dick's Sporting Goods (NYSE:DKS) is one of the latest retailers to show significant increases in search activity over the past 6 months. In fact, December has seen record internet searches for the company's name on Google, far exceeding previous months search totals. Driving the internet searches could be a combination of factors.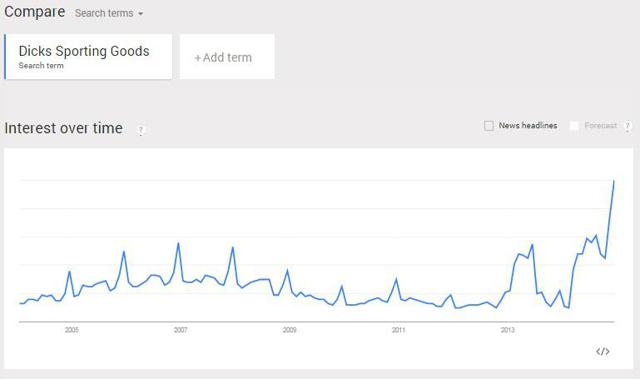 #1: The GoPro craze has increased demand for outdoor sporting goods.
Let's face it, even if you're not an adrenaline junkie, you've probably had the urge to go pick up one of these cameras, climb up a tree and go zip lining, or some other extreme activity you would't normally do. Brisk sales of GoPro's (NASDAQ:GPRO) Hero 4 as well as other models may be the catalyst driving attention to Dick's Sporting Goods.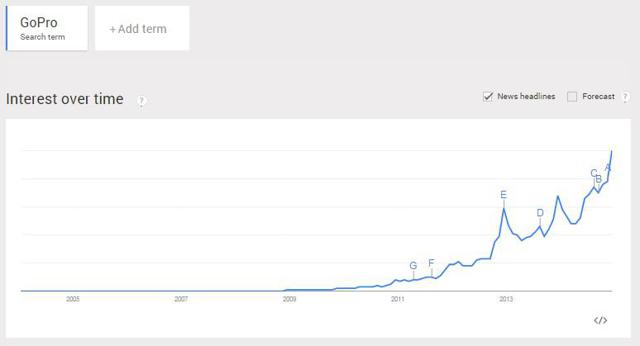 #2: Under Armour Popularity
Not to be forgotten is the Under Armour (NYSE:UA) brand and its ever growing popularity. Much like Lululemon (NASDAQ:LULU), Under Armour has been steadily growing in brand recognition and has become the go to apparel for athletes. The only difference between LULU and UA is that one is run like a well oiled machine and the is having some pretty transparent management issues. (Comment later if you get the pun!) Why is the growing popularity of Under Armour a boost to Dick's? Because the two brands have become almost synonymous. As soon as you enter a Dick's Sporting Goods store, the first brand of clothing you see is Under Armour and a good portion of the stores square footage is allotted to the brand.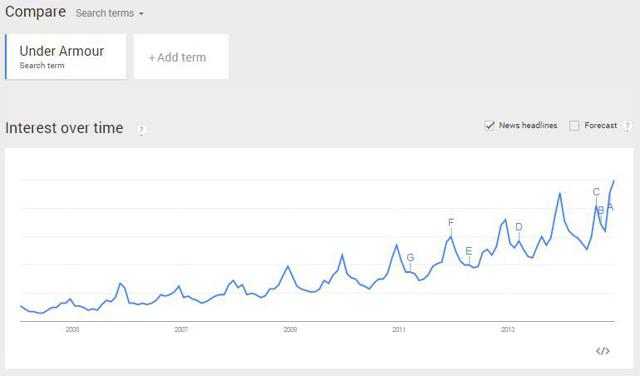 #3: Leveraged Buy Out Rumors
I am never one to say invest in a company because there are rumors the company will be bought out. What I do believe in is using those rumors to your advantage when you identify a company whose stock you already have good reason to purchase. Following the LBO of PetSmart, rumors are flying in every direction about who could be the next to go and the Dick's name has popped up in several articles.
An article right on SeekingAlpha by Value wagon, found here, outlines the financial situation for a potential buyout.
An earlier article by Sammy Pollack, found here, also describes in detail the plausibility of a LBO.
If you prefer sources other that SeekingAlpha, there is also a brief article from Investors.com, here.
In short, the argument for an LBO has two key supports, first, the CEO currently owns 11% of the company's outstanding stock, and second, the low debt on the company's books and low interest rates would allow for the financing of an LBO.
Conclusion
Though margins have remain compressed, the increase in search activity can not be ignored. The U.S. economy is improving, credit is more available, consumer sentiment has seen upticks, and the overall demand for sporting apparel is rising. It appears the time is right for Dick's Sporting Goods to pick up momentum, whether it be because of improving operations and financials, or because of LBO rumors.
Disclosure: The author is long DKS.
The author wrote this article themselves, and it expresses their own opinions. The author is not receiving compensation for it (other than from Seeking Alpha). The author has no business relationship with any company whose stock is mentioned in this article.
Additional disclosure: My long position in DKS is partially hedged with covered calls.